Are you a shop owner looking for rattan basket for screen display to showcase delicious foods or quality tea, or anyone who loves family and life and has a good taste, searching for wicker storage basket for bread, cake, fruits, or the small household items? We come up with the 3-size handmade rectangular rattan baskets.
Light, elegant, natural, and unsophisticated, the rattan basket is made of organic rattan strings, woven in the traditional Vietnamese handicraft way, excellent for food storage for both shop and home, and creating a lovely, authentic rustic look.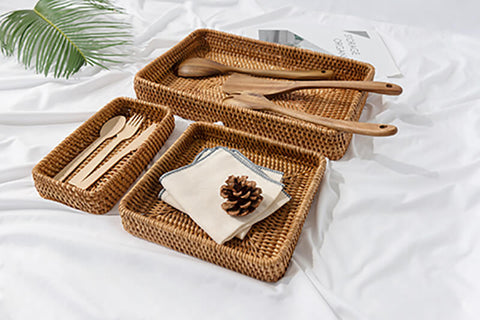 This product is made of 100% natural Vietnam rattan, which are low-carbon, environmental-friendly, and soft, very suitable for household utensils and crafts weaving.
Natural honey brown
Note: Each of our rattan basket is distinctively hand woven, made from somewhat a little different colored natural wicker threads, hence each product may not be exactly the same in color, or shape.
Green living and zero waste is the theme of all our products, let alone this natural rattan storage basket, which is hand-made by artisans in Vietnam using the finest rattan harvested in October and November as the natural material and following the traditional Vietnamese handcraft.
No paint, no wax, no sulfur smoke, instead, the baskets are smoked by fire to remove the burr edge of the cane, making the product unique and artistic, with a natural touch, and without any bad smell.
Having a set of rattan basket at home or shop, you not only can nicely showcase the foods or items, but also enjoy the Vietnamese traditional handicraft art, help save the environment, and bring benefit to the local community. It is time to say goodbye to junk drawers. Read more:  Wicker vs Rattan – What's the Difference?
Simple but very useful, our rectangle rattan boxes are food safe baskets to serve snacks, bread, cake, fruits, candy, furthermore, they can be served as trays for picnic, and containers for remote control, stationery, books and magazines, earphone cable/wire, etc. During the festival season, like the Christmas and New Year, the basket is also a nice gift holder.
Given its natural color, the rattan storage box can match perfectly with different decor styles, whether your home is classic, nature, rustic, or modern fashion style.
Our rattan baskets are lightweight. The three sizes, from small to large, are designed for daily use, and can fit well in kitchen, living room, bathroom, hallway, entryway, office shop, and can be placed on table, shelf, countertop, toilet tank, and display stand, to keep all the stuff neatly organized.
To clean a rattan basket, you can use a damp cloth to wipe off the dust or dirt. Stack the three baskets and store them in a dry place when they are not in use.
Despite its elegant appearance with beautiful patterns, the rattan backets are practical and durable as well. Making use of the essence of the traditional rattan weaving, after repeated multi-process processing, the rattan boxes are tough, with solid bottom, and not easy to crack or broke. Moreover, the longer the rattan baskets are used, the tougher and more flexible the baskets will be, and the brighter the color will be.