100% Natural handmade woven rectangular rattan basket is the best for kitchen, bathroom, restaurant and office. It's Eco-friendly. It can be used for bread, snacks, vegetables, books, towels, etc. storage basket. A rattan storage basket makes the house tidy and luxurious.
Made of 100% natural Vietnamese rattan, which is a durable, strong and eco-friendly woven material. Handmade by experienced artisans in the traditional handcraft way. This material is a healthy choice for food/storage basket.


Large:30x20x9 cm
Medium : 25x17x8 cm
Small : 20x14x7 cm
Natural 
The hand woven small, medium and large rectangular rattan baskets are perfect for displaying, baking, storaging, organizing at home, kitchen, restaurant counter, bakery, dining room, office or outdoor picnic.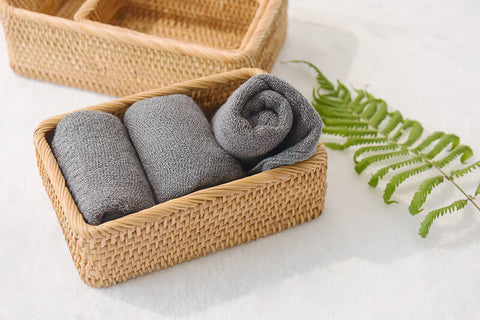 Fruit Basket
Storing fruit with natural material will make you find it more delicious. You can also use this natural rattan baskets to store tomatoes, Onions, garlic, potatoes in your kitchen. New basket is lighter in colour. After the precipitation of time, the basket will show an classic and vintage style.
The natural rattan baskets will make your home and office more neat and luxurious. These lovely hand-made baskets are a collection of home-decor rattan items that add an elegance and functionality to any home.They are carefully made to handle daily use and designed to show off their charm to elevate the look of your Decor.
Organizing your office supplies into these large rattan baskets will make your home office easier than ever. Also you will have a dedicated area for your printing station, mail station, and other office supplies. They help to make the house and office neat, easy to classify. 
Storage and maintenance is very easy because the wicker baskets can be stacked on top of each other. It has the advantage of being compact and also can be perfect for outdoor picnics. Thanks to the three different sizes, the woven baskets are also suitable for remote controls, drinks, etc.
We only use durable and sturdy rattan material that is carefully handwoven into basket. They are fine weaving process, thick edge weaving, which are strong enough to provide long term use.
The real traditional handicraft of woven baskets has a history of thousands of years. Because the raw materials used are natural grass products, only a few cities along the southern coast can be woven so, plus the whole manual weaving, time-consuming and laborious, there are no many people insist on making grass woven products. It's a dying craft. But good thing is we are still promoting it, hope we can try our best to support the incomes of local farmers.
Woven by hand and made of natural materials, the color of the rattan baskets might be different, and the size of the same product will be slightly different. Each artisan's hand-woven size will have an error of 0.1-2cm, which belongs to the normal category.