This shoe brush kit consists of 2 double sided brushes come in soft bristles, 1 piece polishing cloth, 1 shoe cream applicator brush. It's a complete set of tools to keep your leather goods clean and bright, provides you with a full range of cleaning services.
Our shoe brushes are made of horsehair bristles and natural wood the brush head is soft yet durable, bringing shine without scratching your favourite leather item. You can use them to clean and polish your shoes, boot, gloves, coats, bags, sofa and more. Every detail has been thoughtfully designed to give your favorite leather products the premium care that they deserve.
Our shoe brush is high-quality as well as cost-effective. Welcome to buy in bulk, more favorable prices are waiting for you.
Material
Natural wood & Horsehair bristle
Dimension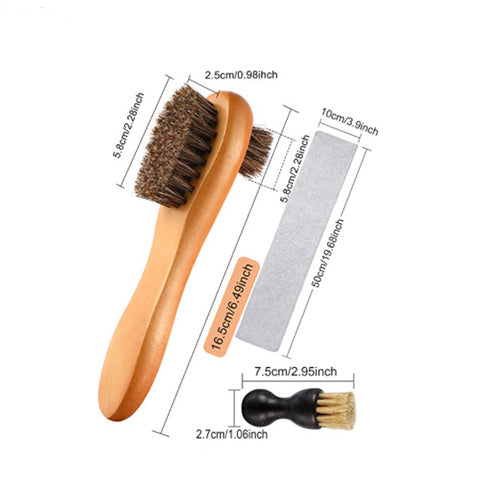 Color
Burly Wood & Black
Why We Love It
This set of shoe brush is not only suitable for cleaning your shoes, but also suitable for polishing leather clothes and bags. The double-sided brushes are good care tools for leather or imitation leather products, also works well for polishing into narrow areas. Use them at any time and anywhere to clean up the dust and polish the leather. You can use this shoe brush kit to clean and polish your shoes/ gloves / coats / bags / leather sofa and more leather goods.
GreenLiving manufactured shoe brushes from slected natural materials. The handle is made of natural wood, very durable and biodegradable. The wooden handle is not only smooth, but also water-resistant. Compared to other bristles, horsehair bristles create extra heat, allow shoe polish to penetrate deeper into the small pores of the leather.
The bristles of the shoe brush are made of natural horsehair, have anti-static properties and strong water absorption, can deeply clean dust and mud. Besides, it will help you polish your leather shoes faster and harder. Soft horsehair won't scratch the leather surface yet sturdy enough to bringing shine. The double-sided delicate bristles in different sizes will make cleaning easy and fast without the risk to cause unnecessary damage for your delicate and sensitive leather fabrics.
Shoe polishing is a basic treatment that should be done every four to six weeks, depending on how often you wear your shoes.
Double Sided Shoe Polish Brush Set Wholesale
We are aim to offer our customers the best, high-quality,eco-friendly products. Our shoe brush kit is a good care gadget for shoes and other leather items. You can inform us by email or any method convenient to you if you want to buy in bulk, and the price will be less than you expected.