How to Clean A Wooden Spoon
September. 22, 2022 | Written by Daniella
Whether you're someone who fills their kitchens with all the latest equipment or someone who prefers to hand whisk your mixtures, there's one thing that is guaranteed to be in almost every kitchen – the wooden spoon. However, when you use your wooden spoon for cooking (especially if you're cooking food with a bright sauce), there can be some nasty stains left. Read on to discover not only how to clean a wooden spoon, but how to get rid of those nasty stains once and for all.
Why Should You Use Wooden Utensils?
There are many reasons to use a wooden utensil when cooking – they can be made from bamboo, which is much better for the environment. The plastic alternatives will be sent to a landfill and would take years to break down, whereas a wooden utensil is eco-friendly and will decompose. Using a wooden utensil such as a wooden spoon for cooking can also be safer for you and your family. These wooden utensils are heat resistant and therefore cannot scald you like their metal counterparts could.
A surprising benefit of using wooden utensils is that they are resistant to bacteria! Trees have the natural ability to stave off things like bacteria, infection and mold. This ability is maintained, even when the wood is carved into wooden utensils. All of these are wonderful reasons to choose utensils such as wooden spoons for cooking, and with the tips below cleaning them will be a piece of cake.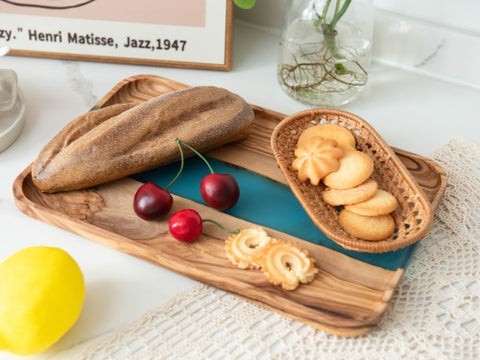 How to Clean a Wooden Spoon
If you're worrying about how to clean your wooden spoon, don't panic – the tips below are simple and can help you to keep your utensils in top shape for years to come.
It is important to

hand wash your wooden spoon with water and soap

as soon as you are finished using your wooden spoon for cooking. It is very tempting to leave them to soak once you're done but it is key that you don't – this can encourage damp and mold to form in your wooden spoon. It will need to be air-dried once you have finished cleaning it to make sure that it is ready for when you next want to use it.
If you have been noticing your wooden spoon looking drier or more worn than usually, there is a quick way to revive it. All you need to do is occasionally

rub it with mineral oil

(be aware that oils such as olive oil or vegetable oil shouldn't be used for this).
There are two ways that you can remove the stubborn stains and build up that occur even with immediate washing:
First, cut a lemon in half. Then use the cut side of the lemon half by rubbing it against your spoon. This can help to get rid of any odours that are left lingering too.
Another way to clean a wooden spoon is to create a paste with water and baking soda. Use this mixture to scrub your wooden spoon and then wash it thoroughly. Make sure to remember to air-dry your spoon too.
Tips for Using a Wooden Spoon
When you're considering how to clean a wooden spoon, one method that should definitely not be used is putting them in the dishwasher. This can cause your wooden spoon to split, break or even to warp out of shape. Even with regular revitalising and cleaning your spoons straight away, it is still possible for mold to creep in. As soon as you see spots of mold on your wooden spoon then it's time to replace it.
Conclusion
Wooden utensils are a sustainable choice of dishware. They are biodegradable and come from a renewable resource, plus wooden cutlery brings a natural charm to any kitchen. After contacting the sales team here, you can rest assured of buying the best wooden utensils.
Keep Reading: