Purchasing and Caring for Your Reusable Lunch Bag
A reusable lunch bag is a perfect way to save money and reduce waste. Reusable lunch bags and boxes come in different sizes and styles to fit your needs, and they have the potential to last for years when cared for properly.
Finding and caring for a reusable lunch box may seem straight forward, but there are many options to choose from and each may require different care. From what to look for when purchasing a reusable lunch bag to how often you should wash it, read on for some tips on how to keep the reusable lunch bag clean and in good condition.
What to Look for in Reusable Lunch Bags
When looking for a reusable lunch bag, you'll want to consider a few factors. The most important factor is how well the lunch bag will keep your food cold or hot. You'll also want to consider the price and the durability of the lunch bag.
Popular reusable lunch bag options include insulated fabric or an insulated kraft paper bag, as well as bento-style lunch boxes that come with multiple compartments. An insulated lunch bag will keep food hot or cold using a material such as foam, and it may also have a reflective material on the inside to hold the desired temperature longer and more effectively. Some insulated bags are made specifically for hot or cold items, some can be used for both, and some have separate compartments for each.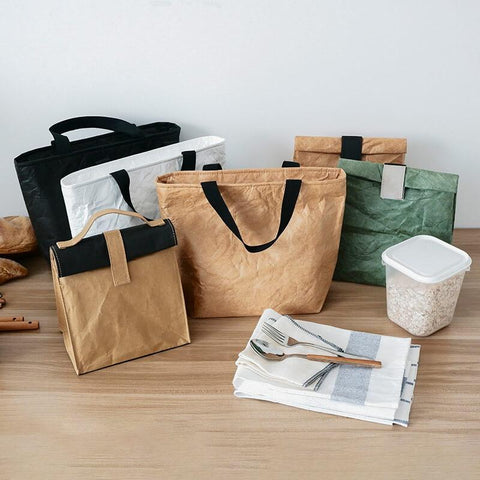 The material that the lunch bag is made from is also important as this can determine the durability of the bag and how long it will last. Cheap insulated lunch bags made with thin fabric may last for a bit, but they will need to be fixed or replaced once a hole appears. While cheaper options may initially seem tempting, having to replace them frequently can become expensive and partially negates the point of purchasing a reusable bag at all.
How to Clean a Reusable Lunch Bag
When it comes to cleaning a reusable lunch bag, the most important thing is to be consistent. You should clean your reusable lunch bag every time you use it to help prevent the growth of bacteria and to keep your lunch bag in good condition.
There are a few ways to clean a reusable lunch bag, so be sure to check the care instructions before washing.
Depending on the material of the lunch bag, you can either:
Hand-wash it with soap and water

Put it in the dishwasher

Wash it in a washing machine

Wipe it down with a disinfectant cleaner
Whichever method you choose, make sure to rinse off all of the soap or cleaner before putting your lunch bag back in use.
Conclusion
Reusable lunch bags are an eco-friendly switch that save money and reduce waste. When looking for a reusable lunch bag, consider how well it will keep your food cold or hot, the durability and the ease of cleaning. By caring for your reusable lunch bag, you can use it for years to come.
Keep Reading: