The Top Benefits of Wooden Coasters to its Users
Written by Aisha Abimbola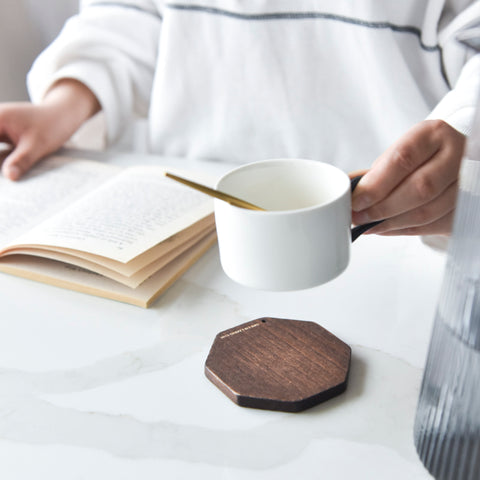 A wooden coaster is a product of the ongoing technological upgrade in some parts. The material also responds to the need for naturally made substances in society. Hence, a wooden coaster is gradually replacing the ceramic coaster material. What benefits does a wooden coaster have? This article compiles all you need to know about a cup coaster.
Why do I need a wooden coaster? Several benefits are attached to using a wooden coaster, which is also discussed further.
Wooden Coasters Protect Furniture
Instead of placing cups directly on a table surface, a coaster will prevent them from forming rings. The leading cause of this ring formation is condensation. Hence, an extreme temperature of the cup will primarily affect the wooden coaster. Unfortunately, this damage is done slowly, so lack of attention can seriously destroy the table.
Wooden Coasters Improve Convenience
Since coasters for drinks are small, they are convenient for users. This also implies you can buy as much as possible and store them everywhere. The stackable absorbent round wooden drink coaster enhances the convenience when you have the stackable absorbent round wooden drink coaster. You can add two or more coasters together to achieve the desired height.
Improves a Home Aesthetics
Improving home aesthetics is an ideal function, but people appear to focus more on this. As small as coasters may seem, they add to the beauty of table settings. This is particularly true when cut out in different shapes, sizes, and colors. You can also be creative with your coasters by ordering your most preferred designs from Greenliving. Getting different sets of coasters will also earn attraction to the table surface.
Coasters are the Best, and Affordable
This is one of the most affordable materials that keep marks and rings off the table. Based on its significance in preserving table qualities, coasters are pretty reasonable. They are cheap and readily available in many stores. Hence, it will not take long before users get their preferred colors and designs.
Coasters are Easy to Store
coasters are light weighted, making it easy to pack for every subsequent event. Also, some coaster designs, especially from Greenliving, have metal holders. They glue the cups to the wood, allowing users to store them together easily. Ease of usage is a factor that has attracted more users in times past till the present.
Using Coasters Is an Act of Courtesy
If you are invited to a place, it shows respect to the host by using coasters. It depicts that you do not want to mess this up; they agree to contribute to the durability of the building items. This will also speak well of your values and personality. Meanwhile, a host can also show respect by giving you coasters while serving the drinks.
Allows Audience to Have Quality Time
Since involved parties have portrayed honor for each other, they are more likely to discuss exciting subjects. Hence, the audience can spend quality time without worrying about drinks leaving marks on the surface. This is particularly true for formal events.
Conclusion
If you want your loved ones to use a coaster for drinks whenever they visit, always place it on the table. More than adding to the aesthetic beauty, it preserves the table from rotting. Since some individuals are more familiar with table mats, you may need to be expressive with using a wooden coaster. Nevertheless, it would help if you had a premium wooden coaster with high durability. Greenliving is where to get your desired wooden coaster. Visit the brand and make a choice now.
Keep Reading: