Do you want a body brush that removes dirt and dead skin, and can also be used as a body massager? Try our dry body brush exfoliator, which is perfect for scrubbing your back and cleaning hard-to-reach areas! Greenliving's eco-friendly body brush is made of boar bristles and natural bamboo, great for those with skin disorders such as acne, flakes, blackheads, and other inflammations. We carefully select the best materials to ensure you have a good bathing experience. 
Made of natural boar bristles and bamboo, suitable for

 exfoliating, cleaning, detoxifying, buffing and relaxing

17" long bamboo handle with hanging string,

easily clean and massage all parts of your body

Detachable bristle head, saving money and saving your bath shower brush

Works great as a bath brush, back scrubber and cellulite massager

Ideal for dry / wet skin

, boost circulation and promote skin health

Have a silky skin without spending a fortune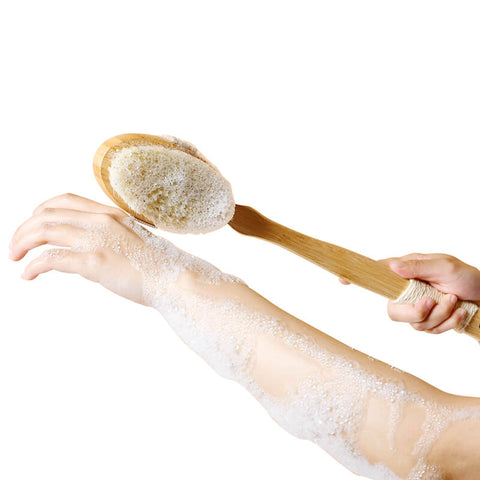 Material
Bamboo handle with natural boar bristles, all natural & eco-friendly.
Dimension
17 inch long bamboo handle makes it easy to
clean the hard-to-reach areas.
Why we love it
Perfect long handle
The 17-inch long handle makes it easy to clean our hard-to-reach back. The curved handle design makes it easily to brush the back. Also the handle is detachable and the bristles brush can be used as a face brush after detach the handle.
Non-slip Handle & Cotton Rope

The shower brush handle has anti-slip jute rope, which is not easy to slip when handle is wet or soaped. It has a cotton string to hang brush to air dry.
Wet and Dry
The natural bristle body brush can be used for both wet and dry, skin friendly.

1. Use it for dry brush
When the back scubber bristles are dry, it can be a massager to increases circulation and blood flow, remove dead skin. It also energizes the body, stimulates the excretions of the lymphatic system, smooths the surface of the skin.
2. Use it for wet brush
When the bristles are wet, you can combine the shower gel to make more foam, it will help to clean and massage your body better. You will get a good bathing experience and cleaning effect.
Health Benefits
1. Get Rid of Cellulite
Body brushing is a combination of exfoliation, massage and cleaning. The firm bristles completely exfoliate the skin, while stress helps to stimulate circulation and lymphatic excretions to help the body rid itself of toxins.
2. Lymphatic Flow and Toxic Release
The body brush stimulates your lymphatic system, increasing its flow and helping it flush impurities and cellular waste out of the body. Brushing your skin for a few minutes each day can help your body detoxify naturally.
3. Relieve Swelling and Discomfort
If your legs or feet are swollen legs or feet, brushing with this body scurbber your body can quickly relieve swelling or water retention by activating lymph flow and circulation.You will also feel lighter and more energetic.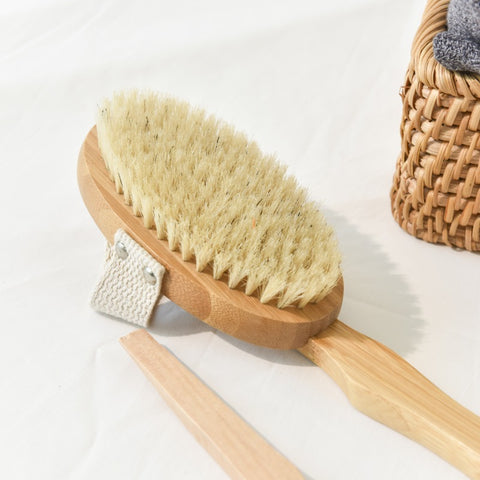 Wholesale Dry Brushes
At GreenLiving, we make it possible for you to find out the most economical and sustainable solution for home products. We produce eco friendly products which not only save you cost but are durable and can be recycled. We support local warehouse in global, offer door to door delivery service to your store. Contact us and get a favourable dry brush wholesale price!