This 100% natural cleaning brush for bottles and cups is made of compostable plant-based materials that are harvested sustainably from Mother Earth. You need it to get the pesky cleaning work done fast and effortlessly.

The bottle brush has a curved bristle design that help to easily reach the cup bottom and crevices, so that the stiff and firm coconut fiber bristles can clean bottle thoroughly, no risk of abrasion. You will find it very versatile, functional to use as a baby bottle brush, safe and eco-friendly. Repurpose the bottle brush for cleaning dishes, pots, pans, and cookware.

This beech wood & coconut fiber bottle scrub brush is a perfect plastic-free alternative for your sustainable home and green life.

Material
The bottle brush is made of natural coconut fibre & Beech wood handle. 
Why We Love It
Plastic-free & Natural Material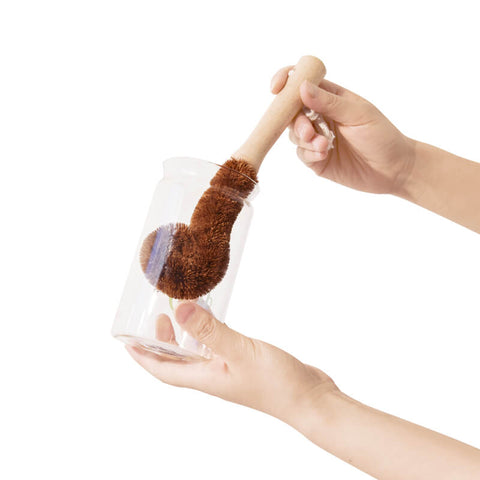 This eco-friendly bottle brush is made of natural coconut fibers & beech wood handle. The natural colors look great in any house. It's a great alternative to throw away plastic bottle brushes that create unsustainable living conditions in our own homes. By making a few small changes, switching from plastic brushes to Natural Material Brush, you can make a difference to our planet by reducing the amount of plastic in landfills. It's plant-based and helps save the problem of plastic pollution in the oceans and the planet.
Multi-function Use
The cleaning brush is perfect for brushing and cleaning, suitable for multi-material cups, bottles, pots, sink, glassware and so on.
Powerfully Durable
Unlike plastic and sponge brushes, wooden brushes are durable and long lasting. Coconut fiber is ideal for cleaning stubborn stains on various surfaces. The brush would easily last for over a year if use daily at least once.
Product Design
Easy to Brush off Stain. High density firm bristles make it easy to brush off stains on a variety of surfaces without abrasion. The strong wooden handle ensures a firm grip and completes more vigorous scrubbing tasks. The curved brush head can be deep inside the bottle to clean. Perfect for cleaning the inside of bottles, easy to clean hard-to-reach corners. The wooden bottle brush cleaner also include a hanging loop for easy storage and drying when not in use.
Sustainable & Bio-Degradable 
The cup brush is made from high quality plant fibers and wood, all of which are plant based and biodegradable not leaving a carbon foot print on the planet. This biodegradable brush is safer, healthier and more environmentally friendly.
Care Instruction
Please do not leave the wood part soaking in the water for a long time. After using the item, rinse the natural coconut fiber with clean water and hang dry naturally. To extend the use of the wooden brush handle, it should be air-dried after use, with the occasional use of beeswax or oil.