Ideas For Organizing Your Ziploc Bags
October. 8, 2022 |  Written by Daniella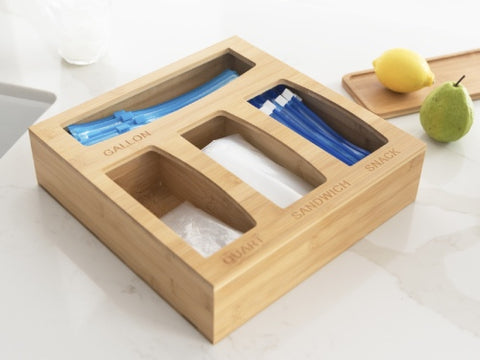 Have you ever been in a rush to grab your food and go, only to discover a massive mess in your kitchen drawer? It can be so easy to throw your ziploc bags in a drawer and not think about them again, but this method only makes more work for you in the long run. There are actually many easy to use and affordable products on the market to help you stay organized! So you may be wondering what these are and whether they will help you, read on to discover just how useful these can be in your everyday life.

How to Organize Your Ziploc Bags
Ziploc bags themselves are fantastic ways to organize your kitchen… you can get bags that can be frozen for food prep, smaller bags for snacks, and colour coded bags dependent on what you'd like to put in them. You may think that drawer organization could be unnecessary but actually, having a method of ziploc bags storage can take away elements of stress that you might not have realised were there! 
The common way to divide your bags is into these three categories: gallon bags, quart bags and sandwich bags. Although, if you are someone who prefers snacks to sandwiches, there are definitely Ziploc bag organizers that incorporate this. For example, GreenLiving have produced a wooden ziploc bag organizer with all four categories that can fit nicely in your kitchen drawer – already built and ready to make your life that bit easier straight away!
If you're still wondering whether this kind of organization is for you, take a look at the list of benefits below.
Why Do You Need Ziploc Bag Organizer?
When you are running late and you need to get out of the door quickly, every second counts. Being able to find and grab exactly what you need with ease can help you to start your day off right. However, that's not the only benefit to having effective drawer organization.
No More Searching for The Right Size Ziploc Bag
Do you have a toddler clinging on at your leg desperate to start their crafts? Or do you need somewhere to store rogue puzzle pieces until you can find out which box they came from? Or do you have a meeting that's starting earlier than expected and you only have five minutes to grab your food for the day and go? In all of these examples, speed is of the essence. An organizer for your bags can help you to grab exactly what you need, exactly when you need it.
It Shows You When You Need to Buy More Ziploc Bags
It can be infuriating when you've made up your lunch ready to go and then you realize that you have no bags left to put it in. Having a ziploc bag organizer lets you see when you are running low and keeps you from being left empty handed right when you need it the most.
High Capacity
An advantage of using a ziploc bag organizer is that it can hold a large quantity of bags all in the same place. This can help bring order to clutter and ensure that you're not running out every week to buy more bags than you need.
Eco-friendly
The premium wood ziploc bags organizer can help you to keep your kitchen organized whilst also helping the environment! This is made from natural bamboo and is one hundred percent biodegradable. It is also water-proof premium bamboo, which means that the quality of the product is not sacrificed either, making it a perfect addition to your kitchen.
Conclusion
GreenLiving also provide many more eco-friendly kitchen essentials that are both affordable and high-quality. There is a large range of products on their website which means that no matter how you style your kitchen, there is something for you. The products are also available to buy in bulk meaning that you can save money and make a positive impact on the environment at the same time!