What Are The Benefits of Rattan Baskets?
October. 8, 2022 |  Written by Daniella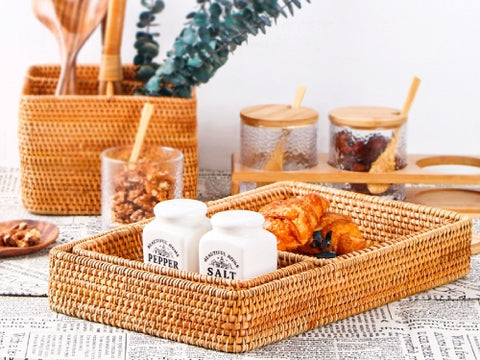 If you are a fan of interior design, Pinterest boards, organisational shows, or are an avid shopper, you may have noticed the reoccurring use of rattan baskets. This may have peaked your interest and made you wonder what exactly about rattan baskets has caused them to rocket in popularity... Well, read on to discover the five key benefits of these baskets, why rattan baskets stand out from other woven baskets for storage, and how they can help you to organise your home.
Eco-friendly
This is a key reason that these baskets are so popular because as well as being aesthetically pleasing, they are much better for the environment than their plastic counterparts. An advantage to using woven baskets that are made from rattan rather than other eco-friendly materials, is that the methods of harvesting and transporting the rattan also provide minimal damage to the environment. This is due to the fact that it is simple to transport, only needs simple tools to harvest it, and that the trees themselves grow quite quickly. These are important reasons as to why rattan baskets are known for being good for the inside of your home as well as the outside of your home too!
Easy to Maintain
An annoying problem with woven baskets for storage that are made of cloth is that they can be very frustrating to clean. You can find yourself battling stubborn stains, dust and tears in the fabric where you least expect them. On the other hand, rattan baskets can be cleaned with both wet and dry cloths, and are incredibly durable. You can even use them outside to decorate your garden because the material is so resistant. With a little care, you can keep and use rattan baskets for years with minimal effort on your part. Sounds amazing, doesn't it?
Flexible
Have you ever been excited to buy a set of baskets for your home, only to come back and spend ten minutes trying to cram them on to your shelves, and then realise that they just don't fit. The good news is that the flexibility of rattan basket sets mean that this may be a problem of the past! These baskets can store a variety of items without losing their original shape as well as providing you with the flexibility that you've been looking for.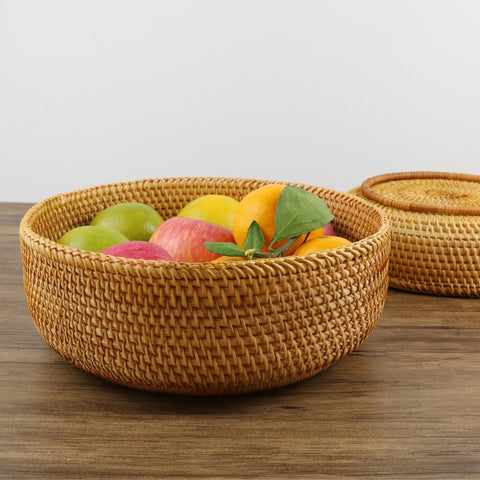 Light & Durable
You may be reading this article and thinking to yourself – 'that sounds lovely, but what practical use can rattan baskets actually have in my home?' The answer is simple, these baskets can be used in whatever manner that you'd like! You could be hesitant in using woven laundry baskets for example, but rattan is woven in a manner that means it can carry heavy objects with ease. You could absolutely use rattan baskets as a woven laundry basket, or to carry your food shopping in from the car, or carry vegetables around your allotment… the possibilities are endless! The rattan baskets themselves are light and can be easily taken anywhere, so they are simple to move when empty too.
Brilliant for Decorating Your Home
The durability of rattan baskets is a very practical benefit, but the versatility of them opens them up for a far more creative benefit too. Whether you want to use the rattan baskets as a stylish way to serve food, as a woven laundry basket, to organise smaller items, to add some character to your shelves or as a place to display pumpkins in your garden at Halloween, these baskets allow you to express your creativity in manner ways! Don't be afraid to put your own spin on these classic baskets – these can provide the finishing touches to make your house feel like a home.
Keep Reading: