Wicker vs Rattan – What's the Difference?
Jan. 28, 2022 | Written by Lana Kisner
Rattan and wicker are often confused for one another, but what's the real difference? They're both commonly used in baskets and furniture, but there is a key distinction to be made between these terms.
Wicker is the technique of weaving pliable stems into furniture, while rattan is a material made of the stems of a species of climbing palms. Wicker is often used in baskets and other woven items. Rattan is harder and more resilient, making it better suited for furniture manufacturing.
Let's take a closer look at the differences between wicker and rattan.
Wicker vs Rattan
Although they can sometimes be used interchangeably, there are important differences between rattan and wicker. Wicker is a technique used to make goods, while rattan is a specific type of material that can be used in wicker.
What is Wicker?
Wicker is a type of weave used to make goods such as baskets and furniture. Some of the most common plants used for making wicker are:
-Willow, which is naturally pliable.
-Osier, which has long thin stems perfect for baskets and furniture.
-Yew or black locust, which are both strong plants with long, flexible stems.
-Rattan, or climbing palms, which have long, thin stems.
Wicker can be woven into household items like furniture and baskets, and they can be colored for decorative purposes using dyes.
What is Rattan?
Rattan is a climbing palm of the genus Calamus that grows in tropical regions around the world. It has long, tough stems that are sometimes used to make furniture.
Rattan is usually thicker and stronger than wicker made from other types of wood, making it a better choice for items that need to be sturdy. Rattan can also withstand very hot temperatures without breaking down, so it's great as outdoor furniture.
Uses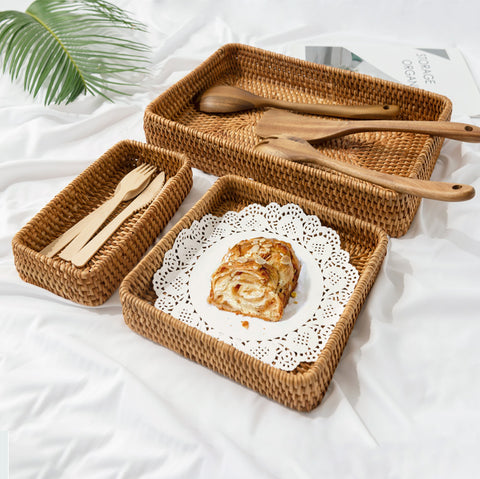 Wicker can be used to make baskets, furniture, and other household items. It is a popular choice for baskets because it is pliable and can be easily dyed different colors. Rattan can also be used to make similar items, but it produces thicker and stronger pieces.
Rattan baskets are a great way to incorporate versatile pieces into your home. They are a stylish and sustainable way to store your food, fruits, or other household items. Each of these hand-woven rattan baskets is durable, long-lasting, and unique.
Maintenance and Cleaning
Wicker and rattan are both made of natural wood, so their maintenance and cleaning should be gentle.
Dust can easily be wiped off with a cloth or soft brush. You can also wash both rattan and other types of wicker with a soap and water solution.
Always wipe wicker in the direction of the weave to avoid damage.
Conclusion
Wicker is a weaving technique used to make household goods, while rattan is a type of wood often used in wicker. Rattan is usually thicker and stronger than wicker made from other types of wood, making it a better choice for items that need to be sturdy. Rattan baskets are a durable storage option for your home that can add natural texture and warmth to any space.
Keep Reading: