Is Dry Brushing Good for Your Face?
Jan. 20, 2022 | Written by Dennis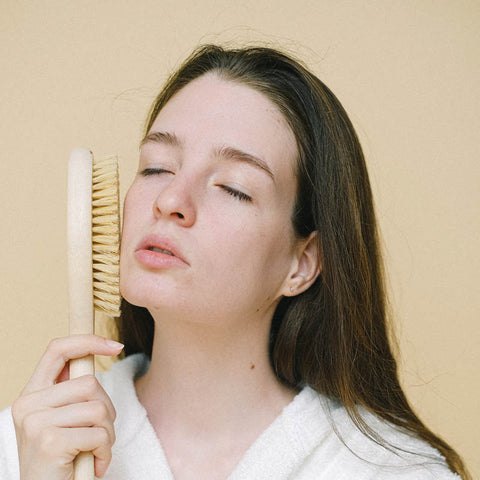 Facial dry brushing is one of the skincare routines that leave you healthy and glowing skin. This article will discuss what you need to know about facial dry brushing and how to do it correctly.
What is Face Dry Brushing?
Face dry brushing is the process of using an ultrafine soft brush to remove the dead skin from your face. It's like a subtle face massage, and studies say that among the numerous dry brushing face benefits is that it improves your mood.
Aestheticians recommend dry brushing your face once or twice a week for a maximum of two minutes. It is an excellent way to give your skin that extra glow.
Dry brushing is suitable for almost everyone. Most people benefit from dry brushing as it stimulates lymphatic drainage and exfoliation of dead skin.
Dry Brushing Face Benefits
Face dry brushing has some associated benefits, such as improving blood circulation, enhancing lymphatic drainage, reducing wrinkles, and exfoliating your skin.
Dry brushing your face can help replace those bad exfoliation habits you've intended to do away with. It is an easy, efficient and affordable way to keep good skin free of congestion.
How to Dry Brush Face
Face dry brushing is different from overall body dry brushing. You need to use a small dry brush for face cleaning. The best brushes have soft bristles and rounded heads for creating circular skin cleaning action.
Like body brushing, your brushing action should be gentle as facial skin is delicate. Start by brushing from your chin and move upwards till you have covered the entire face to your hairline. However, it would be best to avoid the delicate eye area.
Be gentle as you brush your cheeks. You have to apply slight pressure. If you brush it too hard, you could scrape off some skin. Do not be alarmed if your skin turns a little red. It is evidence that blood is moving to your skin's surface.
The neck is part of your face, and you should repeat the gentle brush strokes across your neck and décolletage. After finishing, you should apply nutrient rich-oil or serum to moisturize your face.
What you Need for Facial Dry Brushing
For many skin types, people need a dry brush for face cleaning. These dry brushes have soft bristles that give spa-like comfort at home.
GreenLiving has a Natural Facial Cleaning Brush with Wool Bristles and a Wooden Handle. This brush promotes healthy skin and naturally brings out a glowing face.
You should first slightly wear the facial brush before use to soften the wool bristles for sensitive skin.
The brush is 100% eco-friendly made from natural beech wood and soft wool bristles. It is the perfect skincare alternative. The wooden handle is durable and long to help you control pressure and speed while brushing. It is also suitable for deep cleansing and removing dead skin cells and final traces of makeup. At the end of its life span, the brush is compostable.
At GreenLiving, this brush retails at $7.99 only. Check it out here.
Conclusion
Dry brushing your skin is important but using the right brush makes the experience more worthwhile. Avoid using a dry brush for face cleansing too frequently if you have sensitive skin.