What is the Best Way to Exfoliate Your Back?
Jan. 21, 2022 | Written by Dennis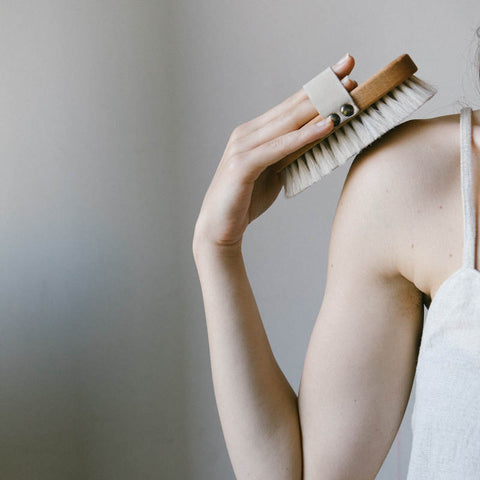 The skin on your back is hard to reach, but it still needs attention as the skin on the rest of your body. Many people also experience back acne, a common skin problem as almost two-thirds of people with facial acne have back acne. You can use a back scrubber for acne to exfoliate your back.
The best back scrubber allows you to exfoliate your skin, put a stop to itchiness, and combat acne. There are several ways to exfoliate your back, and we will discuss how to do it correctly below.
How to Get Rid of Back Acne
The exact disease mechanism that causes facial acne contributes to back acne. Sometimes, there is an increase in oil production from the body, causing oil and dead skin in the pores. This creates a perfect breeding site for bacteria. The combination of oil, white blood cells, bacteria, and dead skin lead to acne.
The most effective way of getting rid of back acne is through back scrubbing. This method does not require expensive medication and herbal products. All you need is a back scrubber and body wash, and you are good to go.
How to Exfoliate Back
The first step in exfoliating your back is first stepping in the shower and allowing hot water to run on your back. This opens up pores and aids the exfoliation process.
You should then take a back scrubber and scrub your back gently and circularly for about 30 seconds. Ensure that you reach all the affected areas. The next step is to take body wash, lather it into your hands, and apply it on your back like you would with shower gel. Finally, it would help if you rinsed off all the body wash. It would help to repeat this routine every other day.
Top Pick for Back Exfoliation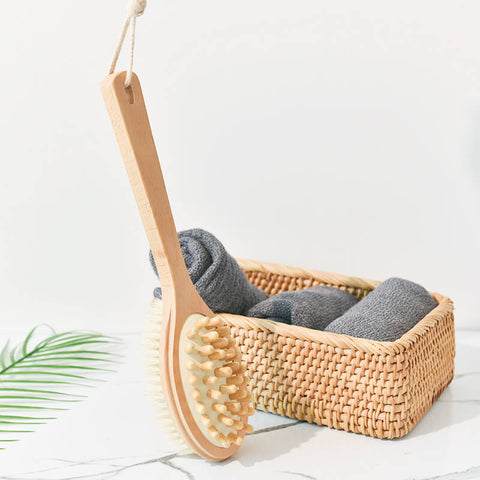 Our Double-Sided Wooden Dry Brushing Body Scrubber is the best pick for back exfoliation.
This is a skin-friendly back scrubber to give you rejuvenated and glowy skin. It helps keep your skin radiant and gives you a spa-like experience. This brush is double-sided with wooden handles and natural boar bristles.
Since the back scrubber is double-sided, you can apply it for dual-use. You can use one side to clean dirt from your body and another to scrub and gently exfoliate your skin. The part used for exfoliating and dry brushing boosts blood circulation, reduces fatigue, and keeps cellulite.
Apart from improving your skin condition, this brush is made from natural materials and is thus eco-friendly. The handle is made from natural beech wood, and the bristles from natural boar. Therefore, it is compostable after its lifespan and does not increase the carbon footprint.
This brush is also convenient for hanging storage as it has a hole in the handle. You can get the brush for only $9.99 here.
Looking for High Quality B

ack Scrubber

Supplier?
It is so easy to exfoliate your back this way, and you do not have to stress over buying expensive medication. Our back scrubber is the best for people with sensitive skin and acne, making it suitable for exfoliating and cleansing your back with minimal effort. Contact us and get free samples!