What are the Uses of Wooden Serving Tray?
Written by Aisha Abimbola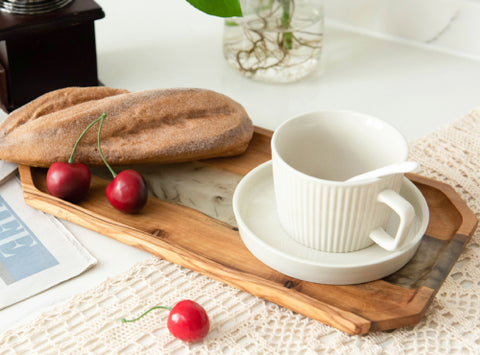 A wooden serving tray is made with stylish and crated patterns. It portrays elegance and a touch of modern innovations. Despite being a modern tool, some of these trays are inscribed with cultural values. Hence, it is a total package that retains its elementary value, adding to hospitality sparks. There are several benefits attached to using a wood serving tray. It makes the food more appealing to the human sense. Other uses of wooden trays are further discussed in this article.
Organizing Small Items
You can put a small wooden tray on your work desk or kitchen area. This allows you to access the essential items you need quickly. It saves time and stress when trying to find things at home. Also, it helps to leave your room in order, which could have been disarranged while finding an object. The oval black walnut wood serving tray with blue resin is a perfect choice for organizing your snacks and fruits.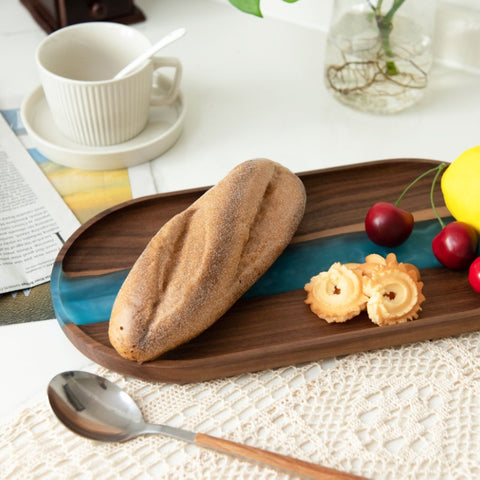 Used as Home Decor
Your round wooden tray can be a decorative tool in the home, especially in the kitchen. It could be a photo frame or a hold to your living room vase. You can also hang the oval-shaped tray on your kitchen wall to hold utensils. It's serving as a holding tool without losing its decor value.
Used as a Plant Tray
A wooden tray is a valuable tool to bring green nature into your home. However, it can either serve as a decorative tray or plant garbage tool. You can arrange particular species of plants in a wooden tray, displaying the beautiful green coloration. You can also use it to pack plants' dirt, especially on wooden trays with solid handles.
Used as a Coffee Table Tray
A wood serving tray will be helpful if you have a reading table and want to have coffee by your side. You can choose the rectangular olive wood serving tray with transparent black resin. It can also accommodate other drinks to help you stay hydrated while working or reading. It could also be on your relaxation table, providing the relief you need.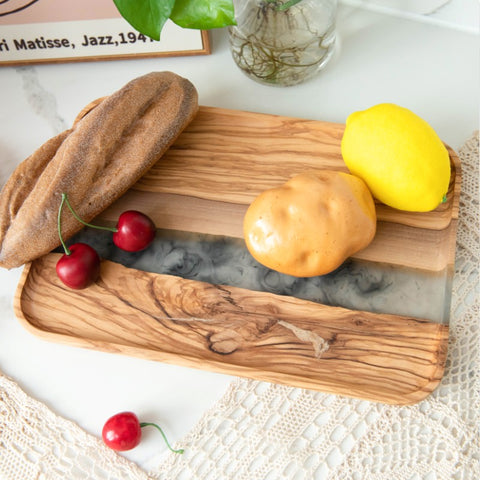 Used as a Serving Tray
As mentioned earlier, the everyday use of a wooden tray is to serve food and drinks. Hence, it has become a vital tool in the hospitality sector. Greenliving wooden trays with resin catch guests' attention with their beautiful design. The resin adds an elegant and smooth touch to the wooden tray, which is suitable for formal and informal events. They ease the serving process by allowing you to put two or more items on a tray, depending on their width.
Conclusion
Many traditional homes have grown fond of wooden trays, especially the round wooden tray. Meanwhile, serving is the most common use of a wooden tray. Beyond its serving purpose, the loofah sponge is a decorative tray for a work of art. It is flexible and is designed in different sizes. However, buy from a reputable provider to effectively enjoy the benefits of a loofah sponge. You can visit Greenliving to get your quality and highly durable wooden tray.
Keep Reading: