Why Cedar Shoe Tree is the Best Protection for your Shoe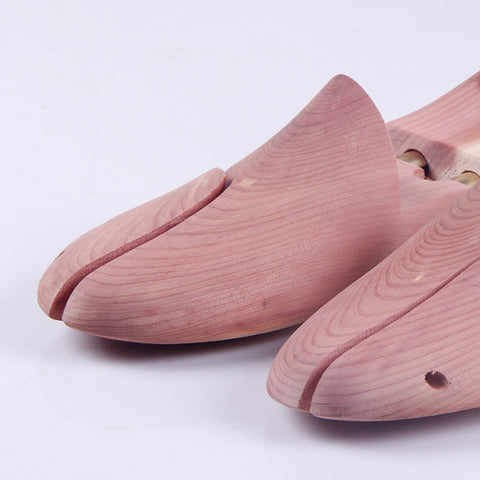 Have you ever felt dryness on your feet, despite hot weather? This is possible because of the presence of a shoe tree. The shoe trees are often made with plastic or wood material, while they also have a foot shape. However, there are different shoe tree models, which are customized to particular foot sizes and shapes.
How to Use the Cedar Shoe Tree
Firstly, you need to install a shoe tree in your shoe, even when you are not wearing it. This will help keep it in proper shape. Also, it will help absorb any moisture that may cause the shoe to smell bad. If your shoe is soaked with water, you can chill for about 30 minutes before installing a shoe tree.
After successfully carrying out the initial procedure, slide the front part of the boot trees into the shoe. If the boot trees have split toes, pinch the back of the shoe tree so that it can join with the one at the front. The process is easy, as you can also follow the user's manual guide. However, if it takes longer than usual, the shoe tree size may not correlate with the shoe size.
Why You Need Shoe Trees
Shoe trees are essential to absorb the sweat in your shoe. It is usually disgusting to see moisture in your shoe, which will affect your walking mechanism. Hence, shoe trees will let you walk effectively and eliminate any odor. Shoe trees also prevent shoes from getting damaged early, which could have resulted from absorbed moisture.
Shoe trees are so essential that you do not want to lack them on a rainy day. It is best to keep shoe trees in your shoe for a minimum of 24-hours before wearing them. You can also select shoe trees for each of your shoes. If you have just a pair, use them for the shoe you often wear.
Are Cedar Shoe Trees Better?
Cedar shoe tree is a better option than its alternatives because the material is strong enough to prevent your shoe leather from cracking. It is a good investment because the material is highly durable than its plastic counterpart. Cedar shoe trees are also readily available because they are the most preferred option. Although the Cedar materials are pretty expensive, you can get them for about $40 at the Greenliving website.
You can get adjustable cedar shoe trees for men and women to enhance flexibility during usage. Also, shoes sensitive to moisture, such as suede and leather, need cedar shoe trees. It is also the best option for swampy shoes.
Conclusion
You need to avoid buying faded cedar shoe tree while shopping for the best suitable material. A varnished shoe tree will hinder natural absorption and increase the likelihood of shoe rot. A cedar shoe tree can last a lifetime but ensure proper maintenance. Sanding the wood will eliminate any gain piled up in the shoe tree. Moreover, the quality of the product purchased from your preferred vendor will affect its durability. You can contact Greenliving, where you can access broadly available shoe trees of quality materials.
Keep reading:
Are Cedar Blocks Safe For Cats/Dogs: Complete Guide For Pet Owners