5 Smart Ways to Use Woven Baskets for Storage
Written by Aisha Abimbola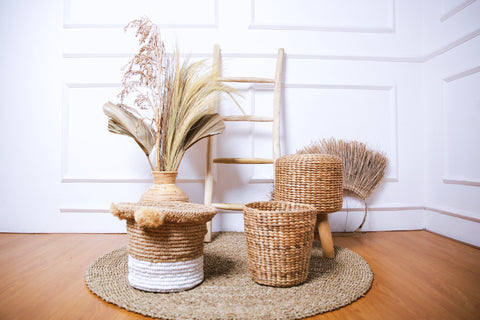 Before going to the store to buy woven baskets, you need to identify ways and creative ideas that work. You do not want to leave woven baskets across your homes, making the environment untidier. These baskets are suitable in the dining room, living room, kitchen, bedroom, dining area, and every other space in the home. Read further to identify smart ways to use your woven baskets for storage.
1. Using Woven Baskets as Linen Closets
One of the best ways to ensure your linens are properly arranged is to put them in a well-designed storage item. Woven baskets work best in a linen closet, as they keep everything in order. This is a smart way to put things in order without spending excess on synthetic storage materials. Also, it saves stress and time when looking for clothes for outings or occasions.
2. Using Woven Baskets to Store Cleaning Supplies
If you have been lazy with cleaning, you may consider spicing up the storage item for your cleaning supplies. Once your cleaning supplies are in order, it will be less challenging to create some time for the cleaning processes. Many people store items with woven baskets, but only a few have been smart with its utilization. Meanwhile, you can explore woven baskets utilization for several purposes.
3. Using Woven Baskets to Store Kitchen Supplies
Woven baskets for storage are an item that will remain beneficial in the kitchen. Many people quickly mess up an environment with food products, which can be avoided with the correct storage item. Let people awe your kitchen by arranging your appliances in basket storage. This works for traditional and modern kitchens, and it is a smart option you will never regret.
4. Using Woven Baskets as Open Shelves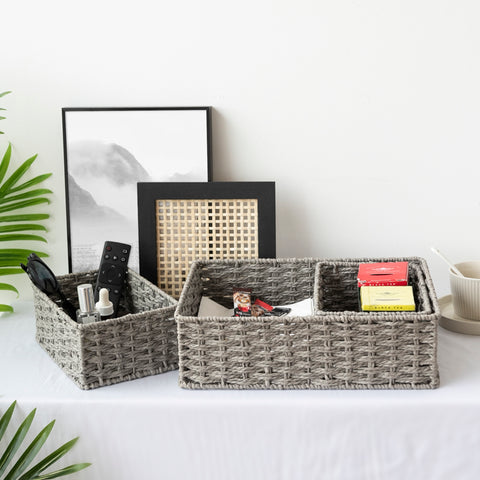 It would help if you had a multiple-use woven basket that can serve multiple storage purposes. This is particularly true for open shelves where you need to store a collection of items. The basket storage allows you to group these items and arrange them with any yardstick. You can also have basket storage with side spaces to help store stationeries. You can separate the items based on usage frequency to save yourself the time to find your necessary tools. With your brilliant creativity, you are minimizing stress and wastage for yourself.
5. Using Woven Baskets to Store Extra Bedding
Woven baskets are the brilliant saviour when your closet can no longer contain these beddings. Arrange your bed cloths in woven baskets instead of allowing your bed cloths to lay across the room lazily. You can pile as much as you want, as long as it does not trip off the basket. You can also set these beddings based on necessity. Some people love getting excess beddings, as they keep leaving them unused.
Conclusion
Woven baskets are readily available, and you can rather get them online and on-site. You may need to choose from several colours, shapes, styles, and overall designs. You can visit a local store nearby and select your most preferred option. Greenliving is also a supplier company that provides users with various options.
Keep Reading: