Storage Ideas: Why Do You Need Wicker Baskets in Your Home?
Written by Aisha Abimbola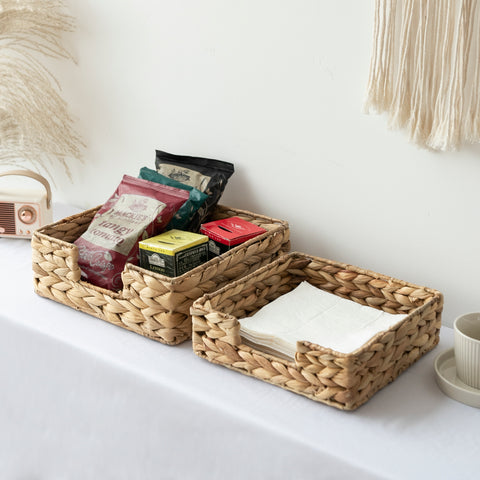 There are several baskets categories in shopping stores, but wicker is preferable. Wicker baskets are known to have extended durability because they are built with solid and long-lasting materials. These baskets are useful in homes, and they can be hung on the wall to serve as storage objects. The popularity of wicker baskets keeps growing worldwide. Read more to discover why wicker baskets are common and why you should consider owning them.
Materials Used in Constructing Wicker Baskets
Wicker baskets are produced from organic and quality products. This is the main contribution to their lightweight and durability. Traditionalists enjoy it so much because it serves both outdoor and indoor purposes. The maker must establish a design or frame on which they weave the material. Most of the baskets have handles, making them easy to carry about. Nationality often decides the material used during production; however, the common natural weaving materials are below.
Grass
Sagebrush
Bulrush
Reeds
Willow
Thread
Oak
Vines
Straw
Pine
e.t.c
The above materials are standard, wherein Greenliving uses rattan and water hyacinth to create a double-spaced basket. The company sells wholesale products with the added advantage to every user.
Why Many People Want the Wicker Baskets
Wicker baskets have been around the world since the 80s, and it is not surprising people still want them in this modern age. These baskets have a simple production process compared to many of their counterparts. The materials needed for production are readily available in markets, with low incurred costs.
At this age, people want to carry out tasks conveniently, without stressing too much. Since these baskets are lightweight, many users prefer wicker baskets for storage. They can quickly move it around, making it preferable to metal containers. Also, wicker materials allow people to be creative with their DIY models.
Uses of Wicker Baskets
Wicker baskets serve various purposes for different people. Some professionals, such as chefs, use it for cooking, while others, such as fishermen, use the wicker baskets to catch fish. However, people use it to shop, display decorative items, and store.
These wicker baskets play vital roles in both developed and developing countries. Countries like the USA use the basket to display items in their grocery stores. However, the use varies for individual purposes, depending on your needs. This is why you need wicker baskets wholesale that will allow you to use them for multiple purposes.
Many of these wicker baskets are beautifully handcrafted and can be customized to specific shapes and designs. The Hyacinth Wicker Baskets for Storage Wholesale are eco-friendly and designed to provide household functions.
Apart from the kitchen, wicker baskets also serve some purpose in bedrooms and bathrooms. If you have a reading room, it can also serve as a store for newspapers and your favorite magazines. Also, cultures, locations, and preferences influence the purpose of your wicker basket. For instance, some cultures with many farming inhabitants use this basket to trap insects and collect food crops.
Conclusion
Hopefully, you are convinced about choosing wicker baskets for storage. Then, you will need to take the next step and make another critical decision. Wicker baskets are currently in high demand, mainly because of the ease. It would help if you had a supplier to deliver quality wicker baskets wholesale. Make sure the supplying company is as reputable as Greenliving. You can also check the company's website for more information or inquiries.
Keep Reading: