All You Need to Know About Salt and Pepper Grinder
Written by Aisha Abimbola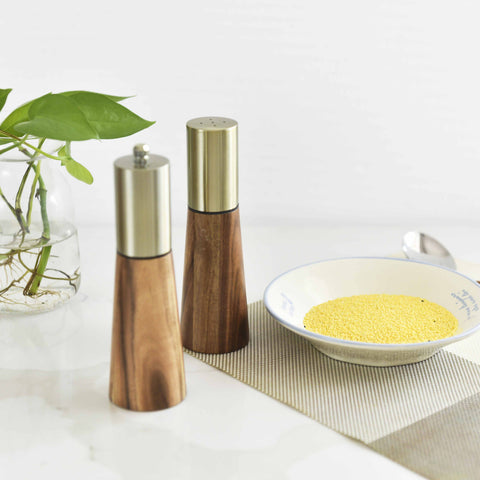 Salt and pepper are one of the key ingredients used while cooking. They spice up stews, salads, soups, meats, and even sandwiches. It would help if you had a salt and pepper grinder that makes your cooking easier and faster. With the rise in technology advancement, engineers have introduced several machines.
However, this grinder is necessary for homes, among several other technology products. Below is additional vital information about this salt and pepper grinder that provides ease.
What is a Salt and Pepper Grinder?
A salt and pepper grinder help to crush large chunks of pepper into smaller pieces. It also helps with coarse salt, primarily if you use rock salt in your meal preparation. However, a wooden pepper grinder is recommended as the best quality material. The material fits into several purposes, with long durability. As a result, it is essential to choose a reputable supplier to provide good quality wooden pepper grinder.
Choosing the Best Salt and Pepper Grinder
New models of salt and pepper grinders are being developed daily, but you need to identify one that suits your needs. If you want a grinder that will not rust quickly, choose the wooden pepper grinder over an iron shaft. Although the iron shaft material may appear fancy, it is not a wise investment decision.
The acacia wooden salt and pepper grinder set is a good combination of aesthetics and durability. In the real sense, wooden grinders are being upgraded, which may grow in popularity over iron shaft material before the next decade.
How to Use the Salt and Pepper Grinder
Contrary to popular opinion, the salt and pepper grinder is not complicated, and the grinding can be achieved in a few minutes. You can use the grinder for coarse salt that you want to crush into fine pieces. You can purchase your salt and pepper grinders wholesale since they are resistant to corrosion. Below are some of the sizes suitable for particular dishes.
Choose fine textures if you use salt and pepper to dress a salad or other light dishes.
Grind your pepper to medium sizes for general-purpose cooking. This includes seafood, soups, and poultry.
The coarse grind is suitable for hard-boiled proteins, including meats, chicken, and thick sauces.

Difference Between a Pepper Mill and Salt Mill
A pepper mill and a pepper grinder may appear the same, but the grinding mechanism differs. If the grinding machine is stainless steel, it depicts a pepper mill. This grinding mechanism does not work for salt because it will increase its chances of being corrosive. Also, salt will make the machine less usable, as it tends to stick with any traces of water present in it.
In salt mechanism, many engineers use nylon, which reduces its corrosion level. However, there are different machines suitable for grinding certain salts. Nevertheless, make sure not to use the salt mill to grind pepper and vice versa.
Conclusion
Research shows that a pepper mill produces a more appealing flavor than an already stored pepper. It also appears fresher, giving eaters a sense of satisfaction. Hence, more people place high demands on the salt and pepper grinder. As a result, business enthusiasts saw an opportunity to enlarge their coasts. If you are also considering the salt and pepper grinder, you should contact Greenliving. The company has had a good reputation for long years in the industry. You get discounts on wholesale prices, increasing your potential profit.
Keep Reading: