Organizing Ziploc Bag Storage Ideas
Written by Aisha Abimbola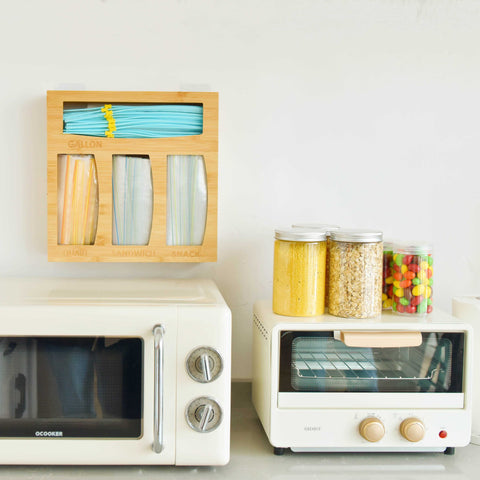 If you are tired of a messy drawer, you need a professional Ziploc bags organizer. It is usually pleasant when you have your items in place, and you do not need to stress before getting things done. However, you do not need to pay an organizer before tidying up a messy drawer. This article has enough information to help you move your Ziploc bags conveniently.
The importance of Ziploc bags cannot be overemphasized. Ziploc bags are ideal for small items and quick to misplace. Here are important reasons you need to own a Ziploc bag.
To organize your bathroom cabinet: Instead of putting items under your sink, you can use a Ziploc bags storage. You can also pit your travel materials here to quickly grab the objects needed for a vacation or urgent business meetings.
To organize the entryway: You can put vital paper items, such as schoolwork, mail, and calendar, in a Ziploc bag. It is also a great way to keep stationery for kids.
To organize your Bedroom: You can achieve perfect drawer organization in your bedroom. Your accessories and other tiny tools can be kept in a storage container. You can also use a divider to separate each category from another.
A Ziploc bag storage of several capacities does not limit your chances of putting items in different categories.
You need a Ziploc bag if you want storage in an ample space. You can maximize Ziploc bag storage space if you have a small closet.
The wooden Ziploc bag storage is an eco-friendly product. It is renewable, making it pose no threat to society.
It is much easier to execute a project with a Ziploc bag storage. It is manageable, and you can quickly transfer it from one space to another.
Bamboo plastic wrap dispensers for the kitchen drawer can help serve several purposes. It either has an aluminium foil or parchment paper that allows your items to stay neat in the container.

Why Choose Us?
If you have decided to own a Ziploc bag, the next step you want to take is to get a reputable wholesale supplier. Drawer organization is not a challenging task as you may have thought. It would help if you got modern products built with updated tools. Greenliving is a brand that many users highly recommend. Moreover, below are the benefits of Greenliving products that make it stand out among other brands.
It helps a Ziploc bags organizer use the storage material with the natural bamboo material for a long time. The bamboo material is less corrosive and easy to clean.
Drawer organization is much easier, with laser engraved letters crafted by Greenliving.
The premium wood ziploc bags organizer has smooth surfaces, improving aesthetics.
It is a great gift idea for appreciating your loved ones.
Conclusion
It is best to have Ziploc bags storage, which will enhance your bag maintenance. Instead of living items around, you can execute a project timely and faster. After sorting your things in the Ziploc bag, you can place them in a closet or container. You can visit Greenliving for varieties of Ziploc bags that can contain several sizes of items. This meets the needs of many people with diverse budgets.
Keep Reading: