Best Eco-friendly Dish Brushes for Your Home
September 11, 2021 Written by Gargie Kejriwal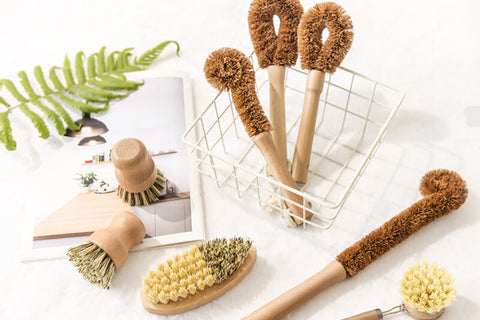 Are you planning to make your kitchen sustainable? Well, an eco-friendly dish brush is a great place to start transforming your kitchen into an environment-friendly space. Earlier, the sponges were made of natural materials that not only reduced pollution but offered best cleaning solutions. Today, the yellow and green sponges found in most households are made of synthetic materials.
The main issue with synthetic brushes is that they are hard and can easily get contaminated. They increase the risk of spreading the microparticles onto your dishes and kitchen floors. If that isn't enough, these synthetic sponges lead to pollution and environmental damage.
That's why more and more homeowners are now switching to eco-friendly wood dish brushes that are easy to use and deliver the best cleaning performance. Let's check out a few eco-friendly dish brushes that make an excellent choice for your kitchen cleaning.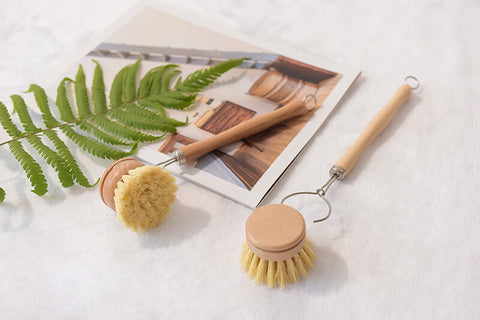 The smooth texture of this brush needs only a small amount of liquid to foam and clean your dishes seamlessly. The product doesn't get oily, and it dries quickly, preventing any form of bacterial growth and contaminants. Unlike other dish brushes, our Eco Kitchen dishwashing brush does not leave a bad odor.
The non-scratch and mesh-like texture of this dish cleaner make it an ideal choice for soft plates and non-stick pans that are prone to scratches when exposed to scrub. The material is hard enough to wipe the food residual and other stubborn stains and plaque from the dishes without damaging the plates. Natural breech wood brush features pure, eco-friendly, and bio-degradable, with 100% natural fibers.
Features
Thick and smooth texture
Offers strong and easy grip
Made of 100% natural sisal and beech wood
Solid to use
Foams quickly
Scratch-free cleaning
Compostable and sustainable product
Pros
Long-lasting cleaner
Natural fiber offers the best cleaning
Fluffy, gentle, and smooth
Reasonable prices
Environment friendly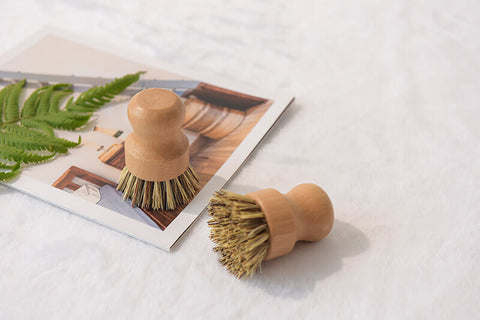 The ergonomic design of the brush makes it easy for you to clean the dishes thoroughly. It is small but strong enough to give your dishes a good wash. The wooden handle looks neat, robust, it is made of beech wood and natural sisal. This full-circle bubble-up wooden dish brush features a nontoxic coating that could scratch the dishes. The material is soft yet powerful enough to scrub your dishes properly. The bristles dry quickly, preventing the risk of bacteria build-up.
It's sleek and portable design allows you to carry the brush easily and wash just about any type of dish. In addition to the design, the bristles are sturdy and easy to use. It saves you the time of scrubbing the dishes for hours. Once you are done doing the dishes, store wooden dish brush on the kitchen countertop. Not only is the product eco-friendly, but the process of manufacturing this dish brush is sustainable as well. The company claims that its production led to the emission of fewer greenhouse gases, thus making it one of the safest and sustainable dish cleaners out there.
Feature
Wooden handle
Ergonomic design and sleek look
Plant-based
Extra stiff
Use it as a scrubber
Pros
Easy and strong grip
Sturdy design
Durable and smooth
Good scent
Easy to clean
Safe for your pots, plates, and all types of dishes
This cleaning kit is another great product for homeowners looking for high quality sustainable cleaning tools. The product can be used on nearly all types of dishes ranging from frying pans, bottles, to plates and pots. The wooden handle is sturdy and easy to hold, while the materials used for its production are natural fibers, and other eco-friendly items.
The product foams easily and with only a small amount of the cleaning liquid, and it also has the capacity to absorb dirt easily. The volume of the natural cleaning brush increases as you dip the product in the cleaning solution and as it gets softer, it allows you to clean the pots and plates without leaving any scratches. Once you have completed washing the dishes, clean the dish brush with mild soap and warm water. It can be used for cleaning food stains, mold, mildew, and stubborn dirt on the utensils.
Features
Offers multi-function cleaning
Natural coconut fiber & Beech wood handle
Plastic Free alternatives for your home
Made of 100% eco-friendly items
Stiff and strong bristles
Causes no bleaching, odor, and scratches
Pros
Foams quickly
Cleans all types of stains
Easy to hold
Long-lasting and easy to hold
Clean and hygienic
Cons
No cons that we know of
FAQs
How to clean wooden dish brushes?
Wooden dish brushes are cleaned in the same way as other synthetic and natural brushes. Add a few drops of vinegar to a cup of warm water and soak the brush in it. Keep it soaked for an hour. Store the product in a dry place.
What are dish brushes made of?
Dish brushes are made of plastic, wood, metal, fiber, and other materials. If you are looking for pure, natural, and biodegradable dish brushes, go for the brush made of wood. These brushes are designed to last for years, and you could also swap its head whenever needed.
Why are wooden dish brushes better than their synthetic counterparts?
The biggest advantage of using wooden dish brushes is that they do not attract bacteria. Hence, they do not produce bad odor. They are safe and long-lasting.
Conclusion
The eco-friendly wood dish brush is widely used for sanitary cleaning purposes. The kitchen brushes are sold in a wide range of shapes and sizes, but those made of natural fibers have the ability to last long and offer excellent cleaning results. The above listed eco-friendly and sustainable dish brush is an excellent choice for sanitary cleaning.
Happy Eco-Cleaning!
Keep reading: