7 Natural Cleaning Brush Swaps Will Help You Live a Green Life
Nov. 18, 2021 | Written by Alice W
In a zero-waste life journey, you'll want to make sure your home cleaning brushes that are of great function in cleaning while also being eco-friendly. So you have to be wise when making buying cleaning brushes choices. For those expert level zero-waster, they know cleaning brushes with natural bristles and wooden or bamboo handle are the best bet.

No matter you're looking for a hair brush, a facial cleaning brush, or a dish brush, a natural fiber brush won't disappoint. Here are 8 natural cleaning brushes, at an affordable price, for your kitchen, body, face and hair, making a great addition to your daily routine and helping you live a green life.
Why You Need Natural Brushes for Cleaning?
Like many, you must spend much time on cleaning at home every day – washing dishes, fruits, let alone cleansing your face and hair. As a zero-waster living sustainable, of course you know it is necessary to set up an eco-friendly system for daily cleaning.

There are thousands upon thousands of cleaning brushes options. Compared the plastic ones, natural brushes made from plant-based fibers and wood handle or sustainable goat/boar hair, are more professional in cleaning and a better way of making positive impact on earth. When it comes to the price, the plastic or synthetic brushes are relatively cheaper, but the natural brushes last a much longer life, sometimes for a life long time.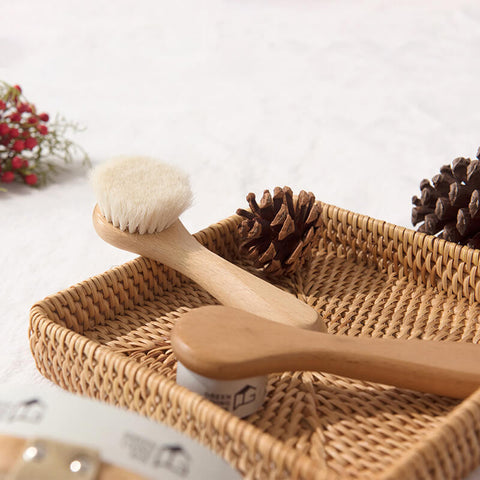 GreenLiving is a brilliant source to find natural cleaning brushes. Its eco-friendly face cleansing brush, with ultimate soft wool hair as the bristle and solid beech wood as the handle, is a daily treatment to clean and nurture your facial skin. Using natural facial cleaning brush for washing face and dry brushing has many benefits -- keeping your skin more clear, reducing acnes, and firming and renewing your skin.

Besides being a facial cleaning brush, it can also work as a baby hair brush. The wool bristle is 100% safe and gentle on baby's hair and body.

Features:
Premium super soft wool bristle
Long-lasting extended wood handle
Round bristle head
All biodegradable green materials
Pros:
Safe on sensitive skin, and baby's skin, hair, and scalp
Wet brushing for deep cleaning
Dry brushing for facial massage
Skin care and beauty care
Handy, lightweight, travel-friendly size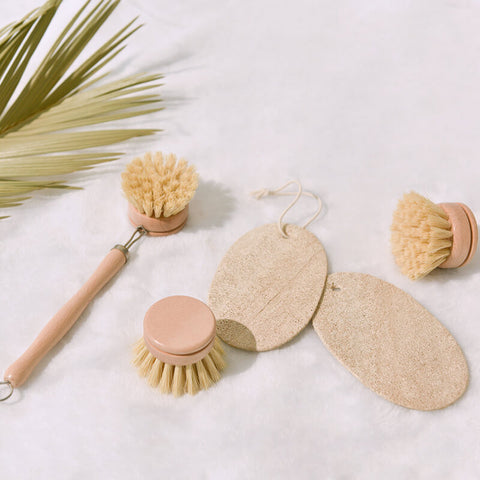 Next up, we have this ECO cleaning brush for dish that gives maximum satisfaction in the kitchen by effectively removing dirt, grease, stain, and stuck-on food on dishes and cookware, without harming hands. Move towards a zero-waste kitchen, by swapping the plastic sponge with this dish brush. The best thing about this eco-friendly product is that it has two additional replacement heads, making it a reusable dish scrub brush.

Besides that, there are two pieces of loofah sponge, which works efficiently on your delicate kitchen utensils, without scratching.

Features:
Natural sisal bristle
Natural loofah sponge
Long solid wood handle
Sustainable, reusable product
Pros:
Essential for kitchen cleaning
All-purpose natural brush for dish, pot and kitchen utensil
Get rid of oil and dirt fast
Protect your dishes and hands
Highly durable quality at competitive price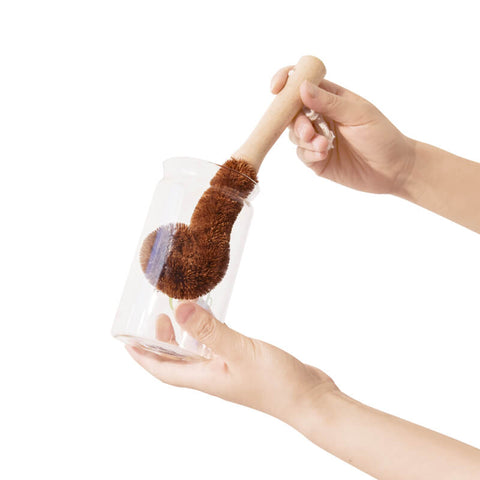 A must item in your natural kitchen kit, this plastic-free natural brush for bottle cleaning is exceptionally durable and consistent. Renowned for its coconut bristle and beech wood handle, it won't show any sign of wear after long-term use on a daily basis.

It is considered one of the best natural bristle bottle brushes on the market, and ideal for cleaning multi-material cups, bottles, pots, sink, jar, and glassware. The coconut bristles are stiff but very flexible, and doing a great job in scrubbing the hard-to-reach areas of a bottle to clean marks, dirt, tea stain, coffee stains, and tough grime.

Features:
Long solid wood handle
Firm, dense natural bristles
Plant-based, green materials
Hanging loop design
Pros:
Suitable for various materials and various shapes of bottle
Leaves no scratch behind
Brushes off stubborn stain
Compostable, environmentally friendly
High quality and reasonable price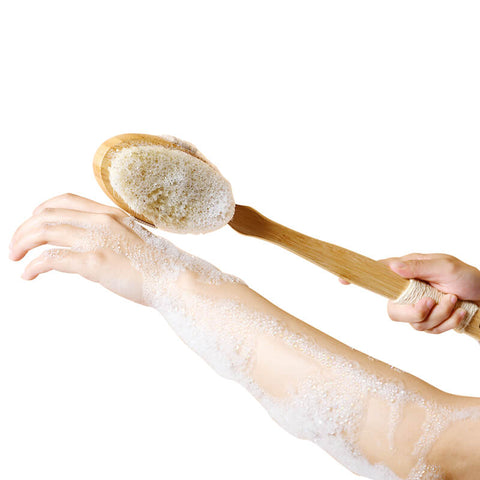 Here comes the fourth item on the list. This eco-friendly shower brush that features long-lasting boar bristles and an ergonomic bamboo handle that lets you maintains a firm grips and works smoothly to scrub your entire body, even the hard-to-clean parts.

It is an all-purpose body brush capable of deep cleansing skin, exfoliating dead skin cells, massaging away muscle tension, fatigue, and obesity, and accelerate blood flow, lymphatic flow and metabolism to ensure tight, soft and healthy skin. A spa-like bath is promised! The high-end natural body cleaning brush comes with elegant aesthetic, making it asso a natural deco for your house.

Features:
Extra-long non-slip bamboo handle
Consists of wild pig bristles
Detachable brush head
Cotton hanging rope
Pros:
2-in-1 design, two types of usage
Suitable for wet and dry brushing
A bath brush, body scrubber, cellulite massager, body exfoliator
Reliable performance
Amazing health benefits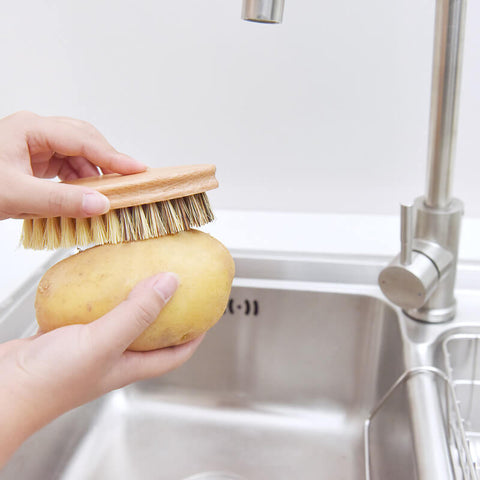 GreenLiving has a wide assortment of natural bristle cleaning brushes to be used in the sustainable kitchen, including this vegetable and fruit brush. The sisal bristles, with two different hardness, are densely and firmly pined, durable and effortless useful in cleaning root veggie or fruits. The solid wood handle is easy and comfortable to grip when brushing.

Use this natural brush to clean the dirt and marks off the apple, tomato, carrot, eggplant, green pepper, mushroom... and prepare a heathy and delicious meal.

Features:
Made of sisal fiber and beech wood
Adorable teardrop-shaped
2 different hardness bristle
Smart size
Pros:
Cleans edible fruits and vegetable
Peel vegetables with the harder bristles
Healthy, non-toxic, hygienic
Easy to care for
Entirely compostable and eco-friendly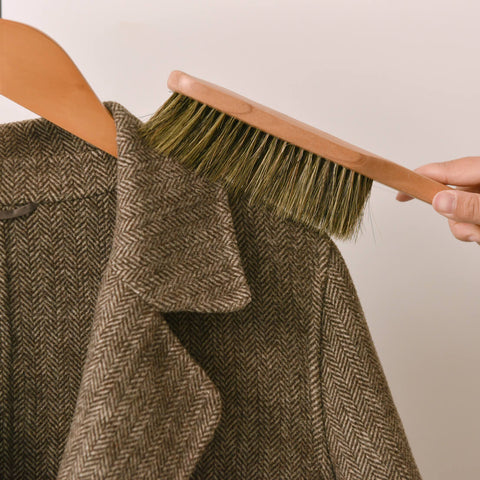 Worry that dry cleaning will damage the nicer fabric and shorten its wearing life? Here, at number 6, we have a natural brush for clothes. In order to stretch out the life of your delicate clothes, a clothes brush is a must. Consisting of best quality boar bristle, it can help remove deep-rooted dirt, fluff and hair with ease, apart from the surface-level dust.

While it ensures effectiveness on cleaning, this natural brush also promises no scratching or damaging your clothes. Multi-functional, and working perfectly on various delicate fabrics like wool, cashmere, suede, this clothes is one of the most popular products of its kind.

Features:
Crafted from boar bristles and lotus wood
A long ergonomic handle
Superior quality natural material
Daily use
Pros:
Work great as a lint remover, suit brush, garment brush
Cleans built-up dust, debris, lint, fluff, and pet hair
Also suitable for brushing bedding and delicate furniture
Leaves no tacky residue

Last but not the least, we recommend this cleaning brush for shoes. The softest but sturdy horsehair is most suitable for cleaning textured leather shoes and boots, removing the dust, dirt and stain from the surface, as well as the sediment from the textured midsole and sole. It will also do a perfect job buffing and polishing leather to a beautiful shine, without leaving a single scratch.

Versatile, the brush is also helpful to keep suede boots, bag packs, leather jacket, sofa, car upholstery, and other leather accessories clean and shiny.

This product is one of the best shoe cleaning brushes that are hard to find.

Features:
High density, genuine horsehair bristles
Beech wood handle for easy grip and move
100% natural, sustainable raw materials
Portable size
Pros:
Professional care for leather shoes
Ideal for shoes cleaning, buffing, polishing
Anti-static
Highly versatile
Save time and energy
Conclusion
The 7 natural cleaning brushes for hair, face, body, kitchen, shoes and clothes are some easy swaps for a sustainable home, and will help you live a green life.