A Guide to Buying Good Shoe Brushes
Dec. 7, 2021 | Written by Gargie
We spend tons of money on our footwear. Finding the perfect shoes that look good on all occasions and that suit your lifestyle is not as easy as it sounds. You need to shop around to many footwear stores, check the sizes, compare prices, and test the quality before you make a
purchase decision.
Now that you are investing time and money in footwear shopping, it's important to buy high-quality and the best shoe brushes to keep your shoe in good-quality condition. You can't just pick a random brush for your shoes, after all, cleaning isn't the only thing you expect from the
shoe brush. The best shoe cleaning brushes can polish your shoes without causing any damage to the leather.
Let's check out the common types of shoe brush cleaners that can help you achieve your sustainable home goals.
Types of Shoe Brushes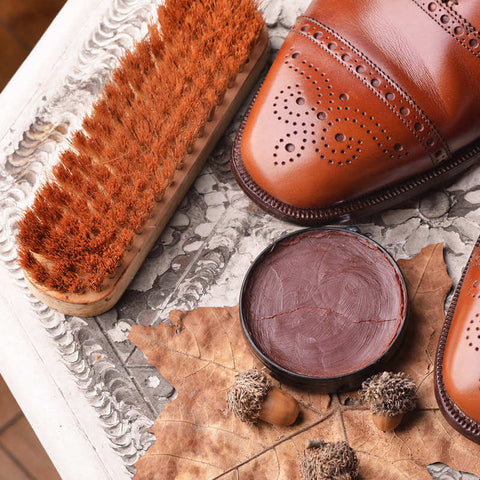 A regular-use brush can only clean your shoes. If you want to polish them and keep them looking as good as new, you need good shoe brushes that can perform excellent cleaning and polishing.
Here are a few options you can try.
● Horsehair Brush
This is the first type that pops up in our mind when we think about good shoe brushes for leather, synthetic, and other materials. A horsehair shoe brush is used to clean your suede and
leather shoes. It removes the dirt, debris, and dust from the fabric and builds shine.
People choose horsehair brushes because of their density. The bristles are soft but strong enough to remove stubborn stains efficiently. This brush is quite effective for leather footwear. Not only are the bristles soft, but they are incredibly flexible.
● Goat Hair Brush
A goat hairbrush has very soft bristles and is used to give the finishing touch. Once you are
done waxing and polishing the shoe, use this brush to clean the leather gently. You could also use it for cleaning purposes, i.e. to remove light stains.
● Wild Boar Bristles
For shoes with stubborn stains and debris that won't come off, you need good shoe brushes with hard bristles for cleaning. Wild or pig boar brushes are used on leather boots mainly.
These brushes should be used for scraping the debris stuck to your shoes. They are designed to remove nearly all kinds of stains (no matter how dark and rough they are).
● Suede Brush
You can use any of the above brushes for suede shoes, but if you want to give your suede fiber a deep cleaning with the best and soft-bristled brush, the suede brush is your best bet. Use this brush occasionally to keep your suede shoes in good shape.
Materials for Shoe Brushes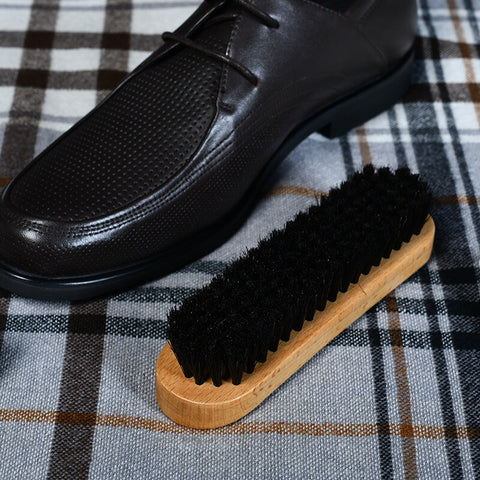 Shoe brushes are available in many types, each featuring either soft or hard bristles. The ideal brush for your shoes depends on the material it is made of, how much dirt it has accumulated, and the type of cleaning it needs to look good.
For example, if you have used your leather boots on a muddy surface, you need a hard bristle brush to scrape away the stubborn dirt. A soft-bristled brush, on the other hand, is a perfect option for those who are done with polishing and need a gentle brush for a finishing touch.
If you want a sustainable option, consider a natural bristle shoe brush for suede and leather.
Are you looking for eco-friendly products? Well, these organic, soft, and effective brushes can give your shoe a nice wash and a perfect finish.
Horsehair Shoe Brush VS Pig Boar Shoe Brush
Horsehair is most commonly used for nearly all types of shoe cleaning requirements. These brushes have softer bristles than pig bristle shoe brushes and they are designed to give your shoe a gentle and smooth cleaning. You can use them on any shoes - whether it is suede fiber or leather.
Pig bristle shoe brushes are for leather shoes and other footwear made of sturdy materials. It's important to consider that this brush has hard bristles and is used for rough fabrics mostly. If your shoe has accumulated stubborn stains that won't go away or fade, consider using Pig Boar
brush as the bristles get deeper into the fabric to remove debris and dirt.
Both shoe brushes are a must in your shoe shining and cleaning kit.
Horsehair brush makes an ideal option for regular footwear cleaning requirements, while the pig boar can be used occasionally for deep cleaning.
Best Shoe Brushes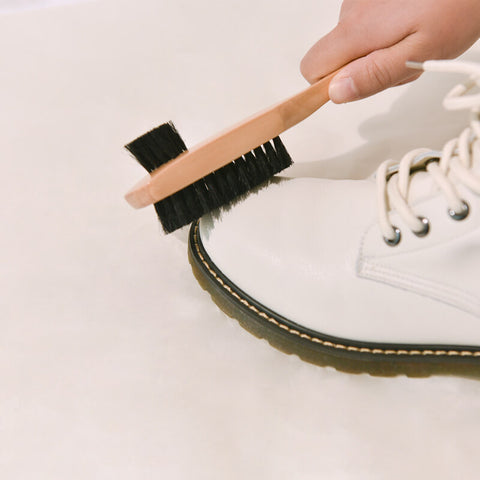 Unlike the regular pig bristle shoe brush, this one has soft hair and is used for gentle cleaning purposes. The brush has a lotus wood handle. Featuring 100% organic bristles, the manufacturer has used long and comfortable handles so you can clean the shoes without any
difficulty.
Features
● Made of 100% natural and eco-friendly materials
● Works on suede, leather, and all other materials
● Comfortable and sturdy wood handle
● Multi-functional product
● Plastic-free, durable, and good shoe brushes
It may not be as soft as the horsehair brush, but this pig boar natural-bristle shoe cleaning brush gives your leather shoes a shiny finish. They are effective in removing the dirt from the grooves and surface of the shoes.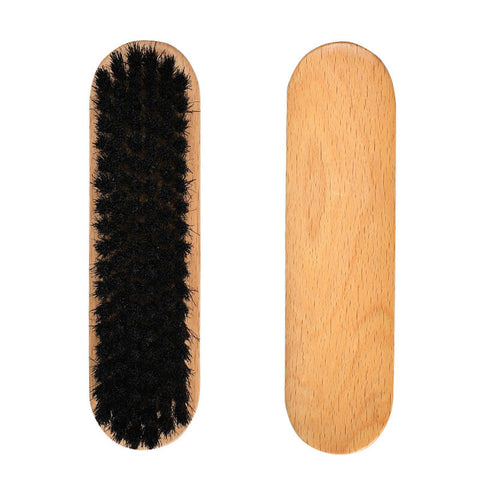 This soft and organic shoe brush for your leather and suede boots works wonders on all materials. It has soft bristles used for gentle cleaning. The horsehair shoe brush gives your shoes a shiny, polished, and neat finish. If you want your shoes to look as good as new, we recommend to clean them with these soft-bristled, which are 100% organic horsehair shoe
brush for suede.
The best part is that the brush can be used on other leather products, such as your sofa, car seats, backpacks, bags, furniture, and more.
Features
● Made of natural beechwood and horsehair
● Rounded handle
● Soft bristles
● Used for cleaning and shoe polishing
● Multiple functional designs
Wash it with a shampoo or a cleaning detergent, dry the brush, and store it in a ventilated place.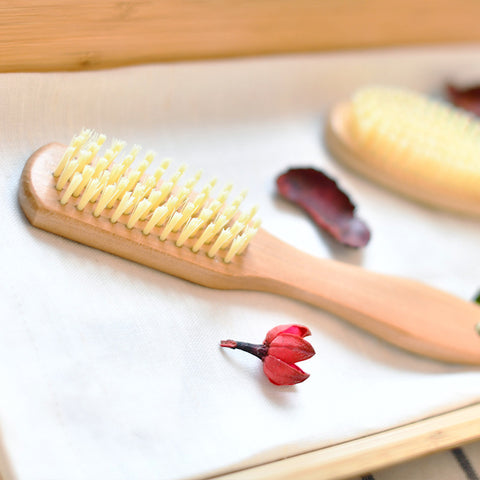 Green Life has this perfect shoe brush featuring a long solid wood handle that gives your shoes a perfect wash and makes them look fresh and new. The long handle makes it really easy for you to clean every nook and cranny of your shoes. It is also easy to hold and can clean the hard-
to-reach corners quite effectively.
For those looking for an environmentally friendly shoe cleaning and polishing brush, this Long Solid Wood Brush by Green Living is your best choice. Not only does it work on your leather shoes, but you could use them on all types of sneakers.
Features
● Comfortable wooden handle that offers a solid grip
● Easy to clean
● Reach hard-to-reach corners
● Made of hard recycled PP bristle
● Perfect for sneakers and boots
Care of Natural bristle Shoe Brushes
Clean and wash your shoe brushes after each use. If you are cleaning wet shoes, wash the brush with a detergent and warm water after cleaning the shoes and let them dry. If you are using it
to remove solid debris, sand, and dirt, shake it thoroughly and use a paper cloth to remove the dirt stuck in the brush. Wash the brush to remove extra polish. For washing, a regular detergent will do, but if you are using a natural bristle shoe brush with fine and smooth hair, consider
using a shampoo for deep cleaning.
It's imperative not to use any acid cleaning solution or a detergent that contains harsh chemicals on your shoe brushes. However, if the brush needs deep cleaning because of the polish and oily stains, you can use mineral spirits to give it a good wash. Dry the shoe brush before storing it, as a wet brush is highly likely to attract mold and mildew.
Conclusion
Those were the three most popular and best shoe brushes that work well on all materials. Whether you have suede shoes or leather boots, use these natural shoe brush kits from Green Living and give your boots a clean and shiny finish to ensure zero waste at home.
Keep reading: