Top 17 Sustainable Gifts Ideas for Her
Dec. 3, 2021 | Written by Gargie
Now that things seem to be getting back to normal, people have started gift shopping for theirloved ones. After all, what could be a better way to enjoy this festive season than by exchanging gifts and celebrating some good times together? So, are you ready to surprise your better half by buying the best sustainable gifts for her this year? You have come to the right place!
In this post, we have compiled a list of the top 20 sustainable gifts ideas that can make your woman happy. You can use these best sustainable gifts ideas, not only for Christmas but for any occasion. Whether it is her birthday or your wedding anniversary, these eco-friendly gifts 2022 will definitely make your lady feel special.
So, without further ado, let's get straight to the list of the 17 best sustainable gifts for her.
1. Vintage Earrings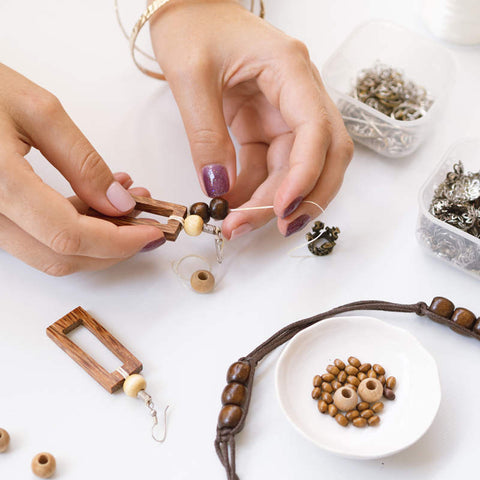 You must have heard of the saying "diamonds are a girl's best friend". You can think about more personalized gift items, but nothing can be as good as diamond jewelry. Whether it is a friend from work or your spouse, she will appreciate a pair of recycled vintage earrings (especially, if you can afford diamond earrings).
The recycled glass or other materials are transformed into beautiful gems, which can be further wrapped into silver or diamond. If you are looking for eco-friendly gifts for women this Christmas, consider getting her recycled pair of earrings.
2. Organic Soap and Shampoo Gift Set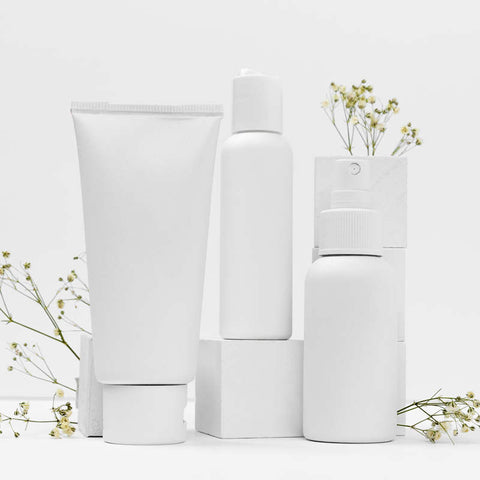 Another great idea for giving sustainable gifts for her and every girl loves to add to their skincare collection is the set of shampoos and soaps. If she has sensitive skin, give her anorganic set of soap and shampoos to make her birthday, Christmas, or whichever occasion it is, special.
You can find shampoos and soap bars made of 100% organic products with no chemicals, artificial flavors, and additives. The specialty of organic skincare products is that they can be used on any skin or hair type. Whether you have dry skin or are sensitive, these natural ingredients are absolutely safe for your skin. These gift ideas are perfect eco-friendly gifts for teenage girls.
3. Jewelry Organizer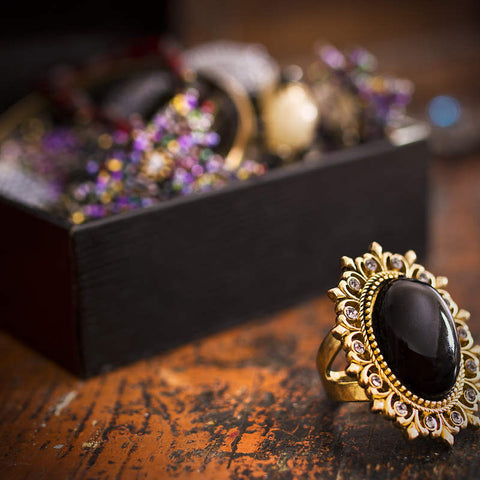 If you don't have the budget for jewelry, try giving her a jewelry organizer instead? An eco-friendly jewelry organizer looks gorgeous, and it will give her a perfect place to organize and store her jewelry. There couldn't be a more rustic and exciting way to hang your favorite necklace or pair of hoop earrings than a jewelry organizer.
The eco-friendly jewelry organizer is made of wood with knots and stains made of natural products. It is another beautiful product for those looking for eco-friendly gifts for her.
4. Sustainable Eye Masks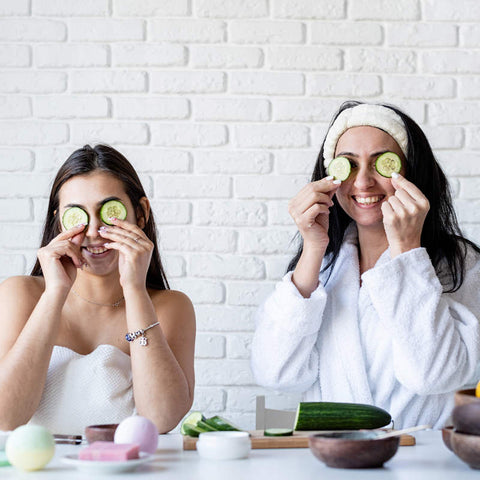 This is another sustainable gift idea from the skincare category and a perfect option for ladies who don't have time for skincare. Made of natural ingredients, a 100% organic eye mask is something every woman needs to remove those eye bags. These organic eye masks will pamper her sleepy eyes and give her a refreshing and rejuvenated feel. You can use these masks and pick an eye mask featuring aloe vera gel, cucumber, and other soothing ingredients that brightens the dark circles and cure eye bags.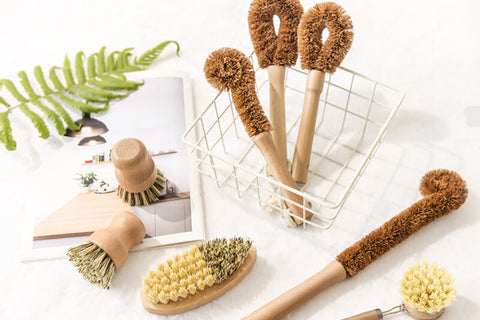 Surprise her with something different yet special this holiday. The eco dish brush with Loofah and replacement heads are your go-to eco-friendly gift for teenage girls, a housewife, or a woman who loves doing kitchen chores. This will make her life a lot easier by helping her clean the dishes with the softest sponge and great sustainable gift idea.
Let her say goodbye to those filthy and hard-to-use brushes. This organic kitchen brush set by Green Living is a perfect gift item for your female friend, spouse, or colleague.
6. Wall Planter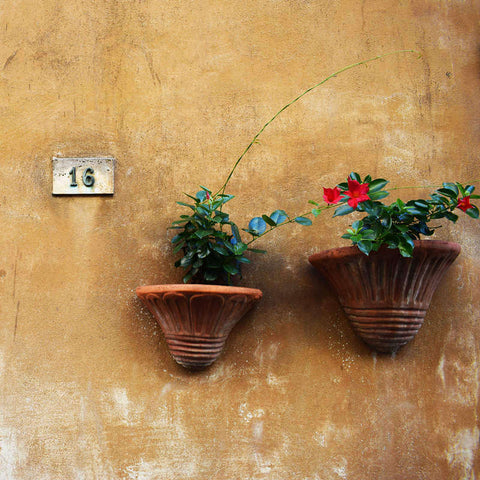 A living wall planter is the best sustainable gift idea for women who love home decor. If she is renovating her home, she will appreciate your creative gift idea. A living wall planter is made to thrive in all seasons and works well both indoors and outdoors. It comes in a rectangular or square frame and has beautiful plants in it. It will make a beautiful decoration piece that can give her home a touch of elegance. This way she can also add something natural to her place.
7. An Eco-friendly Watch
For those who are shopping at the last minute, you don't have the option of browsing different websites and selecting from a broad range of gift items. That doesn't mean you have to grab anything that pops up on your Instagram feed. A watch is an ideal gift choice for last-minute shoppers. Get an eco-friendly watch made of 100% recycled materials and give your better half a special gift this occasion. It may not be the most luxurious or a personalized gift idea, but a watch is always appreciated. Besides, you won't go wrong with an eco-friendly watch, which she will appreciate.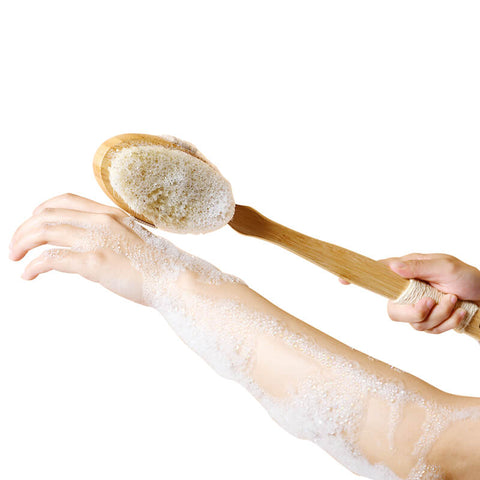 If you are buying skincare products for your better half, grab this dry brushing body brush set to help her in exfoliation. The product is made of 100% organic materials and has super soft bristles that can be used for facial and body massage. The bristles are so soft that they make a
perfect fit for your facial skin, which happens to be the most sensitive.
This will give her the perfect bath and spa-like treatment at home with this wooden and organic dry brushing body brush set. Know more Why She Need to Add a Shower Brush to her Daily Routine
9. Zero-Waste Book by Kathryn Kellogg
Have you decided to go green and switch to eco-friendly products, as a couple? If yes, then that's a wonderful decision. If you are having a hard time deciding where to begin, this book by Kathryn Kellogg might help. It has the best tips and tricks for those switching to sustainable and eco-friendly products.
It gives you a head-start, showing you the best ways to reduce your carbon footprint and make this world a better and healthier place to live. Get your hands on this "13 Ways to go Zero Waste" and get a few DIY recipes for cooking and beauty. She is going to love this one and you can get started with your eco-friendly goals together.
If you are on a tight budget but need something sustainable and special for her, this eco-friendly high-grade classic wide shoulder wooden hanger is your best bet. As the name suggests, it is made of wood and features a 360-degree chrome hook that can accommodate all t-shirts, leggings, gowns, trousers, and other women's clothing.
Not only are these sustainable pieces, but these hangers are crafted with precision. They can help organize your clothes in the most efficient way. They also look quite neat in the closet. Made of lotus wood, this eco-friendly hanger set by Green Living is a perfect gift idea for
Christmas and other special occasions.
11. An Organic Body Wash
After a long, tough day of work, she is definitely in need of a relaxing self-care time by enjoying beauty products that can pamper her skin and make her feel rejuvenated. That's what an organic body wash does. The best part is she doesn't have to worry about any rashes, skin inflammation, or any side-effects, as it doesn't contain any additives or chemicals. You can find plenty of body wash products that contain natural ingredients, such as clay, coconut, orange oil, lavender oil, rosemary oil, and so on. The cruelty-free and vegan body wash makes the best gift for a woman who is planning to go green this year.
Featuring lotus wood bristles and beechwood, this eco-friendly hairbrush is another best sustainable gift item for women. It makes a perfect Christmas present for those who want to gift organic items to their colleagues or female best friends without exceeding their budget.
The organic pins feel soft to the scalp, and they help with detangling. It also prevents hair breakage. The specialty of this natural wooden hairbrush by Green Living is that it massages
your scalp and distributes the natural oil evenly. Women often struggle with hair detangling after a shower. So, they will appreciate an eco-friendly hairbrush.
13. Natural Moisturizer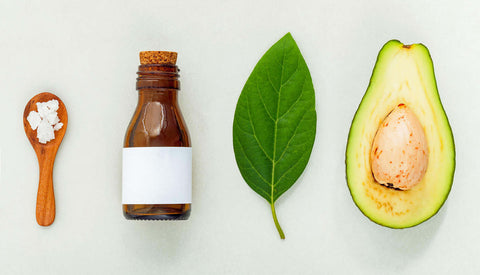 If there's one thing that women never get tired of buying, it is skincare products. Who doesn't like to pamper their skin with the best and 100% organic skincare ingredients, after all? The chemical moisturizers can cause acne, skin inflammation, redness, and other skin problems,
especially in women with sensitive skin. If you want to give her the best skincare treatment, a 100% organic moisturizer featuring aloe vera gel, honey, rose, papaya, and other natural ingredients, consider natural moisturizer. This makes an ideal sustainable gift for her.
Any natural skincare product is known for its anti-inflammatory benefits and nourishing properties. These natural moisturizers do not only keep the skin hydrated the whole day, but they can bring a unique glow to her face. A gentle massage of a natural moisturizer is all that
she needs to get smooth, acne-free, and glowing skin. That's the perfect way to help her get ready for Christmas and New Year's Eve.
14. Recycled Vintage Ring
Have you finally decided to propose? What could be a better occasion than Christmas to propose to the love of your life? Give her a perfect vintage ring and make this day the most memorable occasion of her life.
Many gemstone and jewelry suppliers have recycled vintage rings that are made of antique bottles and glasses. A vintage ring makes a perfect sustainable gift for her. Make this proposal special for her with a vintage diamond or silver ring - whatever fits your budget. This is
definitely going to give her some of the cherished Christmas gifts.
15. A Personalized Bamboo Cutting Board
Bamboo is a sustainable and eco-friendly material, and it's used for many applications other than furniture making. Take the personalized bamboo cutting board, for example. It is customizable, meaning you can have the name of your lover engraved on it. You could also get a personal message printed on the cutting board, to make it more special for your spouse.
Celebrate your anniversary or your spouse's birthday in a sustainable way with this cute and personalized bamboo cutting board.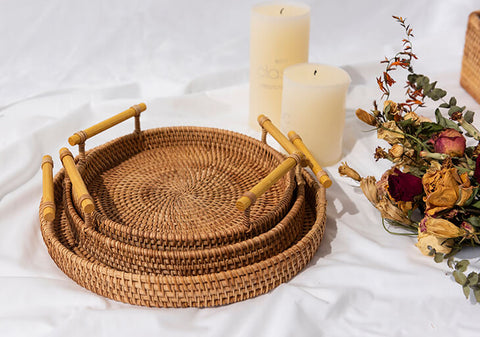 If your girl likes creativity, this hand-woven basket will give her just what she needs. This basket makes one of the best sustainable gifts for moms as well. It can be used to store fruits, vegetables, tea, sugar packets, and other small household items.
The basket is made of rattan strings and is a 100% natural material. Add a rustic charm to your home with this hand-crafted Vietnamese-style rattan basket. She will love the authentic and rustic feel. She could also use this personalized rattan basket to store her skincare products and beauty supplies. It is spacious enough to hold moisturizers, lip balms, exfoliators, body lotions, face creams, and so much more. Know more creative uses of wicker baskets
Have you ever heard of organic shoe brushes that can clean and polish your shoes? Well, Green Living has done a tremendous job at handcrafting this horsehair shoe brush that features soft and dense bristles. The brush can be used on all types of shoes - whether you use leather boots or sneakers.
The product is made of Beachwood and horsehair. It is a multi-functional shoe brush, meaning you can use it for cleaning and polishing other leather items in your home. It is another best eco-friendly gift for her.
Conclusion
These were the best sustainable gifts for her. Buy any of these eco-friendly gifts and make the beginning of 2022 the most memorable one for your lady. These ethical gifts will make her feel special, whether it is your mom, girlfriend, friend, or even your co-worker. She will love to welcome the New Year with organic products. If you feel uncertain about your choice, check out the wooden brushes available at Green Life. They have a wonderful collection of hand-crafted, traditional-style, organic products for women.

Happy Holidays!
Keep Reading: