16 Uses of Wicker Basket: Storage and Decor Ideas That Wow
Nov. 26, 2021 | Written by Alice W
So ladies, you have a few woven wicker baskets around your house, and would like to make best use of them other than storage. With a little imagination, you will find wicker baskets or hampers are so versatile both in storage and decorating your house.

A hand woven rattan basket, usually completely made of compostable plant-based canes, is an eco-friendly product that makes up part of the sustainable living system in your home. Rattan baskets are useful and convenient for storing a wide spectrum of everyday items, while also bringing up a uniquely rustic aesthetic sense for your house, whether it is used as a wall decor or a plant holder.

Looking for more ideas, here are top 16 uses of wicker baskets for storage and home decor. You probably want to buy more baskets for your lovely home after reading.
1. Wicker Basket Used in Kitchen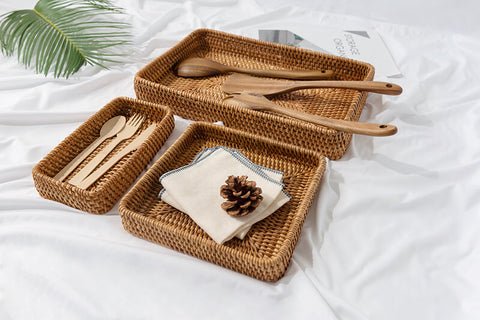 A great cook has endless bottles and jars for all kinds of seasonings in the kitchen. Besides that, you always need some cookbooks at hand. Why not put a wicker basket, or two, right next to the stove, and fit everything from the ingredient-rich bottles and your favorite cookbooks right in.

It is also a great idea to use rectangular wicker baskets (better covered with a cloth fabric) inside your kitchen cabinet. Turn a messy kitchen cabinet to a perfect organized one by placing your knives and forks, spoons, cups, dishes, placemats, and kitchen brushes neatly.
2. Fruit Storage Basket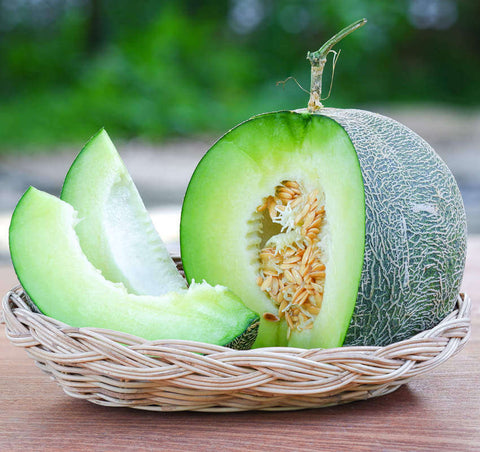 One of the favorite uses of wicker basket is with fruits. The large rattan basket storage with hollow-carved design is most suitable for a wide array of fruits, such as orange, apple, strawberry, banana, grape and lemon. With bright colors of the fruits, from orange, red, yellow and purple, the natural storage baskets add a simple and warm rustic beauty and become part of your house decor.
3. Picnic Basket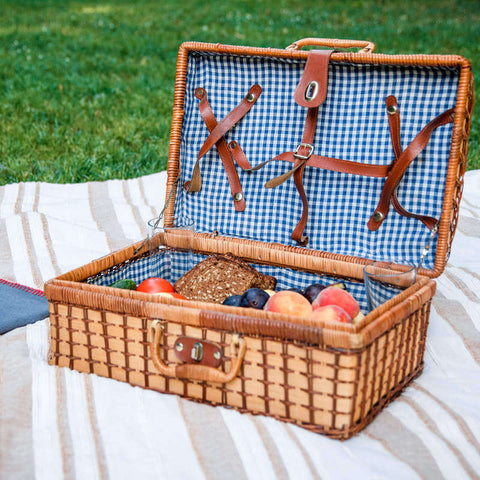 Another popular use of wicker basket is for picnic. While the suitcase-style wicker basket is great for carrying your picnic lunch, the large opened wicker basket with holder is perfect to display food, fruits, tea, and your tableware. To make your picnic with family and friends more romantic and more photogenic to show on INS, you will also want to be sure the picnic cloth is in line with the basket. However, the natural brown color of a wicker basket matches any cloth, so you need not worry about that.
4. Food Serving Wicker Tray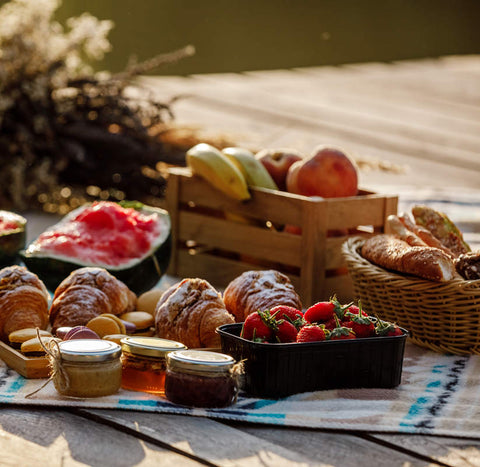 An inspiring idea to use wicker basket with holder is using it as your food serving tray. Thanks to the holders, you can carry food easily from kitchen to dinning table. I'm sure the wicker trays will appear frequently on your breakfast, lunch, dinner, and afternoon teatime, carrying the bread, cakes, cookies, dishes, glasses of tea, and cups of coffee. Convenient for serving food, a rattan tray also adds warmth for daily life and adorns your dinning table.
5. Rattan Basket Vase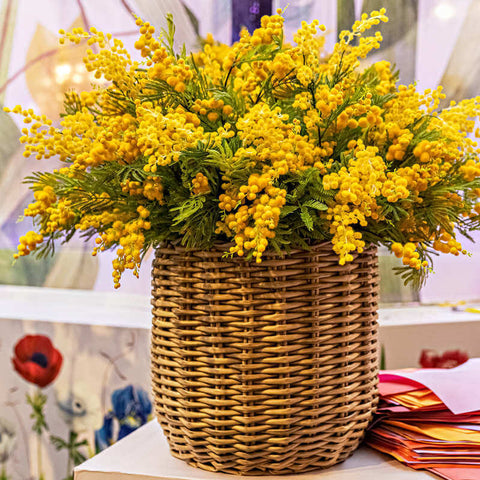 The use of rattan basket is not limited to storage. For florists and those that loves flowers, a handmade rattan basket can be used as a natural vase to fit faux flowers. The large cylindrical or cuboid rattan basket is ideal for any long floral stems. And the fat and short basket holding faux green vine with tiny flower forms a piece of art. Whenever the basket vase is placed, be it on our table or shelf, it goes well with the interior.
6. Indoor Plant Holder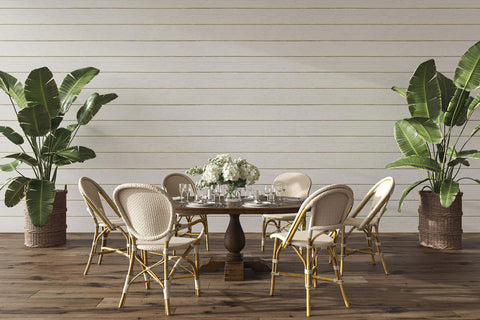 If you don't like fake flowers, but crave for real greenery, then use a wicker basket to hold real plants. Just make sure the plants are planted in a ceramic pot or jar first, then give it a beautiful outfit -- dressing it up with a wicker basket. There are various sizes and shapes of wicker baskets that are suitable for different indoor plants and flowers.

You will love how a hanging basket with air plant looks, on the white wall, right next to your favorite painting. And, a weeping fig tree "planted" in a round large rattan basket stand calmly in the corner of our living room reminds us the beautiful green life.
7. Closet Storage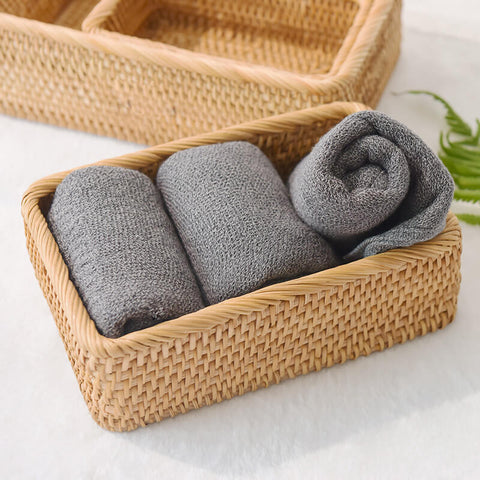 Every season when you clean your closet, you will want to switch the out-of-season clothes easily. A group of small and middle size rectangular wicker baskets do a great job to maximize the space, and help organize the closet neatly, with towels, underwear, socks, hats, gloves, belts that perfectly in their own places. No more wasted space! This use of wicker basket idea is also recommended for limited room.

Another trick to clean a wardrobe, a large round rattan hamper is useful for laundry and dry clean.
8. Decorating with Baskets on the Wall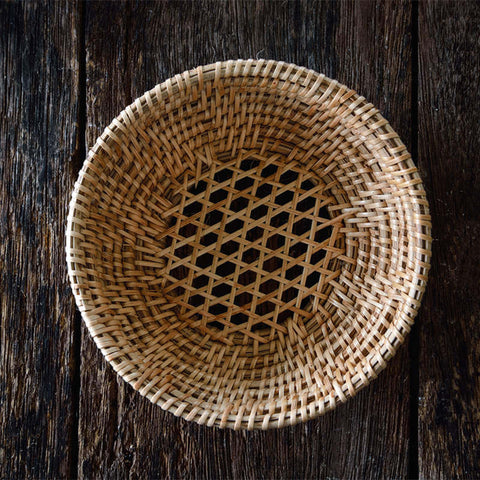 How to store baskets when not in use? Wall decor is a fantastic idea. Lightweight handmade rattan baskets can fit any home decor style, from the classic to the contemporary. Used as wall hangings, the baskets can constitute an art, and add warmth and texture on the plain wall of your hallway or living room.

For some columnar baskets, whether big or small, they can still be used for storage.
9. Knitting Accessories Basket
Hands up if you recently love knitting at home. As versatile as you, a wicker basket is very functional to hold your knitting accessories and tools, including needles, yarn, scissors, stitch holders, stitch markers, crochet hook... You can't find any better storage for your knitting supplies.

Of course, you can also use a wicket basket for your sewing accessories.
10. Nightstand Decor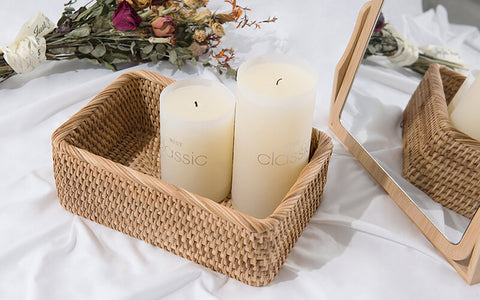 A wicker basket tray can be a natural deco in your bedroom when placed on the top of a nightstand. It allows you to put a lamp, photo frames, books, a vintage vase, a little green plant, or whatever you like in. If you are a DIY obsession, and have recently hand made a wax candle, simply place it in the rattan basket to create a warm and romantic ambient.
11. Side Table Decor + Storage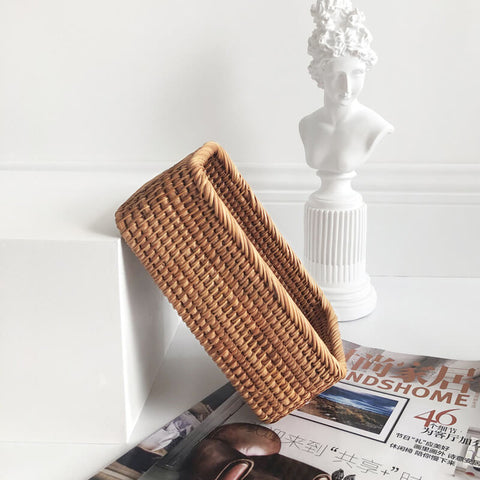 It is a practical use of wicker baskets. Put it on your side table, coffee table or door shelf to make managing everyday essentials super easily -- keys, corral keys and wallets in a cute rattan tray next to door; remote controls, phones, pens, notebooks, magazines in a rectangular basket tray on side a table, and frequently used cups in a beautiful round tray. With a little greenery or natural element like shell and grotesque little stone, the room come alive.
12. Toilet Paper Holder
For a zero-waste bathroom, a wicker basket is a sustainable alternative to the traditional plastic toilet roll holder. Other than its function to hold/store toilet paper, the use of wicker basket also make a plain bathroom bright and stylish.

Still in your bathroom, a rattan basket is also perfect for holding your bath supplies, like shampoo, shower gel, facial cleansing, hairbrush, etc. Just remember to keep the basket away from moisture.
13. Kid's Toy Storage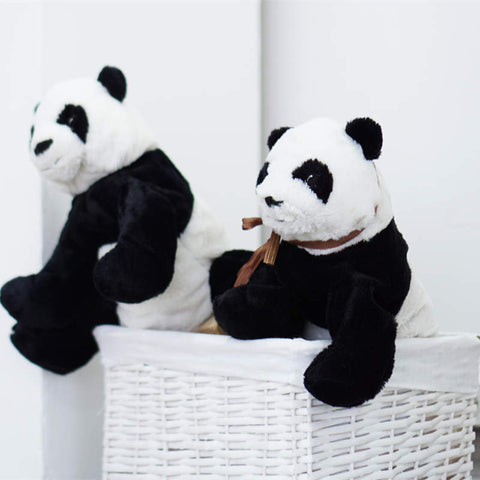 Tired of packing up your boy's toys tossed everywhere on the floor? You will like the idea using a deep and specious wicker basket to store kid's toys. Durable and sturdy, a hand woven cane basket can easily hold all of your kid's toys without carving in.
14. Dresser Decor + Storage
Wicker box for skincare products displaying is a recent trend. It matches well your wooden/linen/metal/wicker dresser. The baskets are also amazing choices for perfume, jewels, cosmetics, and make-up brushes storage, and zero-waste swaps to replace the plastic boxes. This use of wicker basket also creates unexpected decorative effect for your bedroom.
15. Coffee Storage
Baskets were used to transport coffee centuries ago. And today it is still a good idea to use baskets to store coffee beans (in bottle or jar), coffee pot, and other accessories. For their rustic and vintage look, do these baskets make you nostalgic for the good old days for a moment?
16. Eco-friendly Gift Basket
Another inspiring idea using wicker basket is for gift basket. To celebrate a greener Christmas or a sustainable Valentine's Day, many are considering a gift basket that fit homemade food and cosmetics in. You would be surprised how wonderful the gift looks like.

Bottom Line
An antique piece, the affordable handmade wicker basket is now a fashionable darling for household storage and home decor. Coming with different sizes and shapes, they can store various foods and items. Moreover, the decorating ideas of wicker basket are endless. Discover more and share with us!
Keep reading: