12 Essential Zero Waste Bathroom Ideas
Dec. 23, 2021 | Written by Dennis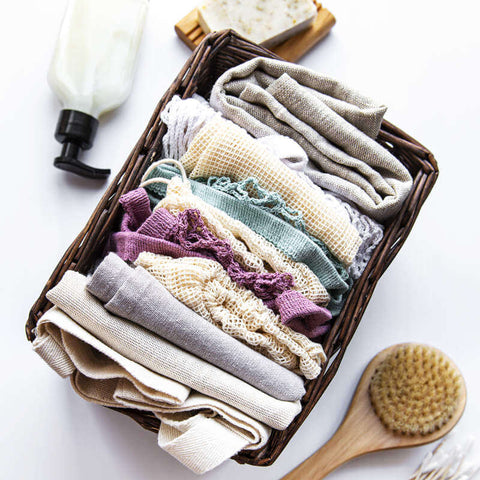 The idea of shifting to zero waste is a big one. The idea might sound daunting, but you do not have to implement it at once. You can start slowly with zero-waste bathrooms swaps and slowly transition to sustainable habits. The bathroom is arguably the smallest room in the house, but it generates so much waste. There are lots of consumables, disposables, and single-use items in bathrooms. According to National Geographic, people throw away 1 billion toothbrushes annually in America alone.
The average lady uses 12 products before leaving the house, and most of these are stashed on the bathroom sinks and cabinets. We believe that we have to use these convenient and disposable products to maintain hygiene. You would be surprised to learn that there are numerous affordable and eco-friendly alternatives for your bathroom. The best place to start with your zero waste bathroom ideas is the bathroom.
What is a zero-waste bathroom?
The idea behind zero waste is developing a circular economy that sends nothing to landfills. We have overly relied on the production, use, and disposal system, but we can create sustainable bathrooms with zero-waste.
Therefore, a zero-waste bathroom is a bathroom that contributes nothing to environmental waste. You do not have to make a rapid stride to perfection though it would be great if you could. Minimize your wastes gradually until you get to the point where you have no outbound waste to the landfills.
12 Essential Zero waste bathroom ideas
You can implement numerous zero-waste bathroom ideas to kickstart your zero-waste journey. You can improve your journey by conscious consumerism, minimizing the waste before it gets to your bathroom. Only buy products when necessary.
You reduce your overall landfill waste by opting for compostable, recyclable, and reusable zero-waste bathroom essentials. Below are some thoughtful, sustainable swaps to help you move towards a green life.
1. Toothbrushes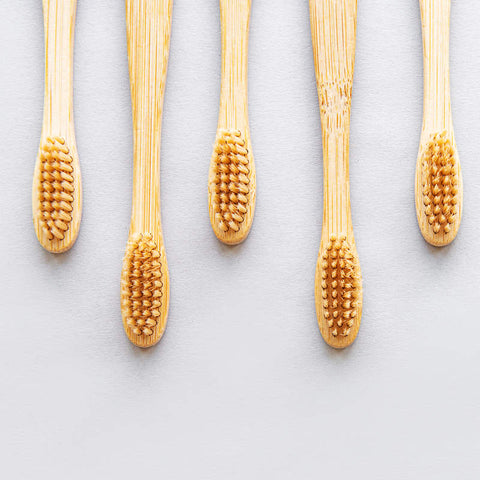 Toothbrushes contribute to a lot of plastic waste as most of them are plastic and non-recyclable. We frequently switch out our toothbrushes, and it is necessary to find and use a sustainable option.
You can swap plastic toothbrushes with biodegradable bamboo toothbrushes. These toothbrushes are available in different sizes and are children friendly. Some bamboo toothbrushes come with nylon bristles, and we have to dispose of them separately. Once you are done with the toothbrush, detach the bristles using pliers and dispose of the handle in the compost heap.
2. Compostable wooden soap dish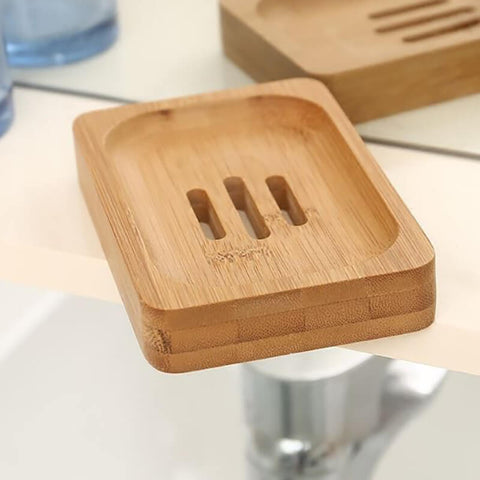 Among the wise consumer choices towards minimizing plastic waste in your bathroom is ditching plastic soap dishes. A compostable wooden soap dish is one of the zero waste bathroom essentials you can use to make strides towards waste reduction in your bathroom. These soap dishes are well crafted and can decorate your bathroom, and leave no waste footprint after use. You can quickly dispose of it off in your compost bin at the end of its lifespan.
Most high-quality compostable soap dishes are manufactured from bamboo, which is very sustainable as bamboo grows quickly. Wooden soap dishes are also suitable for naturally keeping your soap dry.
3. Eco-friendly toilet brushes
Cleaning up the evidence from your toilet is good etiquette and is paramount for hygiene. However, you do not have to use plastic brushes for this. You can adopt a zero-waste toilet brush that is sustainable and pollutant-free. Naturally, zero waste brushes have a shade of brown that hides stains. They have an appealing design that looks better than conventional toilet brushes.
4. Wooden bath caddy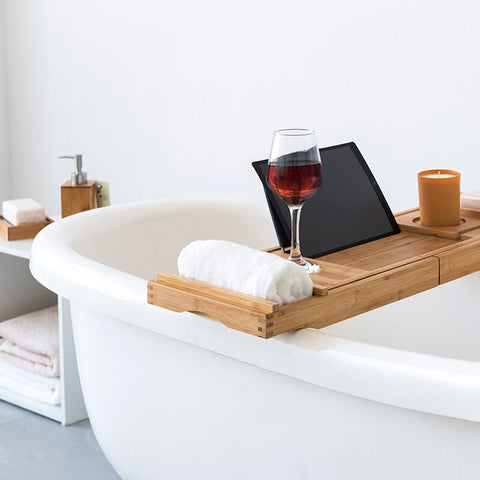 If you want your baths to feel spa-like and luxurious, then a bathtub tray or caddy will come in handy. Here you can place a book, tablet, phone, candle, wine glass, or laptop and enjoy. If you fancy taking baths, this is a must-have essential. While at it, you can opt for a wooden bathtub tray for your greener bathroom.
These trays have a minimalist approach and can be custom-made to fit any bathroom style and look. Our trays are luxurious and expandable, thus easily matching your zero-waste bathroom accessories. No one wants their wine glass tumbling into the tub. Therefore, these wooden trays have additional silicone grips for extra grip and stability on the bathtub. You will undoubtedly enjoy an upgraded self-care routine in an eco-friendly manner.
5. Eco-friendly wooden bathroom shelves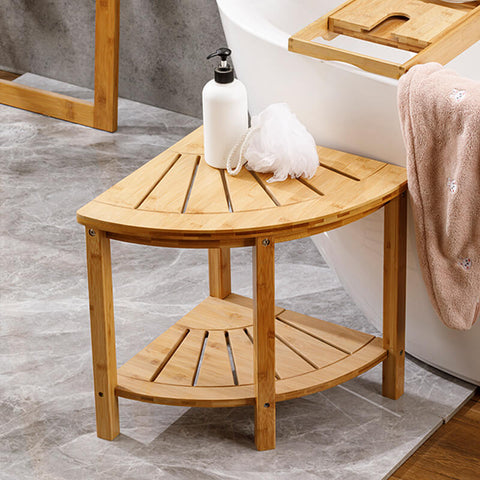 We all fight with bathroom clutter at one point or another. It could be personal care products stashed in a cabinet, a stack of old toothpaste tubes, or hairpins. To reduce the clutter, you can try out twp of the popular zero-waste bathroom organizer ideas, eco-friendly bamboo shelf storage, and 2-Tier Bathroom Shelf Corner (Bamboo Shower Bench).
As it is eco-friendly, you can organize your bathroom and reduce the inorganic wastes from your shower. The shelves are self-standing, durable, and stylish. They have a waterproof coating to prevent damping, thus being suitable for any environment.
6. Invest in a compost bathroom bin
It is easy to recycle kitchen waste as most people sort their kitchen rubbish. However, less than 50% of bathroom waste is recycled because most people only have one bin in the bathroom and thus do not sort their wastes. Investing in a two-part waste container ensures that your waste is sorted from the source. You can then take your compostable waste to a compost bin. It would also help replace plastic trash bags with reusable and biodegradable bags.
7. Shower brushes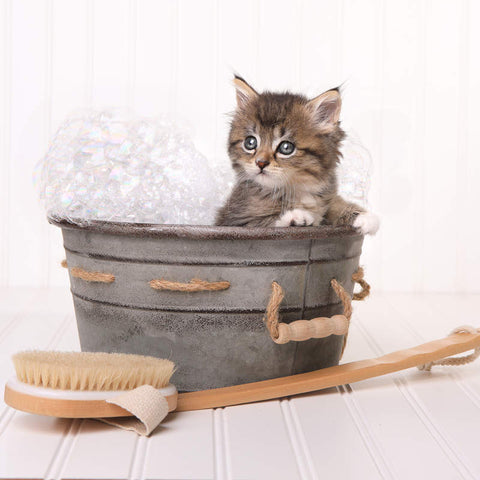 You are probably aware of the importance of exfoliating your face. You need to apply the same level of care for your arms, back, and feet. An excellent way to exfoliate is using a shower brush as it gets in hard-to-reach places. Shower brushes also encourage the formation of new skin cells and stimulate blood circulation.
For your green bathroom, it would help to adopt zero-waste shower brushes. Greenlivinglife has a premium eco-friendly collection of zero-waste shower brushes. The zero-waste bath brushes have smooth bamboo handles and boar or goat bristles, and they have an appealing aesthetic look, thus beautifully decorating your bathroom.
8. Cleaning products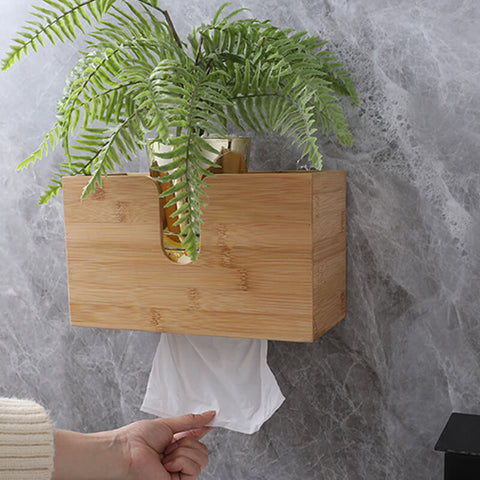 The cleaning products in the bathroom double up the wastes in the bathroom. However, there are sustainable, eco-friendly ideas for bathroom cleaners that you can use for your swaps.
For instance, you can replace the cleaning products from plastic bottles with natural or homemade cleaning products. Replace the small containers with one large container to refill as needed. And use a bamboo tissue box cover in bathroom, instead of a plastic one.
You can also switch up your cleaning and replace disposable paper towels in the bathroom with reusable towels. The average household in America uses 409 rolls of toilet paper a year. However, adopting toilet paper alternatives like fabric clothes to wipe surfaces reduces bathroom wastes by up to 60%.
9. Personal care items
Most typical bathrooms have numerous disposable self-care items. Think of the facial wipes and cotton balls on your bathroom shelves. However, adopting reusable alternatives saves up a lot of resources. One can wash them after use and leave them to dry.
For instance, there are reusable and durable cotton swabs that you can use to replace the disposable ones in your shower.
10. Hairbrushes
Rather than using plastic combs and brushes, you can replace them with natural and sustainable alternatives. They are easy on the hair giving you a massage-like feel. Natural hairbrushes are manufactured from durable beech wood and have soft lotus wood bristles. These wooden hairbrushes have numerous perks, such as encouraging fast hair growth, eliminating dandruff, and discouraging static on hair. A wooden hairbrush also does a cleaner job of pulling oil from root to tip.
11. Razor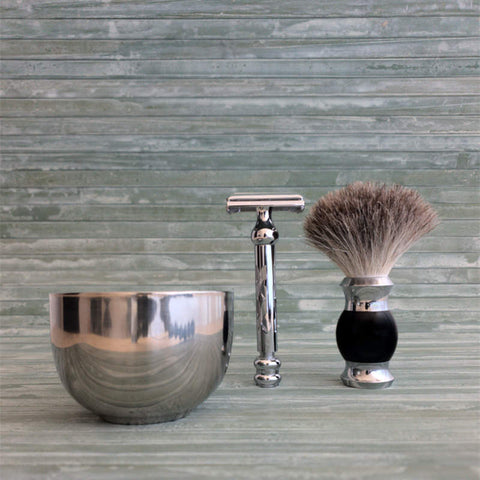 Switching your disposable razors to sustainable razors is another stride towards sustainable living. Safety razors are manufactured from stainless steel, making recycling them easy at the end of their lifespan. A safety razor is not only eco-friendly, but it gives you a better shave. These razors reduce skin irritation and shave bumps as you only have one blade against your skin at a time. According to a statistic by the USA today, 2 billion razors end up in landfills every year. However, a safety razor can last up to a lifetime.
12. Reusable products for that time of the month
We cannot talk about revamping the bathroom without mentioning our monthly periods. They are always going to be present and sometimes a bit messy. They, however, do not need to be wasteful. Adopting zero-waste period solutions is a step towards a green life and eliminating bathroom wastes.
Instead of tampons, we can use reusable menstrual cups. Tampons quickly go to the trash after use and may contain harmful chemicals. When it comes to menstrual pads, we can shift to reusable pads rather than the traditional plastic ones. For medium to light flow days, you can use some period panties. Period panties are leak-resistant, and you can wash and wear them over and over.
Closing Thoughts
After the kitchen, the bathroom is the most wasteful room. Most of the products cluttering our bathrooms are unconscious purchases. You can start your journey to zero waste by cutting down on unnecessary bathroom essentials.
The list might seem like a lot, and the change might appear drastic, but most of these items are readily available, and you might already have them in your zero-waste bathroom set.
Zero waste swaps are not only good for the environment but are also good for your health as the products have fewer synthetic and harmful chemicals. With these simple zero waste bathroom ideas, you will have a fresh, clutter-free, minimalist bathroom.
Keep Reading: