How to Build a Budget-friendly, Sustainable Wardrobe
Dec. 13, 2021 | Written by Alice W
Luckily, we are starting to be more mindful about how our options impact the Earth, which suffers millions of tons of wasted textile every year. So of course, we want to build a more conscious and sustainable wardrobe. It is not as difficult (or expensive) as you think, provided that you can better manage your closet, choose the ethical clothing brands and sustainable wardrobe essentials, and maybe a lot more importantly, think what you really need for your wardrobe.
A sustainable closet doesn't have to be luxurious or extremely spacious, but tends to be simply elegant and clutter free, meaning you can have a limited budget. Here, we come up for you with 7 tips on how to build a budget-friendly, sustainable wardrobe. Make sure you do your part to help save the planet.
What is a Sustainable Wardrobe Closet?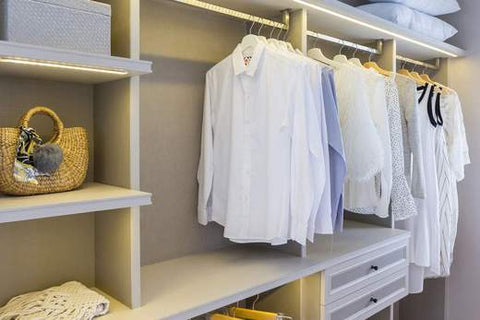 A sustainable wardrobe comes with different looks for different people, but generally consists of quality clothing and essentials that are made of environmentally friendly materials and make you feel comfortable, confident, and guilt-free every time you get dressed. You love what you own, and want to make their wearing life last longer.
With a sustainable wardrobe, you wouldn't keen on shopping new clothing, instead, you shop in a sustainable way, are very careful in choosing ethical brands, and start to read the labels to figure out the materials that have the lower environmental impact.
When you are reducing your fashion footprint to create a zero-waste wardrobe, it is also necessary to replace the plastic hangers and drawers with eco-friendly products.
So, How do you build a sustainable wardrobe? Let's dive right into the tips.
7 Tips to Build a Budget-friendly, Sustainable Wardrobe

1. Start with Purpose and Research
To start building a more sustainable wardrobe, start with a clear purpose, and stick to it. For this part, we have already identified the goal -- a both budget and eco-friendly wardrobe.
That is,
The clothing in your wardrobe is great on you while also being ethical for the planet, animal and people.
Reduce waste by shopping consciously to minimalize your wardrobe and simplify your routine for wardrobe arrangement.
Care for your wardrobe with natural, zero-waste, biodegradable, compostable, or recyclable closet tools.
Next, do a bit of research.
One of the hardest things about trying to build a budget-friendly, sustainable wardrobe is knowing what the little baby step can be. What are the best eco-friendly fabrics? Where to shop? Is this brand that coincides with my sustainable values? Thankfully, you can have most of your answers in many easy ways, like simply googling your question, or asking directly on social media.
When surfing the internet, you will also be informed and refreshed with plenty of tips to lower your fashion footprint in a budget friendly way. So you will get your homework done with a wealth of knowledge and a handful of brands.
2. Organize and Clean Out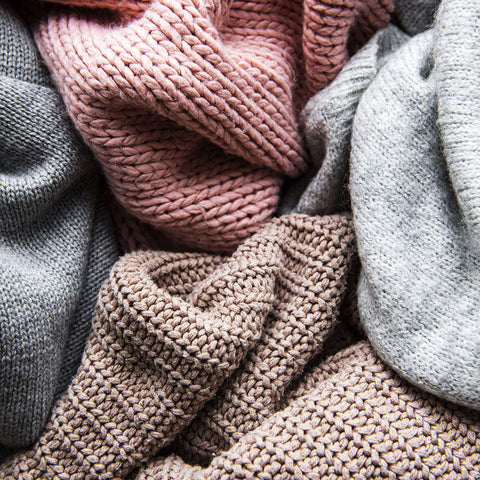 Now that you have a clear purpose and have finished your investigated work, time to organize your wardrobe. It is easy to sort clothes based on functions, colors, occasions, and different seasons. But a better idea to build a sustainable wardrobe is to sort the items based on the frequency of use. Then we can lay out with mainly three categories:
Your favorite items – you love them and wear them frequently. This category can include some items for special occasions, like a piece of evening dress.
The unwanted items – but clean and in good condition. You can exchange them with family or friends for something you want, which can save money for new clothing. Another great idea, donate the items to a responsible charity for people who really need them.
Recycle/reuse/repurpose items – For the dirty, stained, deformed, or worn clothing, instead of throwing away, recycling or reusing them consciously, which is a great way to prolong their longevity and a significant step to build a sustainable wardrobe.
3. Fall into a Sustainable Shopping Habit
To build a budget-friendly and sustainable wardrobe, there are three questions you may think about when shopping new clothing: 1) how many times will you wear it? 2) Is it eco-friendly clothing produced by ethical brands? 3) How about the vintage clothing or rental fashion?
The "30 wears test" has been advocated in fashion industry by Livia Firth, founder of Eco Age, and suggests people to ask themselves this simple question, "Will I wear it a minimum of 30 times?" You can do it next time when you are shopping new clothing. After all, single-use pieces not only waste money but also waste energy.
When you need add something new for your wardrobe, make sure it is made from sustainable materials like organic cotton (which has the lowest environmental impact) or recycled textiles (e,g. recycled polyester). You will also want to make sure the self-claimed earth-friendly clothing brands are truly operated with sustainable standards and certifications. Are they verified green companies?
Another budget and eco-friendly way to update your wardrobe is to buy vintage clothes, second-hand clothes, and even give a thought to rent clothes for some special occasions. They consume zero new energy when compared with buying new items, being money saving and Earth saving.
4. Build a Capsule Wardrobe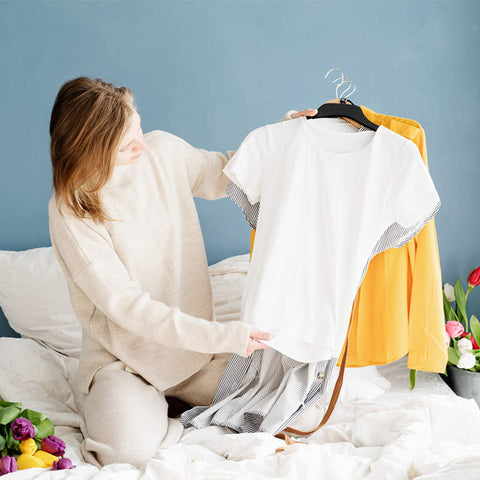 Besides reducing shopping single-use clothing, also try to shop for versatile clothing and build yourself a capsule wardrobe, which is a recent global fashion trend and green trend.
A capsule wardrobe encourages us to invest timeless, classic clothing pieces, and usually consists of no more than 30 pieces of clothing items, shoes included, yet with rich colors, patters, prints and fashionable elements for each season. In other words, it encourages versatile clothing, for instance, trans-seasonal clothes, for different looks and create your own unique style.
Your capsule wardrobe depends on your needs and style, and can be worked out like this:
Underwear and socks
Classic T-shirts
Shirts for work
Suits for work
Turtleneck
Casual trousers, skirts or jeans
Coat or garment
Loungewear
A formal dress
Sports clothing
By building a capsule wardrobe, you are one great step closer to to create a more budget friendly and sustainable wardrobe. Besides that, you will save much time and fatigue on the decision about what to wear.
5. Take Care of Your Clothes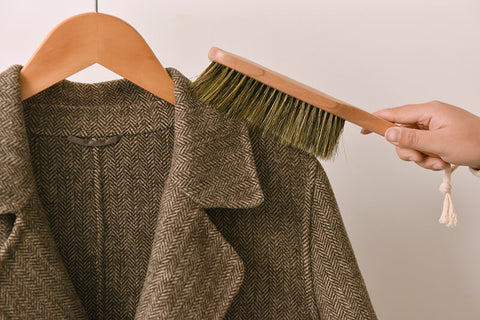 Next, you must look after everything, whether they are expensive cashmere or second-hand dress, in your wardrobe properly, so they last longer.
But how? Check the tag for care instructions. The most important way to keep your clothes, especially your invested items with nicer fabric, in good condition is to reduce laundry schedule, as both the washing machines and dry cleaning can badly harm the fabric. So you need a natural pig bristles clothes brush to help clean and remove lint, fluff, pet hair, and deep stain on your wool sweater, garments, suits, and pants, and prolong the time between cleaning. Keep reading the Benefits of Natural Bristle Clothes Brush and How to Use It
A natural shoe brush is also needed in your closet tool kit to care for your leather shoes and suede bags.
The natural cleaning brushes are affordable, an easy way to take care of your clothing, while also reducing your closet's environmental impact.
6. Use the Wooden Hangers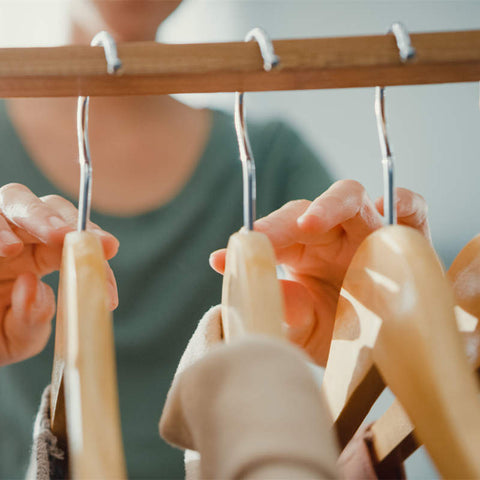 Plastic hangers are relatively cheap, but obviously they are least environmentally friendly. In your journey to build a sustainable wardrobe, instead of saving your money for a new dress, give a thought to firstly swap the plastic hangers with eco-friendly hangers that are made from responsible harvested wood or the recycled plastic. With a bit more money on wooden hangers, you are saving the Earth. Besides that, wooden hangers will last longer than plastic ones, so you don't have to always update new ones, saving money actually.
7. Maximum the Space of Your Wardrobe
Consciously trying to make your wardrobe more sustainable in a budget way also requires you to make most of the space. So you won't need another wardrobe (especially if you don't have the budget for it), which may lead to potential shopping and excessive waste.
To maximum your wardrobe, master the great ways to arrange your wardrobe with storages. A set of hand-woven rattan basket is a nice choice for storage and wardrobe organizer, to fit your wardrobe essentials in different categories, and add warmth and rustic aesthetic for your wardrobe.
In conclusion, to build a budget friendly and sustainable wardrobe is all about growing awareness, eco-friendly clothing and closet tool swaps, and demanding for recycled clothing. With this mindset, after a few seasons, you will have a beautiful, high-quality, clutter-free, and greener wardrobe to be proud of. It also saves time on cleaning, money for shopping, and energy from the Earth.
Keep Reading: