Benefits of Natural Bristle Clothes Brush and How to Use It
Nov. 12, 2021 | Written by Alice W
I believe a simple (also important) way to live a sustainable, green life is to care for all your stuffs very well, so as not to let them go to waste. For your top-quality cashmere suit and wool sweater, daily maintenance like ironing and steaming is essential, but far from enough. To make them last longer and always keep in tiptop condition, you will want a premium clothes brush. And a natural bristle clothes brush, ensuring to be green and eco-friendly, is your best bet.
A delicate wool garment or blazer needs to be cared with dry cleaning without exception, which costs a big expense, moreover, is vey likely to shorten the life of your clothes. One good way to avoid having your coat and suit dry cleaned frequently, is clean them on your own by using a natural bristle clothes brush.

Read on to learn the benefits of natural bristle clothes brush, and follow the guide how to use a clothes brush properly.
What is Clothes Brushes Used for?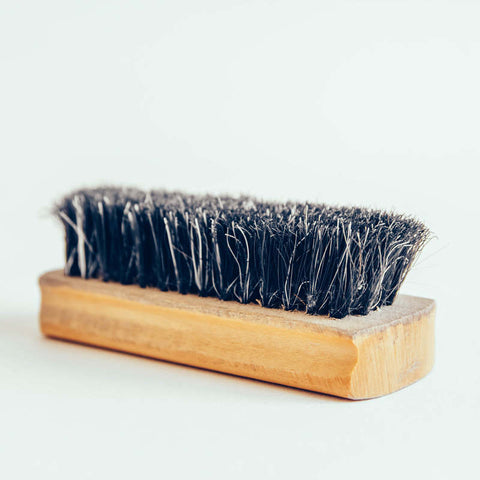 High quality clothes can be bought easily but takes great efforts to preserve -- making them fluff, dust, and hair free, and also as new as they were just bought. It is worth mentioning that some fashion icons dry clean a coat once several years, but the coat just looks so well-preserved. A secret is by using a clothes brush.

Dust remover brush for clothes or a good quality lint brush is handy to dislodge the deep-ingrained dust, dirt, hair, and lint on your best clothes, and lift the fibers of the fine fabric like wool, cashmere, tweed or suede. It is an amazing closet tool for daily clothes care between dry clean.
Natural Bristle Clothes Brush Benefits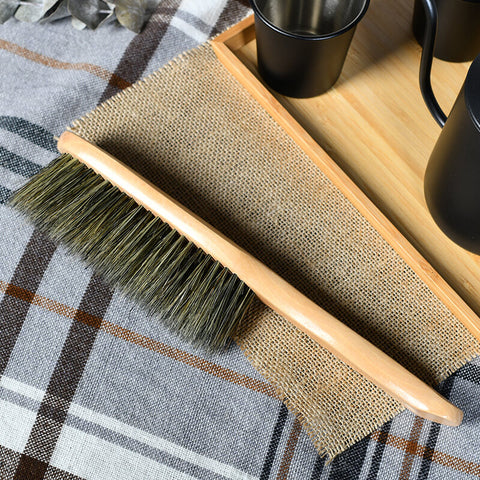 A premium clothes brush for suit and garment is crafted out of ethically and sustainably sourced natural bristles, typically boar's hair, and usually coming with a durable solid wooden handle is your best choice when you decide to purchase a lint brush.
Effectively Remove Built-in Dirt and Hair
Why did people brush coats? If you're still confused, it is time to learn the many benefits of natural bristle lint remover. The simplest reason why you should use a redecker clothes brush is it helps remove all kinds of in-rooted dust, stain, fluff and pet hair easily, quickly and effortlessly.

For busy people like you, you may not have much time to care for your clothes, thus a quality clothes brush is very useful, saving both time and energy. Even a clumsy, careless man can handle it and brush the suit well.
Save Money on Dry Cleaning
Seriously, who doesn't want to save expense on dry cleaning. But more importantly, your "dry clean only" coat may get damaged and a shorter life because of regular dry cleaning.

Dry cleaning dislodge dirt from fabric by using PERC (perchloroethylene), which is not only damages the fabric, toxic and carcinogenic, but also harm the natural environment. It's also expensive and time-consuming, so why bother?

With its efficiency cleaning ability, an eco-friendly natural bristle clothes brush can reduce frequency of dry cleaning -- money saving and clothes saving.
An Easy and Great Way to Make Your Clothes Last Longer
As we've discussed above that frequent dry cleaning can be bad for your clothes. A natural bristle clothes brush is an eco-friendly clothes care alternative.

The natural bristle, typically boar bristle, is gentle and safe on the finest fabrics, from cool, cashmere, to suede. You can rely on it when brushing to remove the messy fluff, unsightly hair and unhealthy dust, without damaging the fabric texture or color. Brushing clothes properly extend the longevity of your redecker, coat, suit, sweater, trousers, man's dinner jacket...
Create a Positive Impact on Earth
Proper care and maintenance ensure a longer life for your coat and suit. Another added benefit using natural bristle clothes brush is that you are carrying a sustainable living. Besides, a natural bristle lint remover, with a wooden handle, made from 100% biodegradable and compostable materials, is an eco-friendly product, and a great way to protect the earth and environment.

Don't hesitate to add a natural bristle suit brush into your zero-waste kit and keep a sustainable home.

Looking for more benefits of natural bristle clothes brush? It is also safe for brushing on bedding, sofa, and glass and ceramics furniture.
Natural Bristle Clothes Brush VS Lint Roller VS Synthetic Clothes Brush
How to get rid of fluff on clothes? There are several home maintenance hacks. Lint roller is used by many, for fast removing lint and per hair from the surface of a garment -- but only the surface-level. When it comes to tackle the dirt and debris of the deep, a lint roller is useless. Besides that, there may be traces of adhesive or tacky residue left on your clothes by using a lint roller. Another benefit of natural bristle lint brush over lint roller is that the former can lift the nap of delicate fabric, while the latter fails to do that.

The poor quality synthetic clothes brush is cheaper than a natural bristle brush for suit and redecker. But usually made of synthetic nylon, the synthetic bristles are hard and rough, and very likely to scratch the delicate fabrics like wool and cashmere.

An eco-friendly natural bristle clothes brush, with soft, dense, delicate, and uniform bristles, is effective in removing deep-rooted stain and debris, no damage to quality fabric or its color, and zero-waste at home.

Speaking of price, a lint roller or synthetic clothes brush is cheaper but will wear out quickly, whereas a wooden handle natural bristle lint remover is a bit more expensive but can last for a lifetime if being well kept.
How to Use a Natural Bristle Clothes Brush and How to Care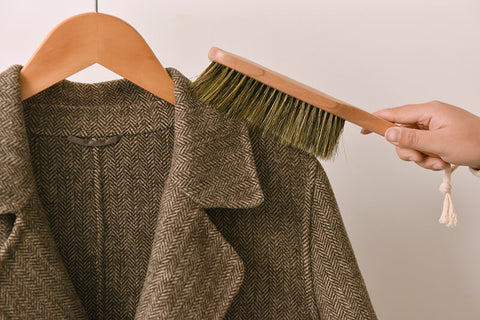 Your nicer wool suit or redecker needs to be properly brushed to maintain a long wearing life and stay in a good shape.
1) Hang your suit, coat, or trousers on the hanger, or lay it on a big, flat surface. >> Check out for eco-friendly wooden hangers
2) Gently brush the lapels and collar area first, and then the shoulders, sleeve and armpit, and the body.
3) Brush in the opposite direction of the nap to remove dust and dirt, later brush back in the direction of the nap. Remember always brush in the same direction.
4) Brush for 2 to 3 minutes in total.
5) For a very dusty coat, first dry brush it, then dampen the bristle and brush again.
Kind reminder: for any part of your clothes, brush and stroke gently. Never scrub hard.
How Often Should You Use a Clothes Brush?
It is suggested that you brush a suit or coat after every wear, and even before wear. It is a very cheap, easy and sustainable way to care your finer clothes. With only two to three minutes ever day, you will visit the dry cleaner less frequent, and save money too.
How to Choose a Natural Bristle Clothes Brush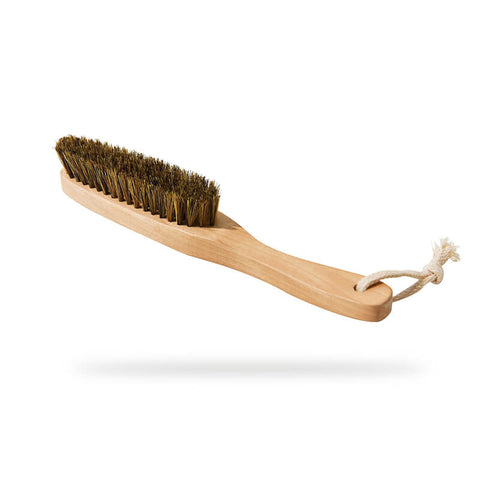 So after knowing the benefits of natural bristle clothes brush, perhaps you've decided to buy yourself a quality one. Take below factors into accounts:

Price – Buy a natural bristle clothes brush attractive in price and quality. So compare from different products and brands.

Material – Firmly spined natural bristle, especially the boar bristle, with a natural wood handle, is a best option for a clothes brush.

Brand – Consider ethical brands like Greenliving whose mission is to provide zero-waste, eco-friendly products, including natural pig bristle clothes brushes. Even its plastic bristle clothes brush is also a zero-waste product, being crafted out of RPET (recycled PET).

Function – Purchase a premium quality pig bristle clothes brush that has been shown effective in removing grime fluff and hair, while also keeping fabric soft and elastic.

Size – It is a good idea to pick a handy, lightweight, travel-friendly size lint remover clothes brush that occupies little space in your wardrobe or suitcase.

In conclusion, rather than purchasing a new coat or suit, it is wiser and more eco-friendly to maintain your investment pieces. With a natural bristle clothes brush, your classic items may last a lifetime and always look great.
Keep Reading: