Wooden Hairbrush Benefits and How to Choose the Best One
Nov. 23, 2021 |  Written by Alice W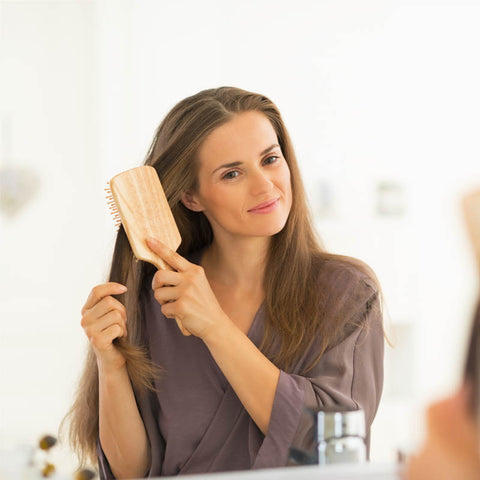 If you're still using a plastic hair brush or comb, the time to update it and swap for a wooden hairbrush is now.
An easy routine task seeming to be, hair brushing can be tricky, especially for our beautiful ladies with long tresses. A plastic hair brush can damage your hair, let alone the environment and our Earth. Quite on the contrary, a natural wooden bristle hair brush is really good for your hair, by gently scrubbing and massaging your scalp to stimulate the hair to grow!

Using a natural hairbrush daily is a simple but significant way to keep healthy, shiny and silky hair. Apart from the wooden hairbrush's benefits for your hair and scalp, it is also benefiting the planet, for being one of the eco-friendly products, ethical for everyone to use every day.

Of course, there are many other reasons why you should consider using a plastic-free wooden hairbrush.
What is a Wooden Hairbrush?
Before explaining the benefits of a wooden hairbrush, I'd like you to make sure you have a real wooden hairbrush at hand. Wooden hairbrushes are generally made from 100% natural materials, from the handle to the body, bristle, and bristle tip. The handle is always ergonomic and comfortable to hold. And the wooden bristle with wooden tips glide through your hair smoothly from root to tip, without any yanking and snagging.

Regardless the hair style or quality, wooden natural hairbrushes are the best zero-waste alternatives to plastic brushes when it comes to take care of your hair.
Top 7 Benefits of Using Wood Hair Brushes
Distribute Oil Naturall
Has your grandmother suggested that comb hair 100 times at night? It sounds groundless, but actually makes sense. Using a wooden hairbrush to comb, instead of a plastic brush, the oil secreted by scalp will spread naturally and evenly from scalp to each inch of hair. Doing this can avoid the greasy hair root, simultaneously add shine, bounce and moisture to the entire hair.
Faster Hair Growth
Seriously, who doesn't care about his/her hair? But here comes a big problem -- not everybody has healthy and thick hair. You know how it is caused: the genetic factor, high level of stress, always lack of sleep, endocrine disorders...

One of the greatest benefits of using a wooden brush is it helps to stimulate our hair growth to make heathier and thicker hair, by massaging your scalp to promote blood circulation and increase the flow of hair follicles system.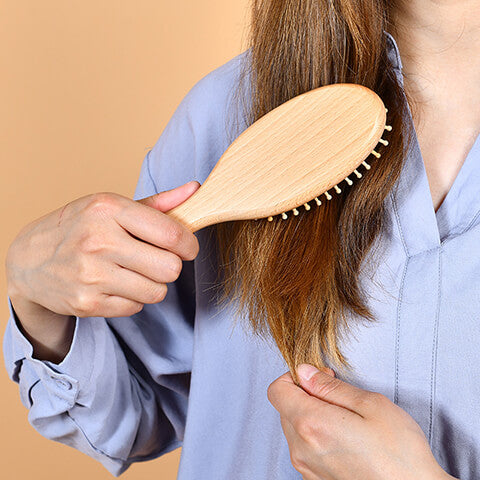 Prevent Breakage and Tangles
Not only the static, but also the hair dye, harsh chemical treatment, and frequent hair heating have been severely damaging your hair, causing breakage and tangles. How to get the damaged hair back to normal again, and even get better condition? You're encouraged to invest a high quality wooden hairbrush for daily hair care. The soft, wide spaced bristles can comb and manage hair, be it straight hair or curls, easily and without any pull.
Massage the Scalp (Accelerate Circulation)
No one will fail to love scalp massage with a wooden hair brush. The massage effect is beyond expecting -- boosting the scalp circulation, relieving the tension of the head, stimulating hair follicles, improve sleep condition, therefore reducing hair loss and resulting in a better and healthier hair conditioning.
Dandruff Control
Another benefit to use a natural wooden hairbrush is that it gets rid of not only the dirt from your hair, but also the dandruff. When the wooden bristles distribute the oil evenly from the scalp to hair, there is also less chance of dandruff.

What's more, regular massage with a wooden brush will dislodge dead cells and flakes on your scalp.
Anti-static
The static electricity in our hair is really annoying in dry cold days. Besides that, it causes much damage to hair. As we know it is the neutral charge in wood, thus a wooden hairbrush is of course anti-static. Finally, no more static, flyaways and the wild frizzy hair, but more sheen.
Durable and Sustainable
Other than the many benefits using wooden brush for your hair, it is also better for the environment when compared with the plastic ones, for being made of biodegradable and compostable materials (sometimes there are recyclable materials). It is also worth mentioning that the natural materials are more durable and longer lasting.
Wooden Hairbrush vs Plastic Hairbrush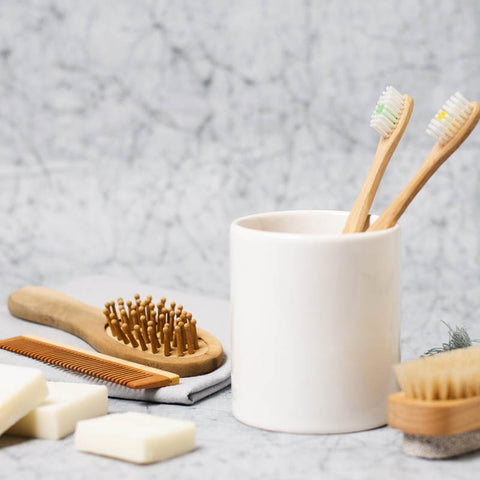 The downsides of plastic combs are obvious.

A plastic comb or hairbrush, when combing, is easy to generate static electricity that makes hair frizzy. And the bigger problem is that the static is very likely to irritate the scalp, badly affecting the health of scalp and hair roots, and resulting in unclean, dry hair and breakage.
It is even worse to use plastic brush for dandruff or when your hair is dusty, as the plastic components will make the dandruff and dust stick to scalp tighter and longer.

By contrast, a wooden bristle hairbrush with round wooden tips is very gentle on scalp and hair, and stops any static building up. With a wide-spaced bristle, it also detangles hair well. You won't run any risk of pulling, breakage, itchy scalp, or other side effects.

An additional benefit of wooden brushes over plastic brushes is that the natural wood bristle is also gentle and safe to sensitive scalp, causing no allergic reactions, and leaving no scratches.

The wooden hairbrushes are a bit expensive than plastic or artificial ones, but more resistant to time and wear, therefore, better value for money.

Your escape from the damaged hair starts from switching to a natural wooden hairbrush from a plastic hairbrush.
How to Choose the Best Wooden Hairbrush
Looking for a wooden brush for hair growth, and further make your hair healthy, thick, and shiny? Never skimp on quality. When it comes to purchasing the best wooden hairbrush, you need to consider its price, quality, raw materials, the brand (better to be an ethical brand), function, and size.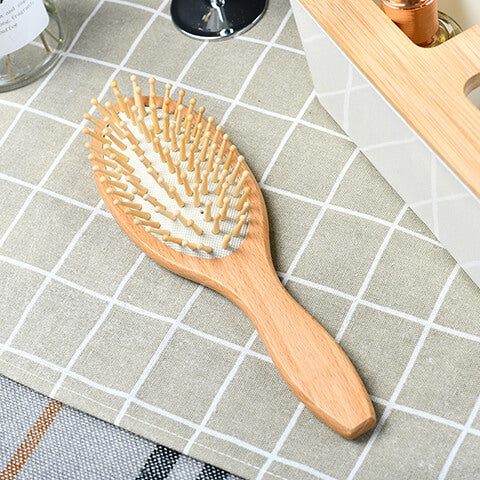 It is one of the best wooden hairbrushes for wet and dry brushing you can find in the market, and ideal for various types of hair style We love it because it is completely made of wood, from the beech wood handle to the lotus wood bristles. The bristle tips are also made of wood, soft and flexible, hence really gentle on your scalp and effortless useful for detangling hair. With a portable size, this wooden hairbrush is also travel friendly.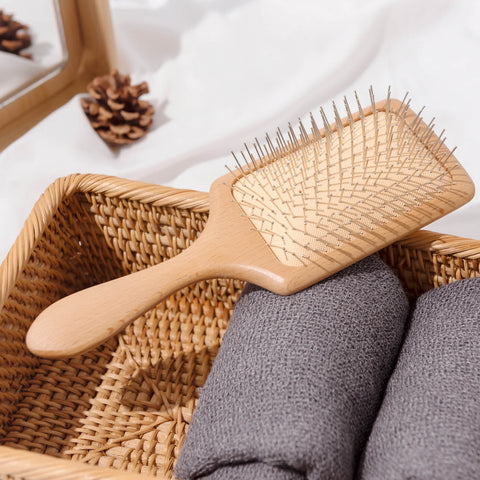 Crafted out of beech wood with steel needle bristles, this natural hairbrush is recommended for massaging scalp, stimulating blood circulation. The round steel tips are firm and sturdy, and anti-static, requires little force when brushing and creates no pain. The ergonomic long handle is designed for easy grip. The big size paddle works well even you have very thick hair.
How to Use a Wooden Hairbrush
Like a miniature square pizza tray, a wooden hairbrush is designed with a wide-spaced bristle in a generous paddle, for better brushing hair and massaging scalp. To use a wooden hair brush, simply brush as normal from root to tip, and gently press up scalp with the firm yet flexible bristle tip. You need not pull, and the bristles go through hair easily. It is suitable for both straight hair and curls.
How to Clean a Wooden Hairbrush
It is necessary to regularly clean your wooden hair brush since you normally brush hair more than twice a day.
Remove any hair left over in the brush every time after brushing.
One way to clean a dusty wooden hairbrush is applying flaxseed oil to the brush, and use a damp kitchen towel to gently wipe the brush after the oil is dry.
If your brush is very dirty, submerge it into warm water for three to five minutes and clean it with mild soap.
If needed, using a worn-out toothbrush to scrub your hairbrush to remove dirt and debris in-between the bristles.
Remove excess moisture and hang to air dry.
Remember to avoid storing a wooden hairbrush in any place with too much moisture.
To sum up, using a wooden hairbrush has a lot of benefits for your scalp, reducing dandruff and hair breakage, and making your hair static-free, tangle-free, glossy and silky shiny. Also, natural hair brushes make your daily haircare more sustainable and eco-friendly. To purchase a best wooden hairbrush, consider the two options from Greenliving, which are of durable quality, and easy to clean and maintain. 
Keep Reading: