20 Best Eco-Friendly Products for a Sustainable Home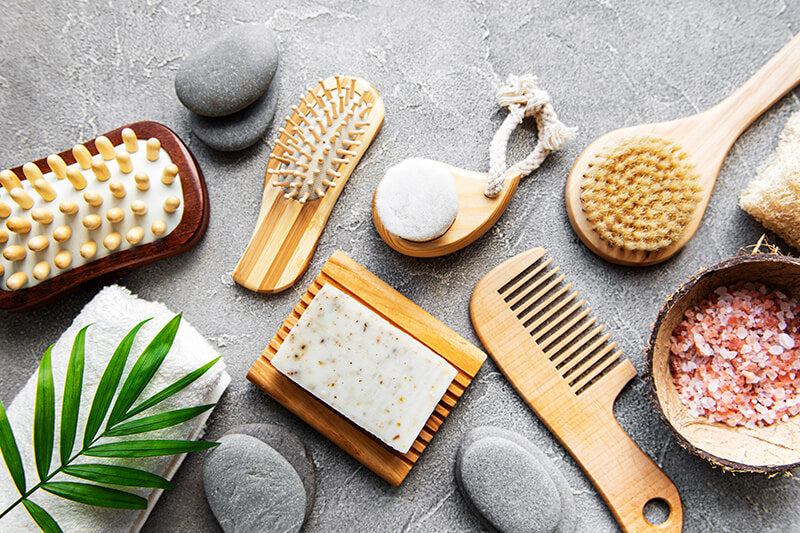 Sustainability is the new "green." You want sustainable living to be a thing of normality in your life and it's easier than ever to do with the multitude of eco-friendly products for a sustainable home available. But how do we know which ones are worth spending our hard-earned cash on? Let's take a look at some products that have proven themselves over time.

Why is it that some products cause more harm than others? Why can't we be conscious of the products we use on a daily basis? Are companies not worried about the future of their next generations who will have to live with the results of our actions today?

When looking for eco-friendly household products, you need to consider that these products are safer for humans and the environment. You need to know the amount of chemicals and toxins in the product, as well as what kind of packaging is used.

Eco-friendly products provide variety in what it costs to live sustainably. The costs are not just monetary, but it is the value of time and effort to use these products, too. A sustainable home is the future. Unfortunately, it seems like an unattainable goal for most of us. Sustainable products with organic ingredients are great, but they are also very expensive. It's no surprise that many people can't afford to launch a fully sustainable home. But there are ways you can work towards having more eco-friendly products in your home.
If you want to refresh your skin after a long day, the only way to really do it is to give your face a good scrub. This natural wool facial brush gently exfoliates your skin and helps deep clean your pores.
To ensure that your sensitive skin gets a smooth and comfortable experience, we recommend that you wet the facial brush thoroughly before use.
Materials:
Handle: beech wood
Bristles: Soft wool (sterilized)
Tips:
Soften the wool during the first week of use by placing it in hot water before use. The natural soft wool is ideal for sensitive skin, baby skin, and delicate areas.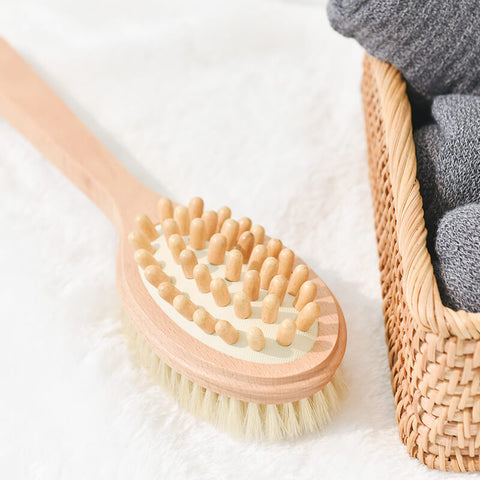 If you're looking for a shower scrubber, this is a product I can recommend. Its sturdy wooden body is designed for both exfoliation and dry brushing, and it will help your skin look healthy and clean. This is a wooden body scrubber/shower brush that's both functional and environmentally friendly.

The natural boar bristles help to give your skin a deep yet gentle clean.
Use this body scrubber shower brush to have a two-in-one spa-like bath experience and keep skin healthy, radiant, and blemish-free.
In addition to body scrubbing, the other side can be used for dry brushing. Greenliving's double-sided wooden dry brushing body scrubber has natural boar bristle, which helps you eliminate dead cells from the surface of your skin.
The other side is a body scrubber shower brush and is perfect for dry brushing and body exfoliation. It sloughs off dead skin cells, firms skin, and improves circulation.
Material:
Handle: beech wood (32.5cm long to reach all hard to reach areas)
Bristles: natural boar bristles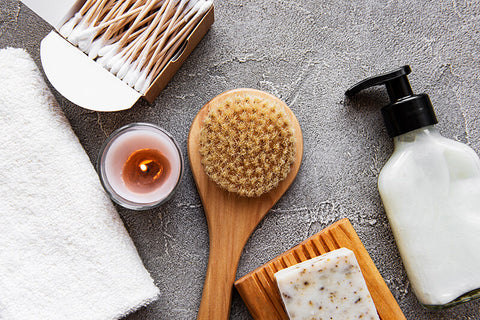 This bamboo shower brush is made of natural bristles, which provides superior cleaning results. It effectively cleans dirt out of the pores, washing away pesky blackheads for soft, smooth skin.
This boar's hair shower brush is a gentle massage for your body and soul. It stimulates blood flow and drainage, and it leaves you feeling refreshed, alive, and alert. This shower brush is truly a revolutionary body cleansing innovation, the brush bristles perfectly massage your body while you clean.
Material:
Handle: Bamboo (12 cm)
Bristles: Natural boar hair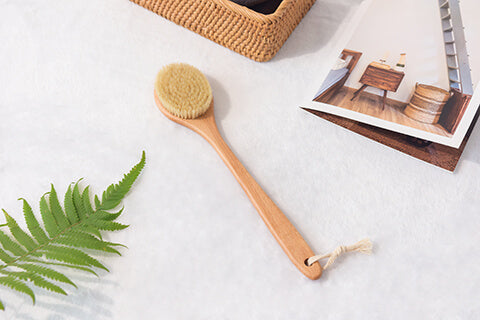 Scaly, dry skin? Acne-prone skin? Clogged pores, with excessive oil? Cellulite? Our natural boar bristle long wood handle bath brush can scrub away your problems with its bristles.
This natural bath brush is made from soft, 100% boar bristles, and is ideal for any skin type. Its long handle makes it easy to use, even when you're in the bath.
The Natural Bath Brush does double duty while you shower, helping to eliminate dead skin cells while rebalancing your body's systems. It's a natural way to get a healthy glow.
Not only does this product help you exfoliate and massage your body, it releases toxins by stimulating your lymph nodes and increasing blood circulation.
Materials:
Handle: Beech wood (35cm)
Bristles: Boar bristles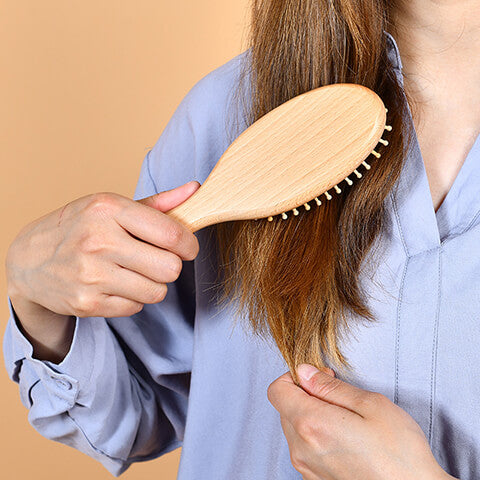 Experience a new level of hair care with the wooden bristle hair brush. It glides through your hair gently massaging your scalp to stimulate blood flow and keep hair healthy.
This hairbrush is made from sustainably sourced beech wood and natural rubber. The entire brush, from the handle to the bristles are biodegradable.
Why are wooden pins better for your hair?
Wooden pins do not damage or break the hair as much as regular plastic pins. What's more, wooden pins could even create shinier, healthier looking hair.
Materials
Handle: beech wood
Brush: bristles are made from lotus wood with natural rubber backing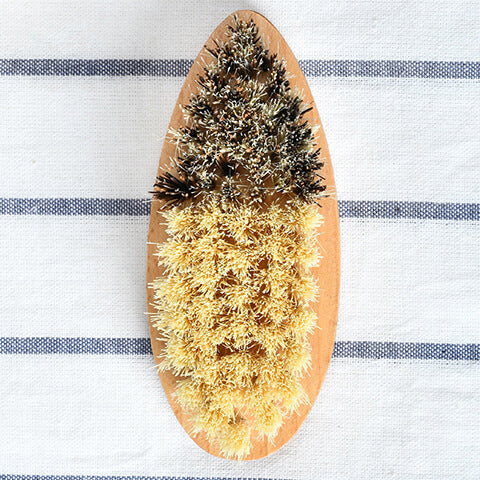 This multipurpose vegetable brush has many features that make it stand out among all the alternatives. Also, the handle is sturdy and made of resistant material. This is a high precision multifunctional brush that has great ability to wash vegetables and fruits.
The brush has two different bristles to make cleaning both hard and soft skinned fruit and vegetables easy.
Two different Bristles and Comfortable Grip:
This brush is intelligently designed, with the darker bristles perfect for scrubbing (and possibly even peeling) harder produce. The lighter bristles are softer, and are ideal for cleaning soft fruit and vegetables.
The natural beech wood handle is grooved to allow for a better and more comfortable grip.
Materials:
Handle: Beech wood
Bristles: Sisal
Size: 14 x 6cm
The natural brush has a long handle, ideal for cleaning stubborn dirt without getting your own hands dirty. The brush can be used for cleaning all your everyday kitchen materials, including glassware, stainless steel, ceramic, and other kitchen utensils.

Replaceable Heads
The dish brush has replaceable heads- which means you can simply replace the head without replacing the whole brush.
Materials:
Handle: Natural beech wood
Brush: Sisal hemp
Size: 23.5cm*4.5
A note on Sisal Hemp:
Sisal hemp contains a high level of natural plant fibre and is one of the most eco-friendly and durable plant materials. What's more, it is highly heat resistant and demonstrates a strong ability to get rid of tough dirt.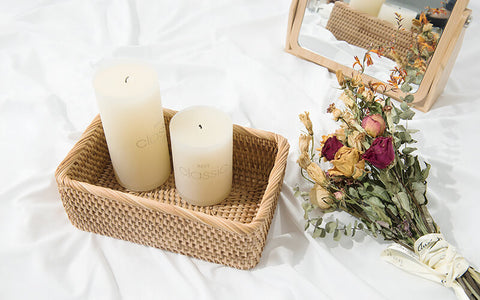 These rattan woven (all handmade too) are the perfect addition to a trendy home that wants to ensure everything from decor to utensils are sustainable and eco friendly. The baskets can be used in any way you like- whether for the kitchen, the bathroom, or the office.
Material: Vietnamese rattan
Note on Vietnamese rattan:
Vietnamese rattan is an eco-friendly material that boasts strength and durability. The baskets are woven by hand in the traditional Vietnamese style.
Size:
Large:30x20x9 cm
Medium : 25x17x8 cm
Small : 20x14x7 cm
Check out the other Vietnamese Rattan baskets on the website as well, you can find circular baskets too if that is more your style.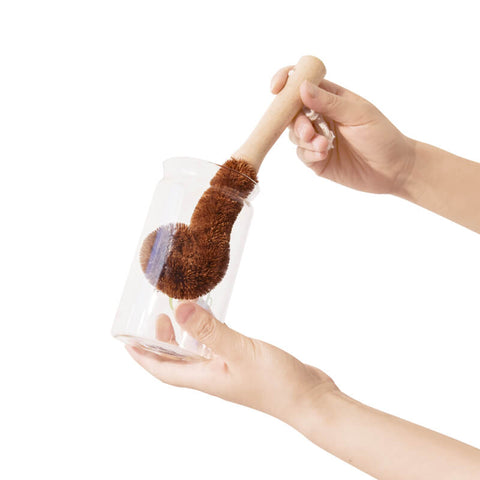 Why let the bottom of your bottles collect dirt? This is an eco-friendly kitchen cleaning tool that, once you live with, will be hard to live without. Regular bottle brushes are hand from unsustainable plastic that get thrown away, filling up landfills and taking years to decompose.

The high quality coconut fiber brush is designed to have a high density of robust bristles. This design makes it easy to scrub off stubborn dirt and grime without damaging the surface.
Materials:
Handle: sustainably sourced natural beech wood
Brush: natural coconut fiber
A note on coconut fiber:
With coconut fiber, you can eliminate even the most stubborn stains. The coconut fiber lasts longer than your average plastic and sponge (approximately 1 year with everyday use) and since it is a natural material, decomposes easily and rapidly.
Looking for an eco-friendly way to clean on the go? This ECO wood handle brush makes eco-friendly dusting seem easy. Whether you want to dust beach sand out of your car, give your clothes a quick swipe, or simply dust your home, this ECO brush makes it easy to live a clean, sustainable Lifestyle.
The natural pig bristles are tough enough to remove dust while soft enough to ensure your upholstery remains untarnished. You can use this brush on bedding, couches, cushions, car seats, clothes, and even your favourite blanket.
Materials:
Handle: natural beech wood
Bristles: natural boar bristles

Size: 24.4*3.3CM
11. Reusable Snack Bags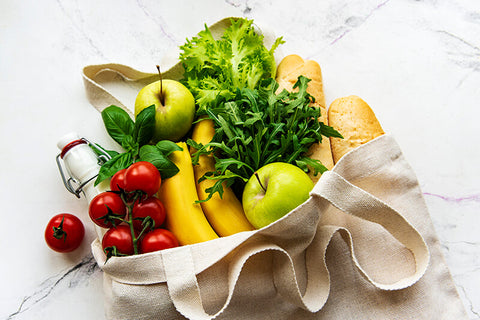 Want to live a more sustainable lifestyle but can't seem to shake off the plastic? Well, these reusable snack bags make shedding plastic easy. Sure, you can reuse Ziploc bags but how healthy is that? You can only wash and reuse them so many times, and let's be honest- it's not all that clean.
This type of sustainable product makes stashing snacks easy and eco friendly too. They are free from: Vinyl, Phthalates, PVC, BPA, Lead
latex.
There are many different types of snack bags to choose from. Make sure they are all have a sleek design and are microwave and dishwasher safe. The bags are self-sealing and can keep snacks stashed while retaining the freshness.
Material:
Non-toxic platinum silicone
They come in a variety of sizes. We love the stasher snack bags because they can bring you one step closer to living in a zero waste home.
12. Reusable Bees Wax Wrap
Did you know? You may have seen initiatives and drives for recycling plastic, but only 2% (at most) of the world's plastic can be recycled. And that cling wrap that sits in almost everyone's kitchen draws? That certainly cannot be recycled. But there's a clever alternative, straight from nature. Bees wax wrap can be an ideal replacement for traditional cling wrap.
It is one of the most obvious eco-friendly products and helps to turn your house into a sustainable home.
After being used, the wax wrap is biodegradable so you can be sure that you can live your best green life without guilt.
The best part about bees wax wrap is that it is better for your produce since it is more breathable than plastic.
13. Stainless Steel Straws
There are many areas and states in the US that are implementing a ban on single-use plastic straws. This has opened up the market for companies to begin designing and manufacturing reusable straws. Eco friendly products are becoming more and more popular, and most people are beginning to boycott the use of regular plastic straws. Sets of stainless steel straws offer a straw shape to suit anyone's taste, from bent to straight. Most sets also come with a handy cleaning brush to ensure your straw stays safe and clean.
14. Glass straws
If you are not a fan of stainless steel straws, then you should check out these glass straws. Glass straws are great eco friendly products- anything that can offer an alternative to a plastic straw are considered sustainable products!
These glass straws are made from shatter resistant glass, so you don't have to worry about shattering it while you wash it or store it. The straws are easy to clean and the best part is that they do not get too hot so they can be used for warm drinks too.
15. Best biodegradable straws – Organic Bamboo Straws
If you aren't a fan of glass or stainless steel straws, then you can get your hands on these organic bamboo straws and keep them in your cupboard. These bamboo straws are biodegradable, which means that by the time you are ready to throw them away they will degrade without harming the environment. This particular set comes with a cleaning brush made from coconut fiber. You can get a set of 10 straws that come in a handy bag.
16. Reusable dryer balls
Tumble dryers use a significant amount of energy to dry clothes, but some people cannot live without them. If this is you, then perhaps you can make it more eco-friendly by switching out the dryer sheets with dryer balls.
Why are dryer balls better than dryer sheets?
Dryers use a high amount of energy to dry your clothes, but you can reduce the amount of energy used by shortening the amount of time it takes to dry your clothes. To do this, all you need to do is to use dryer balls, as they soak up more of the water than dryer sheets. You could end up saving as much as 25% of the drying time.
Eco-friendly dryer balls are the ideal addition to the household for anyone looking for sustainable home goods. Typically dryer steamer balls are made with plastic (containing petroleum). Dryer balls not only reduce the amount of energy used for drying clothes, but they are made sustainably as well:
Petroleum and plastic free
Chemical and synthetic free
17. 100% biodegradable compostable cutlery
We all love a good picnic. Or maybe you love entertaining but hate the washing up- in which case you might enjoy using plastic cutlery. The solution? Use compostable cutlery and bowls- one of the best eco friendly products for the kitchen. What's more, some compostable cutlery is approved by the FDA, and 10% of the profits are donated to conservation every year. What do we love more than Eco-friendly products? Eco-friendly products that aid towards the funding for conservation and preservation of our beautiful planet.
18. Eco friendly laundry detergent
If you are on the hunt for more eco- friendly products for your laundry room, then look no further than a laundry detergent that can fit your sustainable lifestyle. This type of laundry detergent is an all natural, sustainable and eco-friendly product for your home. Their intelligently designed detergent is formulated with a whopping 97% natural ingredient list. The best part? The detergent is made to be HE compatible as well as being biodegradable. This means that it is suitable for every washing machine.
Some eco-friendly features:
Phthalate free
Chlorine free
Formaldehyde free
Free from artificial colors
Free from parabens
No animal-derived ingredients
No optical brighteners
Free from MEA and DEA
25% recycled packaging (makes the case these bottles being sustainable products even better)
Why use natural and eco-friendly laundry detergent?
You need a strong detergent to get rid of stubborn stains, but the thing is- do you really need even more chemicals to do that? The answer is no, despite what the marketing campaigns have led you to believe. There are some detergents on the market that, despite being excellent stain removers, will do more damage in the long run. Because the intense chemicals can damage your clothes as well as your skin.
And despite being better for your clothes and your skin, it is better for the environment as well. It's time to say goodbye to detergents made from chemicals.
19. Fabric sandwich bags- best reusable sandwich bags for kids
Reusable sandwich bags made from fabric are a favourite eco-friendly product for many moms- especially since it all but mimics the typical plastic sandwich bag, except for it being made out of fabric instead of plastic.
The best part of these bags? They have temperature protection- thanks to the clever design. Since they have this temperature protection, they will be perfect for keeping your lunch fresh during any type of environment or weather.
Another thing we love about these bags is that they come in a variety of sizes, so whether you want a footlong sandwich or a smaller one, then you will have a lunchskin to suit your sandwich size requirements.
What's more, the fabric can be quite flexible in the sense that you can maneuver your sandwich into the bag without it becoming squished.
In terms of cleaning, you will find that you couldnt have a bag that is easier to clean- they are completely safe to use in your dishwasher. Don't have a dishwasher? Don't worry! This reusable sandwich bag is not only one of the best eco-friendly products you can add to your kitchen, but can be easily hand washed as well.
Okay, we have one more fun feature to mention with these sustainable products- their funky patterns and designs cannot go unmentioned, especially if you are going to be using them for your kids' sandwiches. There are a variety of designs and colors to suit anyone.
20. Wi-Fi Smart LED Light Bulb
Sure, there are many LED light bulbs available- so what is so special about this one? The Wi-Fi Smart LED Light Bulb is a 'smart' choice for a number of reasons. First off, they typically have a long lifespan- 22 years is the average time. This means you can avoid the constant replacing of light bulbs and take your eco-friendly home from a dream to a reality.

What's more, smart Wi-Fi bulbs work with Wi-Fi, including voice control through Amazon Alexa, to support smart control (including dim/brightness features as well as color changing features).

If you're looking for more sustainable products and Eco-friendly products to help make living sustainable simple and easy, then you should seriously consider making the switch to LED bulbs.

Why use LED light bulbs?
LED light bulbs are one of the most significant energy reducing sustainable home goods. This is because they are able to use a high amount of the energy (electricity) they receive into light, and less is wasted as heat conversion. An LED light bulb uses an average of 95% of the electricity it receives to generate light, wasting only 5% on heat. This means that less electricity is used to generate a stronger light than your average lightbulb.
Bottom Line
We hope you have found the best eco-friendly products for a sustainable home in this article, and you are one step closer to living a more sustainable lifestyle. There are many reasons to live a green life, and now it is easier than ever. All you have to do is make the choice to live a more eco-friendly life, and then begin to make the right product choices. Whether you are looking for the best eco friendly products for kitchen or office use, we hope this article helps you find the best eco-friendly products.