Choosing the Right Dish Drying Rack for Your Kitchen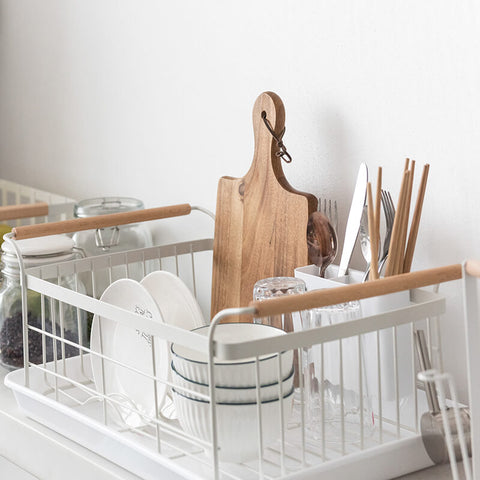 Dish drying racks are a utilitarian addition to any kitchen, especially in those where dishes are regularly hand-washed. A drying rack allows dishes to dry naturally, and different styles will either sit on the counter next to a sink or directly over it to free up counter space.
There are many different styles and sizes of dish drying racks available to fit any need, but knowing your options is important before making a final decision. In this article, we'll explain how a dish drying rack works as well as how to choose the right dry rack for your kitchen.
How a Dish Drying Rack Works
Dish drying racks work by using air circulation to dry the dishes. This is done by having the dishes elevated off the countertop and spacing them apart, allowing air to circulate around them. By allowing dishes to dry naturally, you can save the time it would take to hand dry them as well as the energy required to dry them in a dishwasher.
Some dish drying racks that are made to sit on the counter come with a drain board, which helps to collect water as it drips off the dishes. If the drain board has a slanted edge, it can be placed so that the water automatically runs off into the sink.
How to Choose the Right Dish Drying Rack for Your Kitchen
A dish drying rack is a tool that allows dishes to dry effortlessly. They come in all shapes and sizes that can include multiple tiers and folding elements. Using a drying rack can save you effort and energy, and many are made of sustainable materials that can last for many years.
When choosing a dish drying rack, it is important to consider the size of your kitchen. While large kitchens may prefer a permanently installed drying rack that has plenty of space for your dishes, those with a small kitchen will want to choose a dish dry rack that is compact. A foldable dish drying rack for over the sink is a great way to maximize the number of dishes you can dry, without compromising counter space.
You should also consider the type of material the dish drying rack is made of. While plastic is the cheapest option, metal and wood dish racks are sturdier, better looking, and better for the environment. Metal dish racks have a contemporary feel, while wooden dish racks have a more natural appearance. For the best of both worlds, you may consider a metal dish drying rack with wood handles that is both functional and stylish.
Conclusion
Dish drying racks are a great addition to any kitchen and can be purchased at most home goods stores or online retailers. They dry dishes by allowing air to naturally circulate around them, saving you time and money. Drying racks come in a variety of styles and materials to fit most needs. When purchasing a dish drying rack, be sure to consider the size of your kitchen, your budget, and whether appearance is a factor.
Keep reading: