3 Frequently Asked Questions about Plastic Wrap Dispenser
Written by Flavia Marin
A healthy mind requires healthy diet. In order to maintain that degree of quality, it will be advised to use wraps to keep your food supplies safe from dust and spoilage. Plastic wrap dispensers are now one of the most important kitchen gadgets. Keeping your kitchen clean and tidy may be a chore, especially when you're dealing with a lot of food. Choosing the best plastic wrap dispenser, on the other hand, is a difficult undertaking.
Benefits of Plastic Wrap Dispenser
Efficiency
Teeth or slide cutters on store-bought plastic wrap boxes require the user to retain one hand on the box while pulling and cutting tangle-free sheets with the other. This might result in jagged cuts and plastic wrap that sticks to itself, causing headaches and waste. Using a plastic wrap dispenser it will help you to cut the right length and be efficient while wrapping your salad bowl.
Style
A beautiful wooden plastic wrap dispenser will look stylish with your kitchen design and create a fresh and organized space.
Save time
You can wrap food quickly and not waste any precious time. Organizing your food will save you space and time on your busy work days. Keeping your food germ free in a hygienic space will keep you safe and healthy.
How to Use an Aluminium Foil Dispenser?
Store-bought plastic wrap boxes with teeth or slide cutters require the user to keep one hand on the box while pulling and cutting tangle-free sheets with the other. This could result in jagged cuts and stuck-on plastic wrap, creating headaches and waste. A slide cutter is included with this gadget. You won't have to worry about cutting with hacksaw blades using such a technique because you'll be able to dispense and cut the material appropriately without any problem. Keep each roll in the correct location to avoid losing it while dispensing. Simply take out what you need and wrap it in plastic.
How to Choose the Best Dispenser?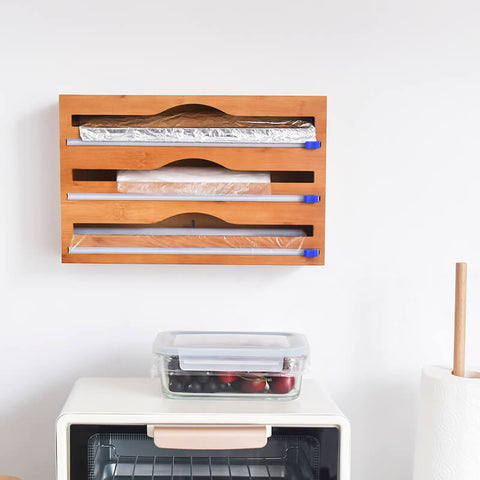 Choose an innovative aluminium foil dispenser or a dispenser that has a It has an aluminium foil cutter and a stainless steel blade. Both of these materials aid in the prevention of rust. A steady wooden material will have a great structure will be great for your stretch wrap dispenser. Is better to choose home products that are both sustainable and of the highest quality.
Stretch wrap dispenser is a revolutionary dispenser that allows customers to place any type of wrap inside and wrap goods conveniently without the twists, tangles, and breaking that come with typical store-bought dispensers. With this great plastic/aluminium or stretch wrap dispensers you can wrap everything from fruits to cheese to meat to leftovers and more! Now you can put your folded boxes away and enjoy a tidy kitchen drawer! This wooden plastic wrap dispenser can come in handy around the house.
We care about your health, so we've hand-picked especially for you the great Bamboo Plastic Wrap Dispenser.
Keep Reading: