Why Use Basket Trays to Organize Your Home?
Written by Flavia Marin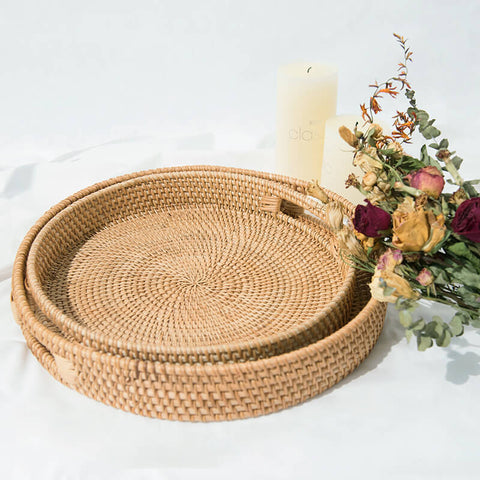 Baskets trays are a versatile storage option that may be used in any part of the home. These useful organizers are available in a range of styles, sizes, and materials, allowing you to easily incorporate storage into your décor. To stylishly arrange any room, try these storage basket ideas. Breakfast in bed anyone? We all enjoy being pampered, and a delicious breakfast accompanied by a rose in the morning says it all about how you express your gratitude. It will make your life easier if you use a lovely basket tray designed as food serving.
Basket Trays for Storage
This is a clever way to save space while still decorating. The basket storage option also serves as a simple method to declutter the house before guests come.
On a basket tray, your kitchen cutlery, tablecloths, bread, fruits, vegetables will look fantastic. Basket trays for coffee table, on the other hand, would be quite helpful and modern in your living area.
The basket trays in your living room could be the best place for the remote, coasters, a tiny plant, and a candle. It just feels so much cleaner to have everything in one place. If you enjoy decorating and putting things to use around the house, or you just like to have breakfast in bed you will adore this Handmade Round Rattan Basket with Handle.
Basket Trays are Versatile
The adaptability of these basket trays is the main advantage of having a few on hand. This basket can save you time and be utilized in any space or for any purpose. Little things like face towels, candles and extra toiletries will fit well in this beautiful Large Round Rattan Tray Basket with Handles. Your scarves, stylish jewellery, and make-up will all look fantastic with these handcrafted circular rattan storage basket. . You can utilize your basket trays in a variety of ways, which is fantastic. You will love these trays whether you use them on your tea table, kitchen table, living room, or at the front door to leave your keys, newspapers, and notes.
Basket Trays for Home Décor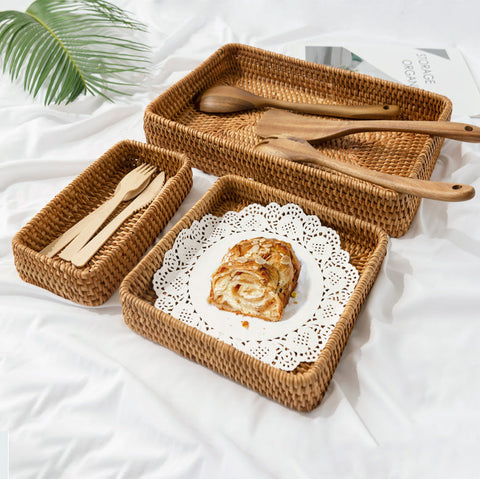 When it comes to home décor the options are infinite and directly connected with your vision and style. Basket trays are useful, practical and most of all they bring a fresh and traditional style to your house. Either you have a contemporary, traditional or eclectic style in your home, the little handmade Rattan Baskets will be a wonderful way to bring nature into your home. Placing them next to your green areas or next to a plant will highlight their earthy tones and traditional appearance. Your home décor should say many things about your personality and way of life and this is the time we need to be more attentive with our environment and surroundings.
Basket Trays Wholesale
If you care about ethics and sustainability, these baskets trays are not only fashionable but also environmentally friendly. Basket trays wholesale are the finest approach to get basket trays for your home because you'll have one set for each room and save money.
Keep Reading: