How To Make Your Christmas Less Stressful by Using Disposable Plates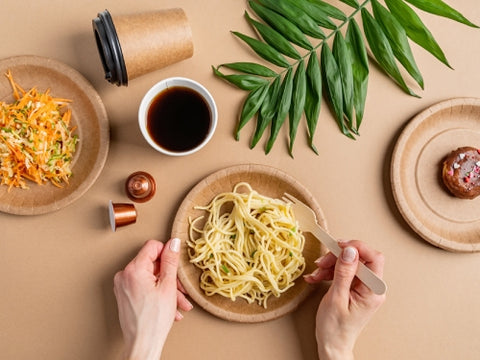 We've all felt the familiar panic as Christmas comes closer, as we're trying to finish last minute gift wrapping and make sure everything is ready for friends and family to descend. One thing that can feel incredibly daunting is the sheer amount of washing up that needs to be dealt with after the food is polished off. It can be disheartening to be left cleaning up in the kitchen when you can hear your family and friends having fun in the living room.
However, using eco-friendly disposable plates is a brilliant way to make some of the stress off this Christmas. Whether it's using the heavy-duty paper bowls to set up a snack station at the office party, or for serving desserts on paper plates at the family meal, using disposable Christmas plates is a perfect solution to dealing with the mess that follows.
Better for The Environment
Choosing paper disposable plates rather than the plastic alternatives is a lot better for the environment too. The disposable plates from GreenLiving are incredibly made from 100% sugarcane fibre! This means that they are compostable and so do not damage the environment when they decompose. Also, unlike plastic utensils and plates, these eco-friendly disposable plates are both microwavable and freezable! This means that they are brilliant for food storage as well as being better for the environment.
Strong Enough for Daily Use
Initially, the idea of eco-friendly disposable plates can raise a few questions. For example, one big question regarding disposable Christmas plates is – 'are they durable enough for Christmas dinner?' and the answer is 'absolutely!' If you make sure to get high quality eco-friendly plates, like those sold at GreenLiving then they are not only waterproof but oil proof too. There are no harmful chemicals, artificial coatings, wax, chlorine or bleach present in the plates either. This means that it is safe for your family or friends as well as for the planet. They are strong enough for daily use and they are created as heavy-duty, which means that they will not break or crack easily. This ensures that they can carry a heavy meal, a birthday cake or be used in crafts without easily tearing when wet.
Buy in Bulk to Save More
There is also the added bonus that when making a paper plate bulk purchase through GreenLiving, you can save money in the long run too. With how versatile paper plates are too, making a paper plate bulk purchase means that you will have enough to see you through Christmas meals as well as creating crafts with the leftover ones! These can also be used for other events such as birthday parties, barbeques and picnics, and come in three different sizes too – six inch, seven inch, and eight inch. The heavy-duty paper bowls also come in two different sizes – twelve ounces and sixteen ounces. This makes sure that no matter whether you're serving Christmas dinner, creating decorations, storing food or making crafts, there is a size of eco-friendly disposable plate or bowl to suit your needs.
Keep Reading: