Knowing How to Use and Clean Fabric Storage Bins
March. 16, 2022 |  Written by Aisha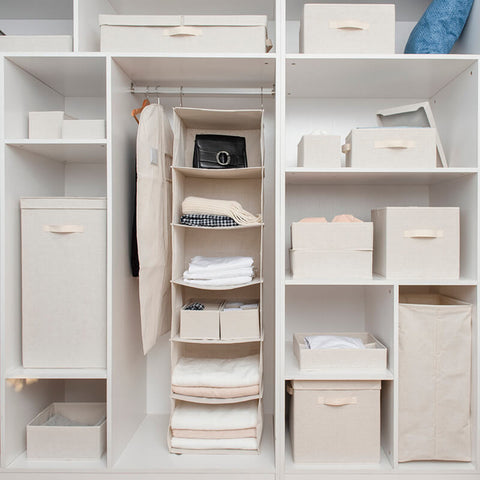 The reason why many people store cloth is to prevent further damage. However, it is alarming when people experience the opposite of this. Either people in this category are not using or cleaning the fabric storage bins appropriately. For you want answers to how to use fabric storage bins? Read on to discover more details and that of other related inquiries.
Make Sure Your Fabrics are Not too Close to Light.
The fabrics attract high humidity and UV when exposed to a light source. This will not only cause mold to grow on the material, but it also causes odor until the color eventually fades. If you create a DIY storage space, make sure it is not in a heated space. For instance, you want to take it away from the basement or garage.
Roll your Outdoor and Vinyl Fabrics
Vinyl materials are fabrics you do not want to leave for a long time without folding. Instead of folding it like other cloth materials, roll them instead. The material also has a water resistance chemical which adds to special requirements.
Fold Your Fabric Appropriately
When you want to learn how to organize fabric storage bins, you can start with folding. When you do not fold your fabrics properly, they will eventually wrinkle. Fold them neatly, and you want to ensure the clothes align with one another. You can also tuck smaller items into the fabric closet underwear organizer and drawer. This applies best for users with small cabinet space. Once you have organized your fabric into sections, it becomes easier to choose cloth for events.
How to Clean Fabric Storage Bins
Knowing where to buy fabric storage bins and understanding their maintenance is one thing. The first thing you want to do is to wash your storage bin. Wash the bin with water that is neither too hot nor cold and a detergent. When you have seen enough dirt wash off the bin, you can rinse with clean water and dry with clean clothes.
Once you follow the steps below, the cleaning process becomes easy and fun.
Make sure you analyze a cleaning routine and lay a good example by living by it.
Make sure to dry the cloth without leaving any traces of water.
Make sure to cover the lid well, so insects will not infest the clothes in the storage.
You can gather the clothes and lay them in sections.
Use hangers if you cannot wear a particular cloth because ironing it.
Pls, note that this article also focuses on the storage lid. Hence, clean your cover as you are cleaning the storage container.
Conclusion
If you want to know where to buy fabric storage bins, it is much easier and faster to get answers on the internet. However, make sure to choose a reputable company like Greenliving. You can be sure to get quality materials while you work closely with reinforcing fabric storage bins. Contact the company now for more inquiries.
keep reading: