Shower Bench Ideas: Best Shower Bench To Reinvent Your Bathroom
Feb. 10, 2022 | Written by Dennis
One way to transform your shower from ordinary to luxury is by using a shower bench. They seamlessly blend into your shower design bringing in that relaxing feel and giving you a spa-like experience.
A shower bench is not simply for showering, but there are numerous things you can use the shower bench for. Below are some of the shower bench ideas that you can implement.
Shower Bench Ideas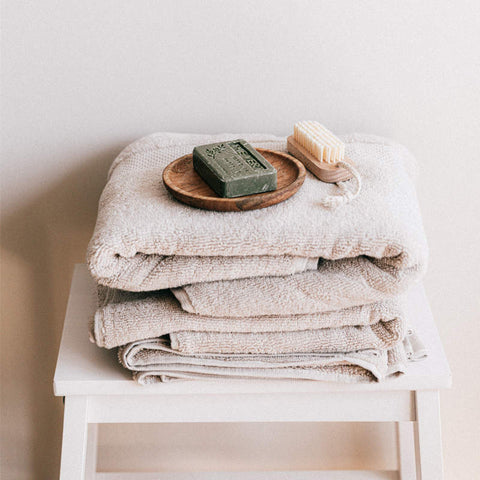 One of the most popular ideas is using a shower bench as a storage tool. This is specifically popular for walk-in bathrooms that lack storage. As the shower benches do not take up too much standing room, you can tuck a wood shower stool in a corner and store some of your essentials there.
The efficiency of a shower bench also comes coupled with a little bit of luxury. A wood shower stool has a rich rustic look that perfectly blends into the background, thus quickly minimizing visual clutter from the bathroom.
A bench does not need to be very big for you to add bathroom accessories. It should feel like a removable part of the shower allowing you to move it around as you need. The shower bench's height is an ingenious compromise between comfort and efficiency. Ladies can use a shower bench for shaving their legs. It also comes in handy for people with balance issues.
A shower bench for elderly or injured people is also essential to the bathroom. Below is our best pick for a shower bench.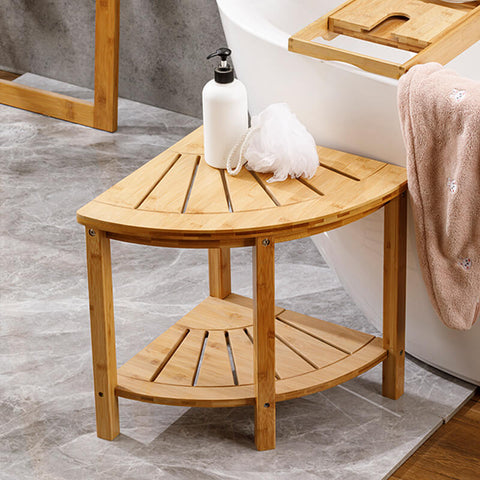 Our wood shower bench is made from bamboo, whose natural color compliments the warmth and texture of the bathroom. These shower benches give an eco-friendly way to reorganize and revamp your bathroom.
These shower benches have a unique crafted way to fit into your home décor. They are durable, slip-resistant, and waterproof, enabling them to sit in damp environments. It is also naturally fungal and bacterial resistant. It is free-standing, thus offering stable and mobile storage for your essentials.
This shower bench has a compact triangular design that makes it easy to fit in any corner. It is suitable for tight and small spaces. Regardless of its small size, it can carry up to 200 pounds.
This shelf is suitable for multiple settings. Not only can you use it as a bathroom organizer, but you can also use it for indoor furniture storage or outdoor use to display items in a patio, garden, or deck.
You can get this shower bench here for as low as $89.
Conclusion
A wood shower bench is more than simply a shelf storage, but as seen above, it has dynamic, versatile uses. It is compact enough to fit in any corner and ideal for the shower and bathroom. It is sturdy enough and can carry heavy items up to 200 pounds. It is also portable and handy, and older people can conveniently use it.
Wholesalers and retailers can get this piece at affordable prices. We do not compromise quality and produce eco-friendly solutions for your home. We also offer customizable solutions that meet your local needs.
keep reading: