What Is A Shower Bench? A

nd

How to Clean?

Feb. 10, 2022 | Written by Dennis

You have probably seen a shower bench in architectural digest issues or at a friend's bathroom. A shower bench is one of the accessories that make your showering experience more worthwhile. Let us look at some of the common uses of a shower bench.
What is a Shower Bench Used for?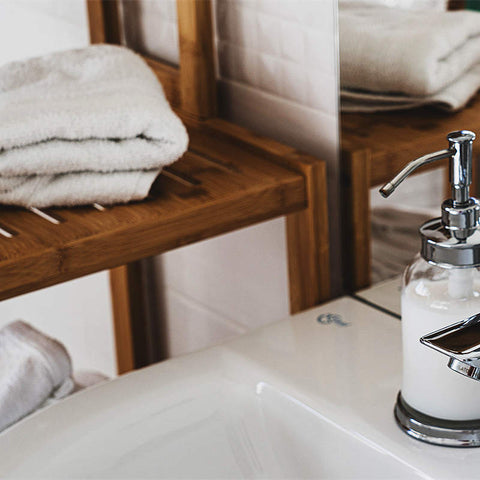 A shower bench provides for additional storage in a shower. You can have a wood shower bench that is an extension of the tub decking and use it to keep supplies underneath the bench. The shower bench also enhances your bathroom's overall design as it has a dynamic quality that gives an accent to your bathroom walls.
Most homeowners love having a spa-like experience in their homes. Remodeling your shower and including a shower bench gives a homeowner an excellent opportunity for relaxation giving a spa-like feel. Another apparent reason for having a shower bench is that it acts as a wood shower stool allowing a person to sit down in the shower. This improves the shower's accessibility.
A wood shower bench is also convenient for ladies when shaving their legs. Below is our choicest option for a shower bench.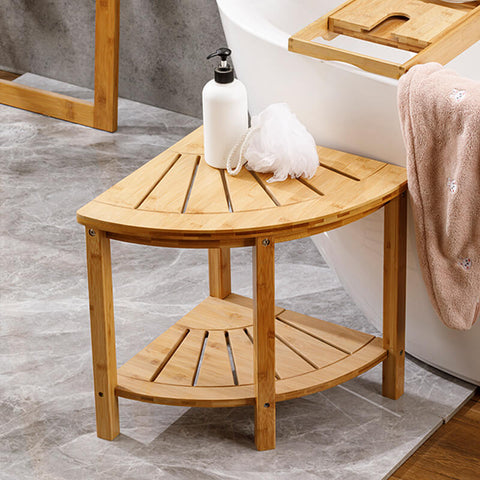 You do not have to compromise on quality if you have decided to add a shower bench to your bathroom, thanks to our 2-tier shower stool corner. It is crafted from durable, waterproof, bacteria-resistant bamboo, giving your bathroom a sauna-like décor.
You can use this shower stool as a spa seat, shower bench, or non-slip bathroom stool to keep all your necessities within reach. This shower bench is made from responsibly harvested bamboo. It is free-standing, allowing for comfort and stability for storing all your bathroom essentials such as scrubbers, towels, and oil bottles.
It is suitable for use in damp places as it is resistant to fungi, bacteria, and mildew.
For only $89, you can get this shower bench here.
How To Clean Bathroom Stool
The best way to maintain a clean bamboo shower bench is to wipe it off using a dry towel after use. You can use a water and vinegar solution to wipe the surface once a week. This solution is suitable for preventing any mildew from building up. However, mold and mildew might not be a big problem as this bench is waterproof.
Avoid using bleach to clean your shower bench as it sometimes makes the shower bench dry prematurely, leading to cracking. The cracks might cause water to infiltrate, destroying the bench.
Conclusion
If you are trying to retrofit your shower, you now know the best shower bench for you. Bamboo shower benches are environmental-friendly and give you an attractive and less expensive option to decorate your bathroom. They are comfortable for storing all your essentials and giving you a fantastic spa-like experience.
At GreenLiving, we are committed to a shift towards a green lifestyle. This shower bench is an eco-friendly way to update your shower and give it a clean, rustic look.
This multifunctional bathroom shelf is the perfect bathroom organizer, and you should get one today.
Keep reading: