Reasons You Might Need Shower Bench And Where To Buy
Feb. 10, 2022 |  Written by Dennis
Whether a built-in stool or a custom shower bench, a shower stool is necessary for various reasons. You can use it as a footrest for easier foot scrubs, exfoliating, and shaving, and you can also use it to place your supplies within reach.
A shower bench also gives you a break from the traditional walk-in showers and invites you to sit and unwind as you bathe. It is more than a simple bathroom remodel, but it improves your bathroom's functionality making a considerable impact.
If you have mobility issues or a steam shower, a shower bench comes in handy as it provides you with a sitting option. A shower bench for older people is also invaluable to the bathroom.
Here is what you need to know about the best shower bench, where to buy it and how much it costs.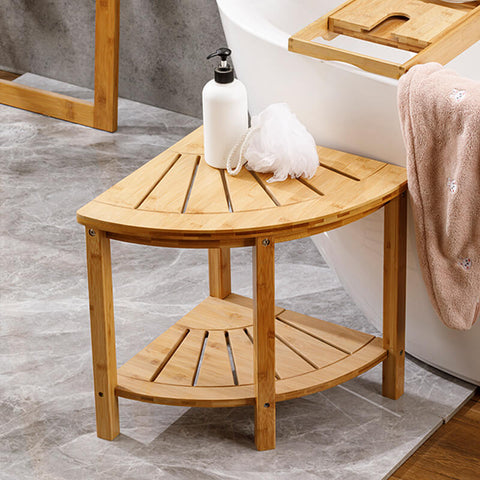 There are various options for shower benches, but a wood shower stool is the most popular option. It is an inexpensive option with multiple functionalities.
When choosing a shower bench, you need to consider the material they are made of. Our shower stool corner is made from responsibly harvested bamboo. The bamboo is bacteria-resistant, waterproof, and durable. It also has slip-resistant feet, improving its stability.
You can use this bench for multiple uses. The wood shower stool can act as a spa seat or a bench to keep all your shower necessities. A shower stool for shaving legs is also invaluable to your bathroom.
The design is strictly crafted, thus adding a rustic feel to your bathroom. It works perfectly and offers stability and comfort simultaneously. It is excellent for damp places. It can sit in damp areas such as in a shower or beside a bathtub to avoid water build-up.
Naturally, bamboo is bacterial resistant making it safe for use. It is also mildew resistant, fungal resistant, and water resistant, making it suitable for a damp environment.
This wood shower bench also has a compact design that easily fits small tight places and corners. It is small and portable yet very sturdy and can carry up to 200 pounds. With this shower stool, you can have a spa-like experience and conveniently take a bath.
How much does a shower bench cost? For only $89, you can get amazing deals on this shower bench. We have impressive sales for retailers and wholesalers, and you can get this shower stool here.
Conclusion
We are committed to revamping your bathroom using unique and eco-friendly products. We can make fully customizable solutions and tailor-make products to meet your needs.
We are committed to making environmentally friendly products to create a sustainable environment for everyone. Using a bamboo shower stool is a step towards reducing plastic consumption and embracing a green life.
At GreenLiving, we make the highest quality and most competitive products. All our materials are natural, recyclable, and biodegradable. Our factory has strict testing processes to meet your needs. Get your desired shower stool today.