Why Use a Bathtub Tray and How to Use it?
Jan. 30, 2022 | Written by Dennis
Baths are a superb way to indulge in self-care since they trigger multiple senses such as touch, smell, and sight. A bath tray helps you have easy access for everything you need as you dip yourself in the evening soak when having a bath.
You can use a bathtub tray to hold a candle, a laptop, a phone, or add other accessories to your space.
What is a bath tray?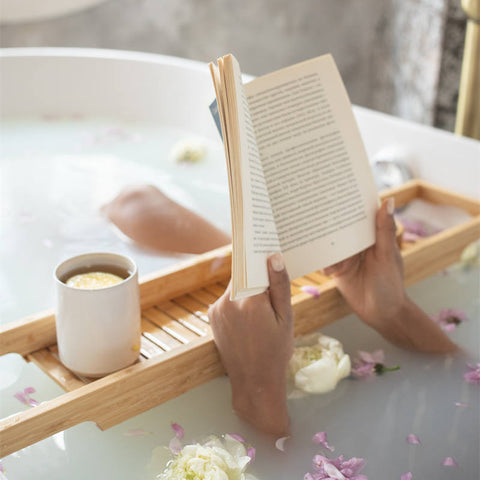 A bath tray is a sleek accessory that sits across your bathtub and provides easy access to all you need. Some people use a bathtub tray to read, hold a laptop, enjoy a drink, or hold a candle. You can also use a bathtub tray for laptop and other bathroom accessories. It can serve as a good gift for anyone seeking to add some style and comfort to their home.
Below is our choicest pick for the bathtub tray.
Luxury Expandable Bamboo Wood Bathtub Tray for Laptop/Reading
Our luxury expandable bathroom tray is suitable for giving you a relaxing bath experience and making that utterly serene and chic environment for your baths. It is expandable, making it easily adjustable to fit the widths of all standard bathtubs.
This bathtub tray is multi-purpose and extendable. It can hold a paperback book, a laptop, a glass, and a phone slot to ensure you don't miss important calls.
It is made from high-quality and responsibly harvested bamboo. Its classic natural wood color gives your bathroom that classy, rustic look.
Why Choose this bathtub tray?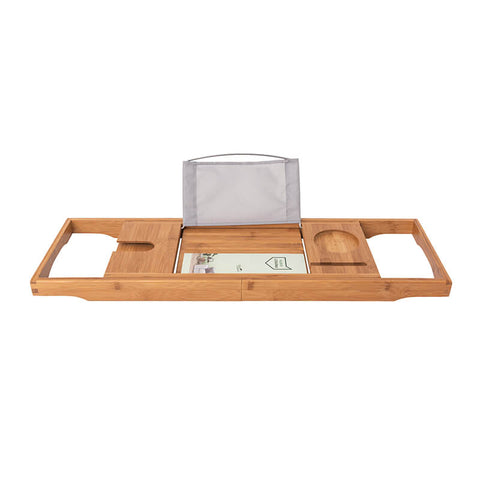 The luxury expandable bathroom tray is made from natural bamboo material that makes the tray smell-free, durable and sturdy. Bamboo is biodegradable, and thus the tray is environmentally friendly and compostable after use. If you want to make sustainable swaps for your bathroom, bamboo is a reasonable consideration.
This bathtub tray was produced after intense market research of various bathtub trays in the market. It meets the dimensions of all standard bathtubs and is expandable to cater to custom bathtubs.
This bathroom tray has silicone grips enabling it to stay firm and grip the bathtub. Not only is this bathtub tray beautiful, but it's also functional when it comes to matching your home décor. It gives an exhilarating high-grade look and makes for the perfect gift for your loved one.
You can get this premium bathtub caddy at a premium bathtub tray wholesale price of $69.62 here.
Bamboo Bathtub Tray Wholesale Price
If you are wondering where to buy wooden bath caddy, worry no more. At GreenLiving, we have a selection of Bathtub Trays and other eco-friendly bathroom organizers to meet your needs. Shop with GreenLiving for efficient shipping and wholesale pricing.
Our products are exceptional in price and quality and help create an environmental-friendly alternative for home products. We aim to foster a positive example and take an actual step in embracing the green life.
Conclusion
A bathtub tray will improve your cozy bathtub experience, and you will enjoy having warm fuzzy baths in an utterly serene environment. This magnificent piece will do for your anniversary if you wonder what gift to get your loved one.
Keep reading: