Bathroom Tray Ideas for a More Luxurious "Me Time"
Jan. 30, 2022 | Written by Dennis
We generally think of trays solely as tools for food serving. However, they also double up as decorative elements making countertops look cleaner and more organized. You can incorporate a tray into your bathroom to improve your décor. There are several bathtub tray décor ideas that you can implement for a more stylish and vignette look.
How to decorate a bathtub caddy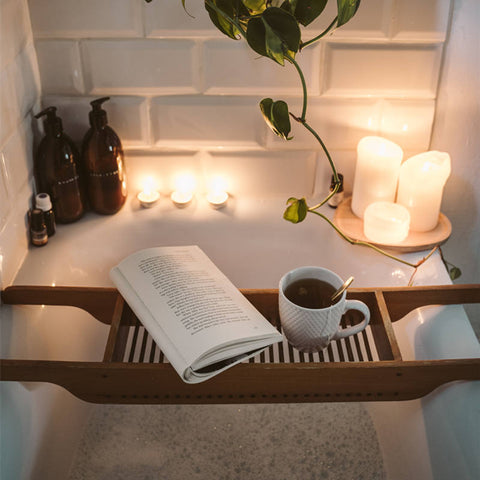 There is nothing more relaxing than a warm bath. However, no bathtub is complete without a wood bathtub tray. You can use a bathtub tray to hold your phone, laptop, book, and other accessories out of the water.
An elegant bathtub tray has a wine holder and a good book rest to keep your simple joys out of the water. You can use a minimalist approach to decorate your bathtub tray where you have a laconic wood bathtub tray that easily accommodates all you need and adds style to complement your bathroom.
Another way is to add extra grips for support as your tray rests on the bathtub. Below is our choicest bathtub tray selection with all the decorative features to cater to your needs.
Our luxury expandable bathtub tray is one of the bathtub tray ideas that rejuvenate your bathroom style. We have the best bathtub caddies made from bamboo, making it environmentally friendly and making bathing a luxurious experience.
This bathtub is expandable and easily adjustable to fit all standard bathtub widths. You do not need to worry about it sliding on the tub as it has silicone grips for sturdiness to ensure stability as it rests on the bathtub.
It is an environmentally conscious choice as all the materials in the bathtub are biodegradable and compostable and will not burden a landfill after it has outlived its use. It is a quality investment to make your bathroom more sustainable and greener.
Features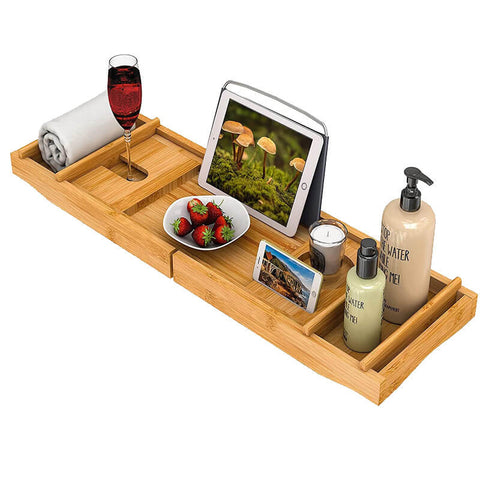 This luxurious wood bathtub tray has some distinct features that make it worthwhile. It has a removable waterproof cover, phone slot, a candle or cup slot, and detachable trays for additional bath accessories, and it gives you a spa experience from your home. If you buy this bathtub tray, you also get a free soap holder.
Our bathtub tray ideas of using natural wood make the tray functional and suitable for any bathtub size. It gives a high-grade and eco-friendly look inching towards having a sustainable bathroom.
We have a wide selection of wood bathtub trays and an array of eco-friendly products such as shower brushes, toilet brushes, and face cleaning brushes. You can shop with GreenLiving for efficient shipping and fair wholesale pricing.
For only $69.62, you can get this bathtub tray here.
Conclusion
If you wonder what anniversary present you should get for your wife, a bathtub tray might be the eco-friendly gift you are looking for. It gives an exhilarating experience to revamp your bathroom and take an essential step against reducing plastic consumption.
We give you the best sustainable and economically feasible solutions for your home décor. We have strict product testing processes, thus positively contributing to waste reduction.
Keep reading: