Tips to Consider When Keeping Your Bread in a Modern Bread Box
March. 16, 2022 | Written by Aisha
There are no rules guiding how to store your bread, but there are best ways of doing it. For instance, you will get a better result when you keep in a wooden bread box than a metallic box. Apart from a wooden bread box, what other bread storage ideas can you implement? Read on to discover more information.
Storing Bread in Vintage Bread Box
The vintage bread box is common among homes because it is reusable. It has varieties of size, style, and finish, so you will never run out of options. This bread box will add beauty to your kitchen with its stylish look. However, they often come in small sizes, but you can get as much as you want. Place it close to your working area, so you would not need to stretch too far before laying hold of it.
Although many bread boxes in the market are wooden, you can find a vintage bread box. However, they are usually more tightly packed than a wooden bread box. Wherein containers that do not allow air are not the best storage items. You want to ensure to get a storage material that will not worsen the shelf life of your bread. Interestingly, a vintage bread box is more fun with varieties of designs than its counterparts.
Storing Bread in Wooden Bread Box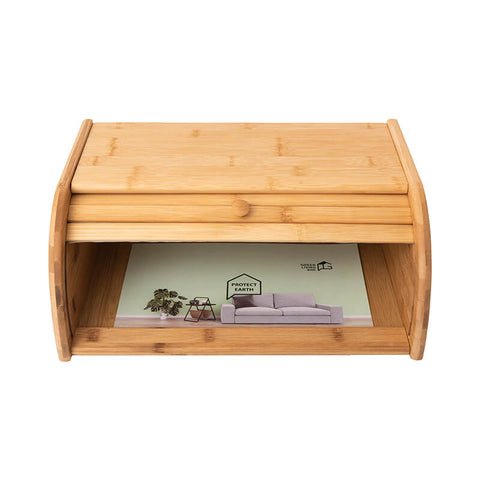 The organic large wooden bread box with roll-top cover can serve as the under-cabinet model. It's flat too, improving the box stability, making it a preference among others. Please make sure the bread is naked before putting it in a bread box. It will make the crust crispy, and the loaf will forever remain fresh.
You get to keep your bread fresh regularly by opening the box once in the morning and the evening. This will release excess moisture that has accumulated within the box. At the same time, make sure to close your box properly whenever you choose to. Most bread boxes are made in simple designs but consider the size. Many of these boxes can take one or two loaves, occupying only a tiny space in the kitchen. The specific measurement of the modern bread box also determines the number of bread you can store in it.
The design of the chosen wooden bread box also determines its placement. For instance, a roll-up kid can fit perfectly on the shelf. This is because it requires little space. However, if your bread box has a hinged lid, you may want to consider storing it in open counter space. This is because it requires ample storage space.
Conclusion
While implementing the bread storage ideas above, ensure the containers are dry and airtight. Also, avoid putting hot bread in a closed container, as it will cause mold to grow on it. A wooden bread box from Greenliving is ideal because it has some spaces to allow some air in. Also, the air is neither too much, in order not to let the bread dry out. It is also vital to choose a storage method that is most convenient for you. It could be any other modern bread box like the vintage bread box. Contact Greenliving here for any storage type of your choice.
Keep reading: