Best Ways to Preserve your Bread in a Large Bread Box
March.16, 2022 | Written by Aisha
Today, many people are adopting the use of bread boxes, more than in past years. Its storage capacity and affordability have contributed to bread box popularity. Since it has become a must-have in most homes, how then do you choose the best type of bread box?
Although most people prefer wooden bread box to other materials, they are made in different styles. The design of your wooden bread box will influence the ease of usage. Hence, you do not want to buy a random box from a kitchen utensils store.
Organic Large Wooden Bread Box with Roll-Top Cover
This wooden bread box allows the adequate amount of air needed in the container. When air is insufficient, the bread may dry out, and it is neither good when in excess. You can also store your extra-long baguette or bagels.
The versatility of this wooden box makes it preferable for most homeowners. It is one of the best bread box you can buy in the market, because of its durability. Fortunately, you can shop for plenty of it through a bread box wholesale online. Make sure it is a reputable wholesale company, so you have a wide range of options to choose from.
Natural Wooden Roll Top Bread Box
If you want your bread to retain its freshness, then you should consider this type of wooden box. It is made with bamboo material, which gives off a traditional look. The material is lightweight, and you would not have trouble moving it around the kitchen.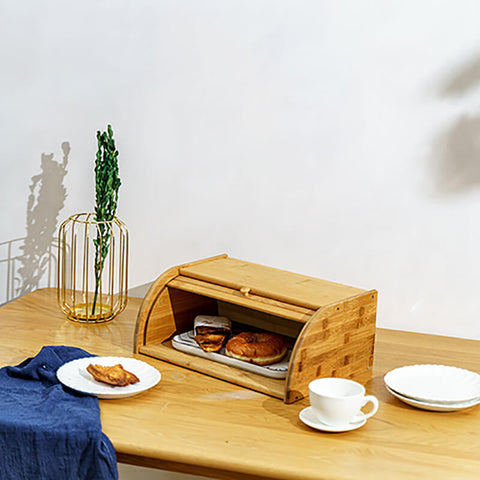 The enticing thing about this wooden box is that you can get it in different layers. Also, the lid is sealed correctly to prevent some tiny insects from invading the container. However, you can easily open the cover with no struggles at all. Depending on the amount of bread you are storing, you can either go for the single or double-layered wooden bread box.
The Vintage Fall Front Bread Box
When you order bread box wholesale, you will come across several vintage options. A vintage bread box is classy, adding a modern vibe to every kitchen. It has tiny holes that allow a moderate amount of air to enter the container. More so, you can check the freshness rate of your bread through these holes after some days. When you mistakenly put some hot baked goods in the box, the vent holes can allow some steam to escape. However, nothing beats keeping cool bread in a storage container.
Conclusion
While some people see a large bread box as space-consuming, it is a needed investment in every kitchen. You can easily clean any stain from the stored foods. The bread box materials mentioned above will help free up unnecessary kitchen space. They will also keep your baked goods out of insects and pests that could have caused deterioration.
If you buy your wooden bread box from Greenliving, you can be sure to get properly trimmed furniture. Your supplier plug is essential because it contributes to the benefits derived from using your wooden bread box. Hence, it is high time you made the right choice by contacting Greenliving here.
Keep reading:
Five Reasons You Should Consider Using Bread Storage Containers