Hang or Fold: What Is Best Choice for Your Clothes?
Written by Flavia Marin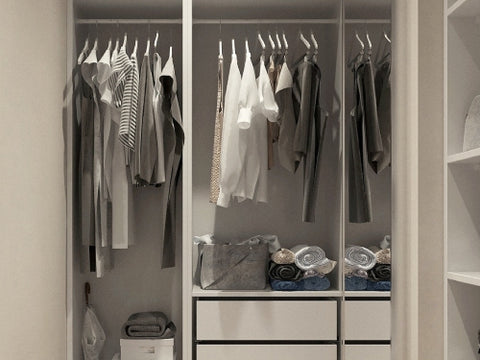 If you want your wardrobe to endure as long as possible, you must know how to keep stuff in your walk-in closet. It will also keep all of the pieces in perfect shape. Many people, however, are unclear whether to hang or fold particular goods and why.
There is no universal standard for folding versus hanging clothes in a closet. Some pieces are better hung up, while others are better folded. Structured pieces such as coats, suits, skirts, and dresses might benefit from hanging. It's also great for flowy materials like silk, chiffon, and linen, which wrinkle easily when folded—think evening attire, blouses, and lightweight pants. A wide shoulder hanger will be your best friend to maintain your favorite clothes impeccable.
Foldable Clothing
Includes shorts, heavy knit sweaters, and active wear. Folding your thicker winter knits will be a great idea. Fold them to retain structural integrity and save space in your wardrobe. Folding clothing instead of hanging them can help prevent deformed items and save room on your closet rods. When folded you clothes will retain their original shape.
T-shirts are a versatile piece of apparel that can be worn for chores or a casual brunch date around town. Folding them can help you save room in your wardrobe, but it can also cause wrinkles. Before making a purchase, consider where you intend to wear it. If you decide to hang them, use broader, padded hangers to keep the shirts from sagging.
Hanging Clothing
Dress, pants and pleated skirts should be hung on skirt hangers or tiered pants hangers. Hanging can help keep structural objects in form. Very important for handing your clothes correctly is to choose suitable hangers for your garments. A wide shoulder hanger design gives enough support for your suits, jackets, and other types of clothing, preventing them from dropping down and keeping them in original condition. Suitable for hanging bulky jackets of all sizes.
Coats / Blazers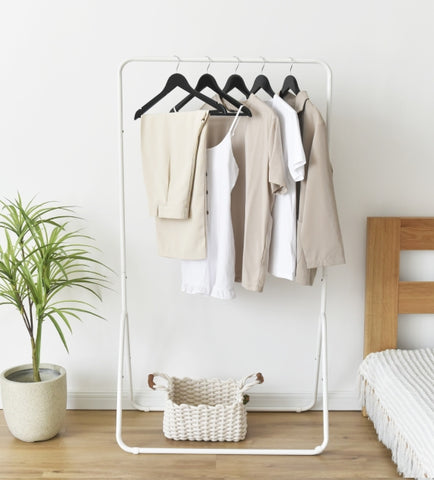 Suit hanging is a technology that keeps your clothes in excellent condition for an extended period of time. It also saves you a lot of time that would otherwise be spent steaming and ironing. Blazers hanged on a wooden coat hanger are going to save their form. The reason you should chose a wide shoulder hanger is because they are sturdy, ideal for heavy clothes.
This classic wooden coat hanger is made of high-quality clear varnished wood and has all essential elements such as a 360-degree chrome hook to accommodate various use scenarios.
Dresses
The majority of dresses are need to be hung. Everyday wear dresses are often made of lightweight material. They may, however, be constructed of a flowy fabric that gives the dress a beautiful feminine aspect and makes it ideal for a night out. In any case, these items tend to wrinkle easily and should be hung. A wooden hanger will always be a better choice.
Jackets / Suits
Jackets are often large pieces of apparel. Because of their size, they are difficult to fold. Furthermore, if you fold them, they will definitely wrinkle and, in the case of winter coats, may damage the coat by pressing it into a compact region.
Blouses
Blouses and button-down shirts are intended for formal occasions and to make you appear professional at work. You don't want to battle the ironing board every morning to get the creases and wrinkles out of your clothes. Instead, hang them up to avoid a potentially disastrous situation.
Shorts/Sportswear
Shorts and other athletic apparel do not need to be hung. Hanging some clothes can alter how they fit you later on. In reality, you will be wearing these items of clothing to work out or perform housework. They will get soiled, grimy, and sweat-soaked. You probably won't be as concerned about how they appear when they come out of the drawer.
Conclusion
The best way to save money and take care of your clothes is to purchase wooden hangers wholesale. If you don t know where to buy hangers in bulk, here you have the answer Greenlivinglife will provide you with the best quality products for a great price.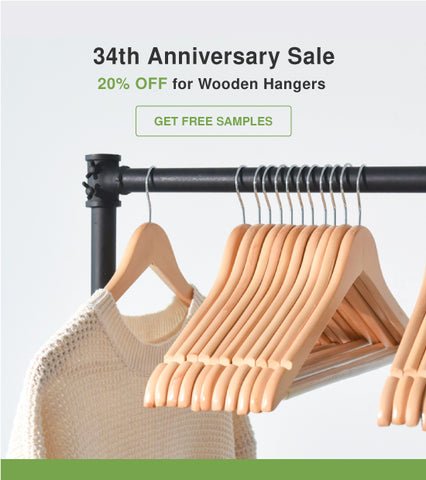 Keep Reading: