How to Extend the Life of Your Wooden Hangers?
Written by Flavia Marin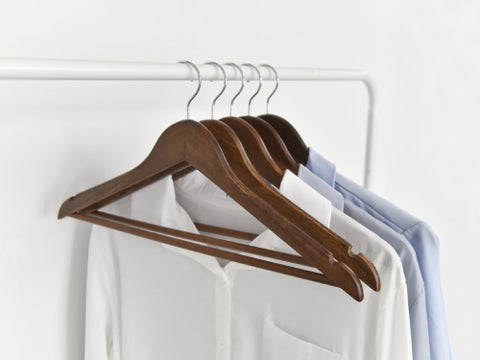 The wood hangers keep your garments in their natural shape thanks to their strong design. They hang properly on well-structured hangers, so your favorite clothes are always ready to wear straight from the closet.
Why Should You Choose Wooden Hangers?
Wood hangers of good quality are a wise investment. While wire hangers from the dry cleaner or plastic hangers from the big-box store may appear to be cost-effective, they lack the durability and quality of wood hangers. The strong construction of these wood hangers ensures that they can support items of any weight, including suits and winter coats, for years to come.
Wooden hangers provide a refined touch to your closet as well. Wood hangers create a clean, uniform look in a wardrobe, allowing you to display and keep your things in one place. As a result, starting with the closet, wood hangers can be the first step towards cultivating a premium wardrobe.
Steps of Proper Maintenance
Wood hangers are strong and long-lasting, so they can withstand repeated use. While these hangers don't require much continuous care, they do need to be maintained on a regular basis to stay in good shape.
The key duties necessary to maintain your shirt hangers and coat hangers will be simple cleaning and dusting. Think about the various wood items you have in your home. They most likely require dusting and cleaning on a regular basis. Wooden hangers, like wood tabletops and shelves, need to be cleaned on a regular basis.
To begin, gather the necessary supplies. Pick up a roll of paper towels or a couple of microfiber towels to clean the hangers with. Then, choose your preferred cleaning. Choose a gentle multipurpose cleaner or a white vinegar and warm water solution in equal parts.
Remove the clothing off the hangers and set them aside. Then, straight onto the wood hanger, spray a little amount of your preferred cleaning. Using a paper towel or a microfiber cloth, wipe it down. After you've sprayed and cleansed all of your hangers, wipe away any residual cleaner with a wet paper towel or cloth. This step is necessary to ensure that no cleaning residue is transferred to your clothes. Before hanging your garments on the clean hangers, let them air dry or wipe them with a dry cloth.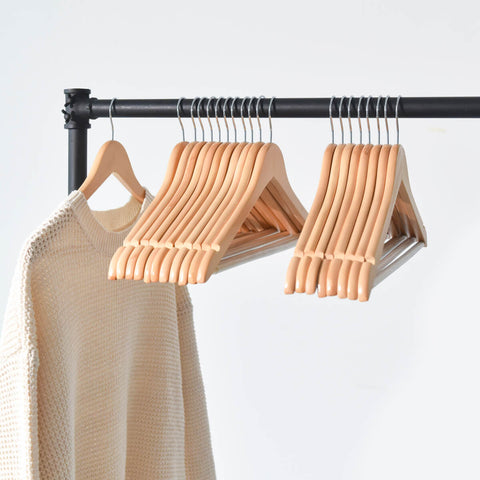 Enjoy Less Maintenance with High-grade Hangers
Wood hangers are a long-lasting and dependable option for your closet. While cleaning them down every now and then to remove dust and debris helps, these hangers do not require any continuing maintenance or care, making them an excellent addition to your closet. Premium Wooden Hangers will be an ideal choice for you company's needs.
Wooden hangers by Greeenlivinglife are known for their long-lasting design, great quality, and low maintenance. As you build an upgraded closet that keeps your clothes in excellent shape, learn more about these high-quality wooden hangers.
Looking for High Quality Wooden Hangers?
Looking for high quality wooden hangers? Greenlivinglife offers you the best wooden hanger choice at great competitive prices. As a clothes hanger manufacturer we offer you hangers starting from $0.24/piece with the advantage of customization and stable quality. This will improve your market competitiveness and will only bring you happy customers. We offer you flexible ways of payments and guarantee you a low-risk cooperation by only dealing with a team of experts that has been respected on the market for 30 years.
Keep Reading: