6 Swaps for a Zero Waste Bathroom
August.29, 2022 | Written by Aisha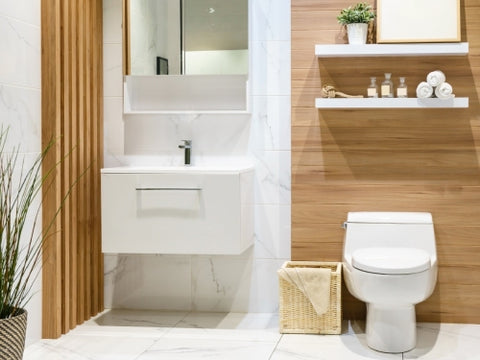 If you want to transition into a zero waste home, you can start from your bathroom. The bathroom is integral to the house, contributing to a hygienic and happy lifestyle. However, there seems to be a lot of waste being deposited in the bathroom, especially from non-recyclable products.
It is high time you replaced these wastes with cleaner swaps that will not compromise your happiness. Hence, the best solutions seem to be from eco-friendly products. These products are reusable or convertible to more beneficial uses. They are highly durable and contribute to bathroom sustainability. A perfect example is a wooden shower brush.
Why are Eco-Friendly Products Most Preferable?
Why are eco-friendly products more highly recommended than others? Research has shown that an average person in the United States is prone to use more non-eco-friendly materials. This includes plastic products from toothpaste, mouthwash, shampoo, e.t.c. Other bathroom items are made from non-ecofriendly materials such as steel, aluminum, and ceramics. These products are usually difficult to maintain, causing a bathroom mess.
Perfect Option for Skin Exfoliation
Unfortunately, many skin products, including facial pads, are packaged in plastic. You will need an object made from a natural source to eradicate body irritation. Since bodies react differently to treatment, the best remedy is to use neutral and eco-friendly material sources. It is usually suitable for most skins and enhances body treatment. In this case, you can get a facial pad made from loofah plants.
Easy to Recycle
One of the great dangers you do not want to expose your teeth to is plastic toothbrushes. Meanwhile, this also applies to other vital body essentials, such as hair brushes. You can choose an easily recyclable bamboo product. Meanwhile, this is not achievable with non-eco-friendly materials. Eco-friendly bathroom products also help to contribute to the green environment sustainability. Since the ozone layer is depleting, there is a need to minimize the usage of non-recyclable objects.
Top Six Choices of Bathroom Products
Fortunately, more people are recognizing the benefits of eco-friendly products and are acknowledging them. Hence, they are more common in homes and grocery stores than ever. However, the top six bathroom products have become a must-have in traditional and contemporary homes.
1. Long Handle Body Brush
Several people go through different tiring demands daily. Hence, you want to massage your body to feel relaxed and calmer. You can use the Greenliving extra long handle body brush to achieve this. Why is the product recommended among other options?
The long handle bath brush makes it easier to scrub your back while massaging your body.
It is made from natural bamboo, reducing the risk of skin infections such as aches.
The bath brush can serve exfoliating, detoxifying, and cleaning functions.
It is ideal for all skin types, both wet and dry.
A length of 17 inches, which is rare among regular bath brushes.

Benefits of Dry Brushing
Dry brushing is an exfoliating technique that helps to eradicate dead skin layers. The application is also carried out in a particular pattern to improve blood circulation. What are the other benefits of using a bath brush?
It aids blood circulation and supplies the needed portions to specific body parts.
Dry brushing boosts the lymphatic flow to enhance the excretion process in the body.
It energizes the body and minimizes the rate of discomfort. Thus, it puts the mind in a relaxed state to enhance performance.
Dry brushing gives a premium bathing experience while removing the body toxins through the lymphatic system.
2. Natural Facial Cleansing Brush
It would help if you got yourself facial essentials made with compost materials. Examples are soft cotton buds and a natural facial cleaning brush with wool bristle. The cleaning brush also serves the exfoliating purpose without inducing any pain in the body. What other features does this product offer?
The wooden handle makes it easier for users to apply pressure to specific and preferred areas on the face.
It is made with a soft material, natural beech, which leaves no scratch on the body.
The facial cleansing brush is highly versatile and can work for babies' skin.

Benefits of Cleaning Brush Over Washcloths
Unlike washcloths, cleaning brushes are made with soft and skin-friendly materials. This material is eco-friendly, which contributes to the earth's sustainability.
It yields a thorough cleaning effect, contrary to a washcloth.
The natural facial brush is healthy and belongs to the zero-waste bathroom essentials.
It improves blood flow and tones skin more evenly.
The brushing process is usually refreshing, yielding flawless and moist skin.
It is an excellent massage tool, which can also work for babies' scalp and hair.
3. Body Exfoliator Brush
Many people struggle with dry skin, especially during harmattan. If you have tried body lotions to no avail, you should get a body exfoliator brush. This will help keep the body moist while removing dead cells from the outermost layer. It also tackles ingrown hairs, making the skin appear smoother. It can be used from head to toe without causing any side effects. This is particularly true if you use the superior body exfoliator brush for the shower. It is highly efficient, with top benefits to users.
The superior body exfoliator is ideal for men and women, thus the best option for every home.
It is made with rubberwood and nylon, which causes no damage to the skin.
The exfoliator has a natural color, which would not contradict the bathroom's design or interior decor.
It has a belt that allows a firm grip while scrubbing the body.
The bath brush's small size also makes it easy to move around quickly. Thus, you can take it with you while going on vacation.
The material is of high quality, has undergone different tests, and has proven efficient.

Why Body Brush is Good for your Skin
The body brush helps to eliminate cellulite which may be present in your skin.
When used with quality skin care products, a body brush will help eliminate fake tans from the skin.
It is also the best option for individuals who exercise or go to the gym. It would help remove the debris or dirt clogging your skin pores.
Body brush also helps to remove body makeup or glitters that may be stuck to the skin.
It gives your skin the right texture you need.
4. Loofah Facial Pad
There are body loofahs, but in this case, you need a facial loofah that will give zero bathroom waste. It is a skincare product that will remove excess oil from the skin. Many individuals often experience facial breakouts due to excessive oil production. Thus, it would help if you had the loofah facial pad because it is reusable. This helps save costs while minimizing the amount of waste in the environment. This guide highly recommends the natural exfoliating loofah pad for the face. It serves its exfoliating function, with outstanding features described below.
A natural loofah made with cotton material, which is friendly to the skin. The cotton material helps to control oil content on the face and is recommended for sensitive skins.
The plant-based fiber makes it an excellent choice for waste management.
It is 8cm in diameter, an average size, for easy application on the face.
White or neutral color adds to your bathroom's classy or contemporary look.

Benefits of Natural Loofah
Natural loofahs perform great exfoliating functions on the skin. It helps to remove deadly bacteria, grime, and dirt, from the body.
It is a great tool for achieving excellent personal hygiene, especially scrubbing.
Natural loofahs are also eco-friendly and help form a good lather with soap. Hence, this reduces body wash wastage.
You can conveniently use it as a shower brush while reaching every part of your body.
Although most loofahs are usually sensitive to the face, the natural versions are highly beneficial and pose no adverse effect.
They are also versatile and can be used in other areas of the house except for the bathroom. For instance, it helps in cleaning kitchen surfaces.
5. Soft Bristle Bamboo Toothbrushes
Do you know you can contribute to zero waste home by switching from plastic toothbrushes? Users of plastic toothbrushes barely enjoy them and discard them after a short period. Meanwhile, it is also very effective as the plastic toothbrushes you are familiar with. It is even more useful, considering its biodegradable property. The natural soft bristle bamboo toothbrush set is ideal for adults. It also has several enticing features, as highlighted below.
A 10-pack bamboo toothbrush, making it suitable for a family set. Hence, each person has their toothbrush without inconveniencing another.
It is made from robust and natural bamboo material.
A long handle helps users reach more challenging regions in the teeth comfortably.
The color is designed as multi-bristle to give an ergonomic design.
The bristles are soft in order not to harm the gums and enamel.

Why You Should Use Bamboo Toothbrushes Instead of Plastic Ones
Contrary to plastic toothbrushes, the bamboo versions are highly sustainable. Being a plant-based source makes it easy to cultivate without threatening the planet.
Since bamboo toothbrushes are made from plants, production is less harmful.
Bamboo toothbrushes are more hygienic than plastic ones. The production process does not involve additives, which could make it unsafe for human health. Meanwhile, some countries eat bamboo shoots and add them to their meals.
Bamboo toothbrushes are a good measure to achieve zero waste at home. Meanwhile, research has revealed that many plastic toothbrush users dispose of them inappropriately.
They are the most recommended option for clean teeth, with brushing scheduled twice daily.
6. Wooden Paddle Hair Brush
Not only do you need a bath brush in your bathroom, but you also need to allocate some brushes for your hair. You also need a high-quality brush to prevent your hair from falling off. You should consider the natural wooden paddle hair brush if your hair often tangles. This helps to massage your scalp and also has some fantastic features that are listed below.
It is made with bamboo material, which is eco-friendly and sustainable.
1*2.1 inches of hair brush allows even application throughout the hair length.
It is suitable for every hair type and can remove the bristles in a synthetic wig.
A burlywood color that contributes to the bathroom aesthetics.

Why is a Wooden Brush Better for Hair?
Wooden brushes are better than their plastic counterparts because they are non-static. Hence, it does not cause hair breakage and limits the chances of tangled hair.
People suffering from alopecia are advised to switch to wooden brushes instead of plastic brushes. It contributes to good blood flow around the scalp and follicle, promoting hair growth.
Due to irritations, users with allergies are more likely to react to metal or plastic brushes. Meanwhile, this is less likely to occur with wooden hair brushes.
It allows hair nutrients to spread evenly, adding some shine and lushness.
Eliminates dirt and hair bacteria that could cause itches to the hair.
Find Eco-friendly Shower Essentials
It would help if you had several essentials in your bathroom, including a shower brush. Many have been explained above, but you need a brand you can trust for premium quality. Greenliving has quality shower essentials, and dermatologists highly recommend the brand for several reasons.
Greenliving is known for

focusing on eco-friendly products only

. The products are made from natural materials, with no chemical additions, which are unsafe for users.

Affordable prices and durable products.

Meanwhile, the products are not only affordable but also exhibit top-notch features.
The brand has several shower essentials catalogs, allowing users to pick from various choices. This also gives more opportunities for

wholesales purchase

. Fortunately, people who buy in bulk can enjoy the discount offer.
A

certified company

from reputable agencies, including BSCI, DNV, IAF, and others. Thus, a proof that the company has been tested and proven to provide customers with quality products and a straightforward distribution process.
Lastly, the experience from

highly skilled manufacturers

increases the chances of providing users with quality needs.
Conclusion
Achieving a zero waste home could be overwhelming if you are unfamiliar with home cleaning and maintenance. In this case, you may need to replace your old bathroom items with eco-friendly products. Despite the seeming challenges, you should look unto the brighter side of it. A zero waste bathroom is an investment since it promotes healthy living. You even enjoy the benefits better when you buy bathroom products from reputable brands. You can check Greenliving for highly durable products, also available in wholesales.
Keep Reading: