13 Creative Kitchen Cabinet Storage Ideas You Should Know
August.19, 2022 | Written by Aisha
A poorly organized kitchen can significantly affect your outcome in the kitchen. It will influence your cooking style and even your speed. Regardless of a kitchen layout and design, it would help if you had cabinets to store necessary items. You will have fewer scenarios of searching for missing items while they are kept clean and tidy. If you spend a lot of time having a clean home, you can be more effective with great ideas. Hence, this article is a complete guide to practical cabinet storage ideas every caregiver should implement.
1. Take Things Out of the Cabinets
Even though you have decided to use cabinets to organize your kitchen items, avoid overcrowding them. This could cause more mess than you already had. Also, the items in the cabinets would mix, making it more challenging to take out a preferred object for cooking. You can use the magnetic hook rack to store your major items like pots or pans. This does not only create more space in your kitchen cabinets but is also suitable for towels, umbrellas, and bags.
The flexibility of the magnetic hook is top-notch, as it allows users to store their items vertically and horizontally. It is also made with sturdy material that stays firmly on the wall. Hence, you are less bothered about the hook falling off.
2. Hang on the Underside of Shelves
If you take enough time to study your kitchen interior, you will realize there is more space to put your items than you could think. Most shelves have an underside where you can hang your frequently used items. Hanging metal wall shelves on the bottom of shelves is also a great idea. You can also attach a magnetic hook to the shelf for a larger capacity.
The hanging metal wall shelf from Greenliving is designed to enhance users' safety. The edges are not sharp like the regular designs, which could cause kitchen accidents. It is highly creative and does not consume much space in the kitchen—a perfect choice for caregivers that would love to try DIY because of its easy installation.
3. Hang Towels on a Bar
Some cabinets are built with rods, which could serve as towel hangers. These bars come to the rescue when you have paper towels lying around. Since these towels are essential in bringing down hot pots or trays, placing them on bars makes them more accessible.
A perfect description of the bar function is the magnetic tissue holder. The magnetic tissue holder has many benefits for residential homes and commercial services. You can quickly fix the metallic holder to the wall without worrying about a screw. Guests visiting your home or kitchen can easily clean their hands with a tissue or paper towel.
4. Turn a Pegboard into a Pantry
An ideal cabinet arrangement requires the caregiver to separate dry foodstuffs from cooked foods. You can do this in your cabinet, provided there are shelves there to serve as a boundary. However, another alternative is the pantry, in case you do not have enough space in your cabinet. You can use a wall mount pegboard organizer set in your pantry, where you store spices or other little dry foods. The pegboard organizer is highly stylish and versatile, contributing to your kitchen's aesthetics. You can also display ornaments to your mini kitchen tools. The pegboard organizer is also easy to install, with two hooks and a tape holder.
The pegboard organizer gives you a chance to customize your wall storage arrangement. You can easily decide how to store your food items against the wall and in what proportion. The board is also made with MDF material, improving its durability. The MDF materials also make it ideal for traditional interior lovers who want a touch of a modern look. However, the board accessories are made with metal wire, which is likewise durable.
5. Store your Various Ziploc Bags in an Organizer
Your drawer will get better when you put your items in ziploc bags. The Greenliving premium wood ziploc bags organizer is made with waterproof material, increasing its durability. It is also eco-friendly and does not retain moisture, which could have contributed to the food deterioration. The ziploc bags organizer has a natural bamboo color, which would not contradict any color combo in your kitchen interior. These ziploc bags are versatile and can help store your snacks, sandwich, fruits, and even spices.
Since ziploc bags serve many purposes in the kitchen, placing them in an organizer is best. You can quickly assemble the wooden organizer, with a large capacity to store as many ziploc bags as you want. However, You can get the wholesale wooden organizer to allow you to keep your several ziploc bags without needing to manage space. The wooden organizer is also ideal for other plastic storage bags like sandwich bags, snack bags, gallon bags, and many others.
6. Store Serving Platters and Plates Vertically
This is one of the few cabinet storage ideas people pay less attention to. There is a way to store your platters and plates to make them appear neater and orderly. You can place the bamboo 2-tier foldable dish drying rack over the sink. The double-layered design allows you to organize several plate shapes in different layers. This also helps you to take out serving platters without having to pull out a cabinet. Hence, this storage idea is much easier and faster for frequently used kitchen items.
The drying rack is also foldable, allowing you to clean it up quickly. You can also store glasses, cups, and bowls in the rack. The rack is made of a minimalist design, especially with its 100% organic bamboo material. It is classic and perfect for people who want a rustic-looking touch in their kitchen.
7. Add Drawers to your Cabinets
Drawers are also a perfect choice of cabinet storage shelves. You can design drawers in your cabinet to get precisely what you need. You can install drawers in two sectors, allocating one for small items and the other for large items. The metal storage organizer for food is also strong enough to organize a picnic menu. It is made of metal and wood, perfect for traditional and modern home designs.
The storage organizer is made with a wooden handle - a vital eco-friendly attribute. Also, the white color is an easy pick for kitchen upgrades. You can store several items there, including vegetables, snacks, fruits, seasonings, and many others. It is also ideal for outdoor weddings, enabling you to separate the food items from another.
8. Keep Dishes with Easy Access with a Dish Rack
A dish rack is necessary to achieve a neat countertop. You can also get a flexible rack that is easy to move around with its wooden handle. A perfect example is the large wood handle dish drying rack with a removable tray. The removable tray allows you to drain out water quickly, reducing the chance of pest invasion. The wooden handle also protects the hand from being hurt while moving the rack around. Greenliving's white color is even more classy, depicting the perfect tool for a modern kitchen.
9. Create Instant Storage with Magnetic Shelves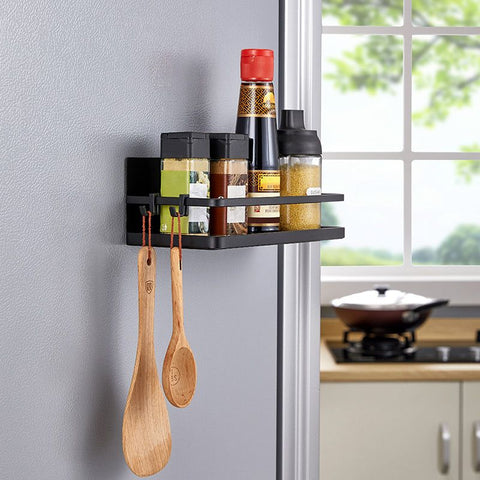 You can create extra shelves beside your closet. This is much easier to fix, especially the magnetic types. The shelves can hold your food or spice container, while the magnetic spice rack organizer has an edge for hanging cooking spoons. It is also ideal for storing your food jars and bottles and is not prone to rust. The material is high-quality carbon steel that firmly holds jars without tripping them off.
As much as you try to maintain a clean kitchen, do not neglect the aesthetics of beauty. Even though you are fixing the shelves to your cabinet interior, it keeps the contents organized. You can also get the black color, which is less selective and matches many kitchen interior themes. Knowing how to store spices should also include good color combinations or arrangements.
10. Use a Cabinet Door to Hang Paper Towels
Understanding kitchen storage ideas is vital because you can maximize the potential attached to your cabinet. For instance, not many people realize they can use a cabinet door as a means of storage. Meanwhile, it is perfect for most used and light items like paper towels. However, you need a screw or magnetic holder to achieve this. As a result, you may want to consider getting the magnetic paper towel holder.
Are you bothered about the hanger slipping off? You will not need a technician or engineer to fix the towel holder, as you can do it yourself. With this magnetic hook, you can easily use paper towels seamlessly. It has an anti-hook material, which helps hold the hanger firmly to your cabinet. You can easily roll out your preferred paper towel side, either vertically or horizontally.
11. Use a Rolling Cart to Add More Storage
Do you want flexible cabinet storage ideas? The metal rolling storage cart is for you. It is built with four tires, allowing users to move it around the kitchen and quickly change its location at will. The cart is ideal for frequently used items that you want to reach without little or no delay. The light-weighted cart also has three divisions that you can use to store foods in their classes. For instance, a section can contain fruits and vegetables, while the others include diaries and spices.
Moving the cart to your pantry can also maximize your kitchen space. This works perfectly if you want no object to stand in the way while preparing meals. It is also ideal for baking items. In this case, the cart can be placed beside your oven. The highlight of the metal rolling storage cart is its durability despite its lightweight.
12. Use Stackable Shelves to Organize More Items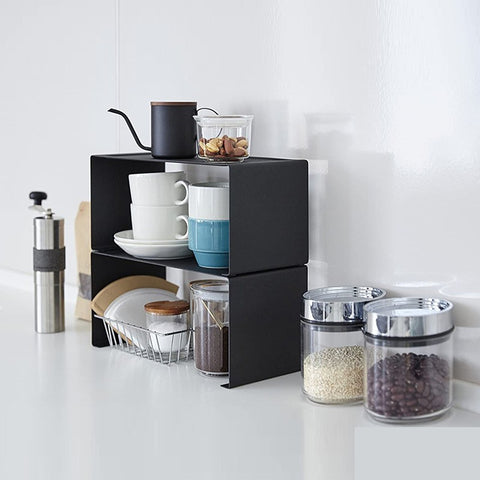 You can maximize the double stackable kitchen organization shelf to create more space. This cabinet storage shelf is made with metal steel and solid wood. The design is stylish and allows you to organize your items for a neater kitchen. Your kitchen just got better with this reliable shelf and smoothly coated surface. It reduces the chance of messing with your countertop space.
The flexibility is impressive and highly recommended for every caregiver concerned about storage ideas. It will blend well with your kitchen wall and furniture accessories. You can also get the white color, which adds more elegance to your kitchen interior. Interestingly, you can place a mini rack below the shelf to help hold some plates.
13. Make Full Use of the Space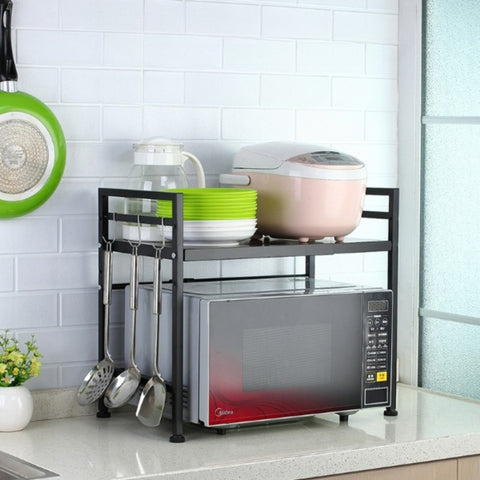 No matter how wasted a place seems, it can be redeemable. Take advantage of your excess space, and add shelves to your closet. The reason why everything looks messy is probably due to a lack of proper arrangement. You may start by arranging items together or arranging by height. Orderliness is vital in achieving a modern and classy kitchen.
You may consider the expandable metal storage shelf. This storage shelf is flexible enough to accommodate the preferred size of kitchen items. You can adjust the shelf length to a centimeter between 40 and 60. This should be able to contain a reasonable number of kitchen items. You can store your pots, cups, bowls, plates, and bottles here. It can be used in other parts of the house, such as the bathroom and garage.
The metal storage shelf is easy to assemble, as users can read the instructions from the manual guide provided by Greenliving. The design is simple, with an extended hook for utensils such as knives, forks, and spoons. This adjustable equipment feature is also helpful for placing your microwave oven on the bottom part of the shelf.
Conclusion
Knowing the different cabinet storage ideas, you should be ready to achieve a creative kitchen arrangement. The 13 ideas have proven to work for many users, and they are still effective. However, you can reach out to the product manufacturer for more inquiries. Greenliving has an experienced customer team available to answer questions. You can also check the available products on Greenliving, with different sizes and designs.
Keep Reading: