Looking After Your Skin - How to Use A Body Brush
November. 27, 2022 |  Written by Daniella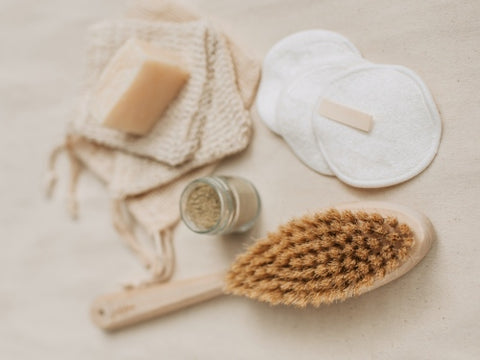 We've all had those days when we wake up and find our skin to be spotty or flaky, and it's usually at the worst possible time too. This can lead to hours of trawling through articles online trying to figure out what steps you can do to improve your skincare routine. Fortunately, it's actually quite simple. You don't have to buy a million face creams or any new gadgets. Instead, the answer comes down to something we all do – washing.
B

e

n

e

fits of Bamboo Body Brush

It is important to make sure you are finding a way to remove the dead skin from your body and to exfoliate all the dirt out of your pores after your adventures of the day have ended. A body brush is a brilliant, inexpensive way to do this. It increases the blood flow to your skin which will make a remarkable difference.

There are many plastic body brushes out there, but these can be as hard on your skin as they are on the environment. It can be tempting to use the plastic version of these brushes because many people use them as shower brushes, but if you can use a high-quality bamboo body brush then these can be used on wet skin as well as dry.
How to Use Body Brush
In fact, it is often recommended that body brushes be used on dry skin to boost the impact that they have. This doesn't mean that you shouldn't be using a shower back scrub though, only that it can be easier to remove dead skin whilst it is dry. The most valuable thing is that you work this into your bathroom routine so it becomes like second nature to do this regularly. You don't have to use bathing brushes every day if you're pushed for time, but a few times a week will have a bigger impact than doing it every so often. 
The best place to start when brushing your body is your feet! Begin at the soles of your feet, and then use long upward strokes to massage the skin up your calves. You want to brush in a way that follows the movement of your lymph system to get the best results. When brushing your upper body, this means that you want to be using your bathing brushes in a way that sweeps towards the heart. If you're bothered by the appearance of cellulite on your skin, then you'll be happy to know that body brushing can aid the body in breaking up any deposits of fat to create a smoother look too.
Conclusion
It can be tempting to use one of the smaller bathing brushes when doing your routine, but it is important to remember that you'll need to be able to brush your shoulders and back too. The GreenLiving body brush that was linked earlier in this post has a 17" long handle so you can use this as a shower back scrub to your heart's content, safe in the knowledge that it can stretch to those hard-to-reach places.
One key thing to note is that each body is unique and beautiful in its own way. If you're looking for something to boost how you feel about your skin, then body brushing may be the very thing you're searching for.  
Keep Reading: