Wholesale Dry Brushes to Prepare Top Gifts/Products for Your Female Customers
Dec. 28, 2021 | Written by Alice W
When people are celebrating the 2021 to 2022 holiday season, the peak retail season continues unabated, so do the eco-friendly products, which are still in the trend worldwide. It is time for shop owners to start a new round of holiday plan, especially for the female customers, who are exceedingly expecting the upcoming Valentine's Day and International Women's Day.
Here, we've compiled our best selection of ECO wooden dry brushes with natural bristles to help you prepare with top gifts for your female customers. Thy are also wonderful products in your store for women to shop apart from being as holiday gifts. After all, dry brushing is beneficial to skin, beauty, and healthy lifestyle. Is there any woman in the world who doesn't want to be more beautiful and healthier?
Buy dry brushes wholesale, including facial dry brushes and dry body brush bulk purchase, to make all your female customers enjoy the holiday season, as well as their every day life.
Why Your Female Customers (and Male Customers) Love Dry Brushing Skin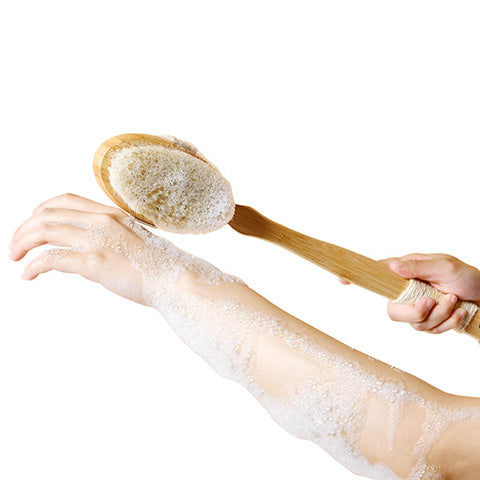 Before wholesale dry brushes for your female customers, learn firstly the benefits of dry brushing. A centuries-old Ayurvedic medicine favored by generations from many countries, dry brushing has an extensively positive effect on the skin and beauty. Beyond that, it soothes nerves and loose up muscle. No wonder men also love dry brushing. Generally. dry brushing body and face result in below benefits:
Unclogging pores to eliminate toxins and detoxify the skin

A body scrubber to exfoliate the rough, dry skin

Great for acne treatment

A massager to increase blood circulation

Promoting the flowing and drainage of lymphatic system

Removing physical and mental fatigue, to make people relaxed and refreshed

Making skin smoother, softer, tighter, rejuvenated with a radiant glow

Perfect for skin care and beauty care

Helping get rid of cellulite
Shop owners buy dry brushes in bulk will surely get your business growing, especially among female customers, with a very nice payoff.
Most Attractive Eco-friendly Dry Brushes Collection at Greenliving
As environmental awareness rises around consumers, more and more people are shopping with conscious, and look for sustainable solutions for their daily routine. Our natural bristles dry brushes collection provides the best options for female customers' holiday gifts and a zero-waste bathroom. These are popular, earth-friendly gifts that give back.
Wholesale dry brushes listed below, inquire about the best prices: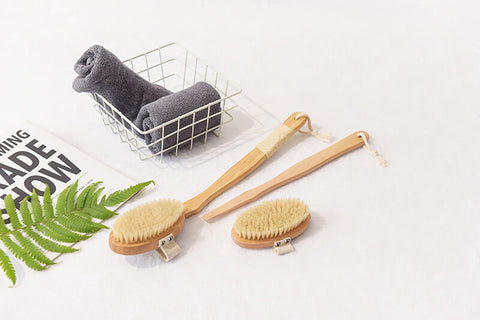 An extra long bamboo dry body brush is our best recommendation for an eco-friendly dry brushing experience. The best part, with a 17 inch curved handle, it can scrub all parts of a body effortlessly, including the hard-to-reach back area. What's more, the brush head is detachable, meaning customers can replace the worn-out head with a new one, saving money and resources. One of our bestsellers, it stands out for gorgeous look and functional uses.
Highlights: super long handle, detachable brush head, plastic free, biodegradable, compostable
Material: natural boar bristle & high quality bamboo
Dimensions: 42.6 * 6.5cm
Ideal for: dry skin, acne-prone skin, sensitive skin
Is it suitable for wet brushing: yes
Wholesale price: $7.99
The most obvious benefit of this facial dry brush is that it uses the softest goat hair as the bristles, which are sustainable harvested, sterilized, and scientifically proved to be safe, gentle and hygeian on soft facial skin. An item favored by women, the facial dry brush can also be used as a baby hair brush -- a thoughtful gift for newborn babies.
For your business for female customers, also consider natural facial dry brush wholesale.
Highlights: travel-friendly size, organic, plastic free, environmentally friendly, biodegradable, compostable
Material: wool bristle & solid wooden handle
Dimensions: 15.5 * 4.8 cm
Ideal for: any types of facial skin to be deep cleaned, exfoliated
Is it suitable for wet brushing: yes
Wholesale price: $7.90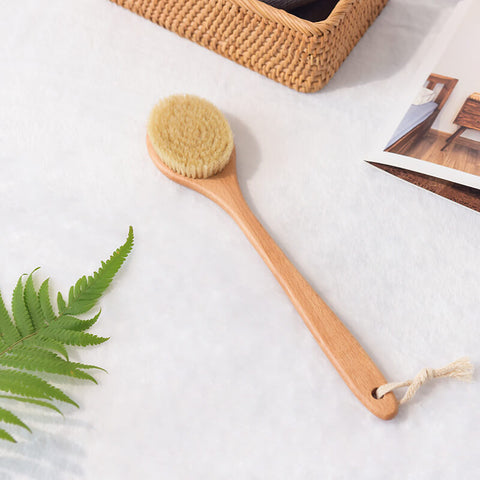 It is a 100% compostable dry brush with a long ergonomic wood handle, not as long as the extra long one, yet relatively lighter and easier to hold for body dry brushing, scrubbing, and cleaning. Renewal, healthy, firm skin can be achieved by using this pig bristle bath dry brush. With a natural wood color and elegant look, it fits any bathroom decor.
Highlights: natural, plastic free, environmentally friendly, zero-waste, compostable
Material: pig bristle & beech wooden handle
Dimensions: 35cm * 7cm
Ideal for: back scrubbing, body scrubbing, cellulite massaging, and exfoliating
Is it suitable for wet brushing: yes
Wholesale price: $7.99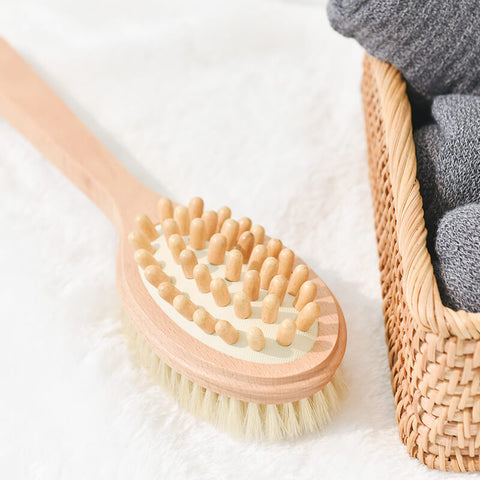 Another perfect option for dry brushes wholesale, it is a 2-in-1 solution for body dry brushing, with dense pig bristles on one side and wooden bristles on the other side. Customers can scrub their bodies based in their preferred way for massaging, dry brushing, scrubbing and cleaning. It is an easy yet amazing way to care for skin and beauty.
Highlights: double-side bristles, plastic free, protecting the Earth, zero-waste, compostable
Material: wild pig bristles & durable solid wood
Dimensions: 32.5 * 8.5 cm
Ideal for: messaging, dry body brushing, exfoliating, spa treatment at home
Is it suitable for wet brushing: yes
Wholesale price: $9.99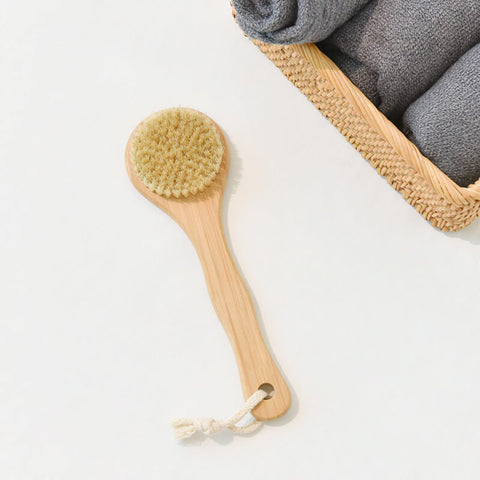 Greenliving's dry brushes, all made of natural bristles, come in different lengths of handles. This one has a round brush head and an ergonomic middle long handle, which makes it is convenient to use in shower, and for a quick dry brushing. And, it is relatively cheaper than others.
Highlights: affordable, natural, plastic free, environmentally friendly, compostable
Material: boar bristles & high quality bamboo
Dimensions: 12 * 12 cm
Ideal for: dry brushing, exfoliating, shower
Is it suitable for wet brushing: yes
Wholesale price: $6.25
The set includes an extra long handle dry body brush and a wool bristle facial dry brush. Items that offer eco-friendly ways for customers to enjoy thorough cleaning, relaxing massage and amazing home-spa stand out as our bestsellers from our ECO dry brushes collection. The set is a wonderful gift for female customers, newlyweds, and eco conscious home.
Highlights: natural, multi-functional, plastic-free, zero-waste, compostable
Material: boar bristles, goat hair, bamboo, beech wood
Dimensions: 42.6 * 6.5cm, 15.5 * 4.8 cm
Ideal for: dry brushing, facial and body cleaning, exfoliating, massage, and spa at home
Is it suitable for wet brushing: yes
Wholesale price: $18.00
Benefits If Wholesale Dry Brushes from Greenliving
With the growth of the global green movement, many people have been looking for ways for more sustainable living and to build a more sustainable bathroom. The natural bristles wooden dry brushes are a great way to do that. Greenliving offers the best quality ECO style dry brushes at competitive prices. Welcome wholesalers, retailers, and shop owners worldwide to buy quality dry body brush in bulk. For your retailing business, you will benefit from:
A wide selection of products that answer the different needs and requirements

Comprehensive guide through product (and factory) information, the product material, specification, and certification, ensuring you choose the most suitable dry brushes for your shoppers

Fully-customized solutions for wooden dry brush wholesale, if the standard products are not your options

Strong brand like Greenliving that is active in marketing and helps to drive your business

High quality products and most competitive wholesale prices

Fast shipping to worldwide countries like Canada, Australia, UK, France, Germany...
Whether it is a holiday season or a special day like birthday or an anniversary, women customers will be happy to receive an eco-friendly body dry brush (set) for gift. Additionally, the wooden dry brushes are sustainable alternatives for your customers who are not comfortable with plastic brushes or bath poufs. So for any retailers that plan to prepare the best products/gifts for your female customers, and wish to increase your business value and standard, wholesale dry brush from Greenliving is a great choice for you.