Wooden Brushes and Organizer Ideas for your 2022 Kitchenware Wholesale
Jan. 12, 2022 | Written by Dennis
With increasing awareness of the reporting and detrimental effects of climate change, people are increasingly looking for ways to lower their carbon footprint. Reducing the carbon footprint does not need one to make drastic changes. One can adopt eco-friendly products that make a lasting impact in the long run.
Most of the emerging kitchen trends aim towards giving the kitchen a clean and aesthetic look that meets storage needs and sustainability goals. You can fit your kitchen with the latest kitchen accessories wholesale from Green Living.
Importance of Organization for Kitchen Equipment and Utensils
Kitchens have an optimized rhythm of workflow like any other workplace. The storage of utensils, food, and equipment affects the efficiency output of the kitchen. Maintaining high organizational standards is also a top priority for ensuring good hygiene, safety, and efficiency of a busy kitchen.
One of the ways people improve efficiency in their kitchens is using wooden brushes. Wooden brushes are a great alternative to sponges as they do not hold moisture, and the bristles dry quickly. They are eco-friendly and easily reusable.
Efficiently storing kitchen products is also crucial as it does not obstruct or create hazards for the kitchen staff. It is good to make some tweaks to your kitchen arrangements to use your kitchen space optimally.
Improved technology offers creative ways for cleverly storing your utensils and kitchen equipment. This article will delve into the best ideas for storing kitchen equipment and utensils in the present-day dynamic culinary world.
The Best Eco-friendly Alternatives for Your Kitchen
It is essential to adopt eco-friendly options for your kitchen to have a zero-waste kitchen. Whether it is small business owners or individuals looking for sustainable alternatives, you can get a wide variety of kitchen products from the selection of products below.
Can a simple dish brush help lower the carbon footprint in the environment? Certainly, yes. The best alternative to plastic sponges is an eco-dish brush made from naturally grown organic materials. Eco-dish brushes are not only plastic-free but can also last for a long time.
Most families use washing sponges in the kitchen and change them every two weeks. This fills landfills at a constant rate contributing heavily to environmental pollution.
We always like to have a sponge in the kitchen to clean up almost anything. However, an eco-brush has natural sisal bristles that can scrub any surface. The handles are made of natural beech wood and come in unique designs that make cleaning more pleasant.
Green Living is a kitchenware wholesaler that sells wholesale kitchenware online. Purchasing the eco-dish brush also comes with two additional loofah sponges and two replacement heads for the dish brush. The loofah sponges are made from natural loofah and are perfect for washing kitchen utensils.
Material: Natural beech wood, natural sisal, and natural loofah
Uses: Scrubbing kitchen utensils
A wooden cleaning brush set offers you a complete set for your household cleaning. You can swap your plastic brushes in the kitchen with wooden brushes that are natural, plastic-free, and ideal for cleaning utensils. The cleaning brush set includes a bottle brush, pot brush, dish brush, and pan brush.
Our collection of wooden cleaning brushes gives you the best opportunity to help the environment as they are a perfect alternative to plastic. They are also beautiful and give your kitchen an elegant and aesthetic look.
The materials are environmental-friendly and biodegradable. The bristles are from sisal fiber and coconut palm bristles, while the handle is made from beech wood. As all the materials used are naturally available, the brushes have no stinky smells. The brush parts can be composted or recycled at the end of their lifespans, making them ideal for the minimalist kitchen.
The brush sets are versatile and designed for multiple purposes. The bristles are strong enough to deal with heavy cleaning work. They are also gentle on surfaces and hands and effectively remove stains and grease without damaging the coatings.
Highlights: Biodegradable, plastic-free, strong, and aesthetic
Materials: Sisal/ Coconut palm bristles and beech wood handles
A kitchen is incomplete without a quality cutting board. This is an essential tool used in families daily. If you are a serious cook, you need a safe and sturdy board that is reliable for food preparation.
We are wholesale kitchenware suppliers that offer various wooden cheese board options to suit your needs. Our choicest product is the wood cheese board set with four stainless knives.
This wooden cheese board set is kind to the environment as it is made from natural bamboo. The cheese knives are also made from stainless steel, and they are aesthetically arranged on the side drawers of the set. Green Living kitchen products' wholesale prices are fair, and you can thus enjoy a discount if you buy in bulk.
The board is also big and spacious makes it easy to serve food on it during festive occasions. Their aesthetic look gives a complementary look to your home décor and kitchenware. The surface is easy to clean as it is water-resistant and non-stick.
Material: Bamboo, stainless steel, and ceramic
Dimensions: 33 * 33 * 4.1cm
Color: Natural bamboo color
Highlights: Environmental friendly, durable, organic, sturdy, bacteria and smell free.
You probably have countless spice jars in your kitchen cabinets if you are an avid cook. You find yourself constantly having to rearrange the kitchen to find the spices you need. You can make your work easier by using a spice rack that makes it easy to locate things on the go.
Green Living sells wholesale kitchen goods, and among their eco-friendly additions to a sustainable kitchen is the bamboo spice rack organizer. This is an eco-friendly addition to your kitchen as the spice rack is made from 100% plant-based products. It is ideal to fit countertops, pantries, and cabinets in different dimensions.
It is an elegant upgrade to your kitchen and helps prevent clutter in your working space. Bamboo kitchen organizer wholesale prices are cheaper as you will get better discounts than from individual retailers.
Material: Bamboo
Dimensions: 22.2-38 * 22 * 8.6cm
Color: Natural bamboo color
Highlights: Zero-waste, durable, environmentally friendly, and compostable
No one loves having cluttered and junk-packed kitchen counters. Wood kitchen drawer organizers help neatly arrange all items in an orderly manner. There is nothing more annoying than having to rummage through a messy kitchen to find where you might have put some of your kitchen items.
Bedrooms are also notoriously messy, and drawer organizers can keep bedrooms neat. It is easy to store your food and clothing supplies separately with many separate compartments. Storing them together is dangerous and impractical.
You can neatly store your kitchenware and locate any forks or knives in the blink of an eye while still cooking.
Green Living has competitive prices among wholesale kitchenware suppliers, and you will get a reasonable discount for buying the materials in bulk.
Highlights: Expandable design, organic, eco-friendly, compostable.
Materials: Natural bamboo
Dimensions: 42.5-55*32.5*4.8 cm
Color: Natural bamboo color
Sometimes a wooden breadbox might appear like an outdated piece of kitchenware. However, it is better than having unsightly plastics as a storage solution. A wooden breadbox helps preserve the freshness of bread for a more extended period.
They come in different vintage styles. This breadbox is square and is made from bamboo, and it has a thickening design that makes it sturdy. The surface is dry and smooth. It helps you make a healthy and green kitchen.
The bread box has multiple functions, as you can use it as a storage box. You can use it to store your cups, saucers, and other kitchen supplies.
The breadbox is easy to clean and has roll-top lid features that slide open easily. You can get them at a reasonably low price if you buy bulk kitchenware wholesale accessories such as wooden bread boxes.
Highlights: Compostable, eco-friendly, reliable, easy to clean
Material: Bamboo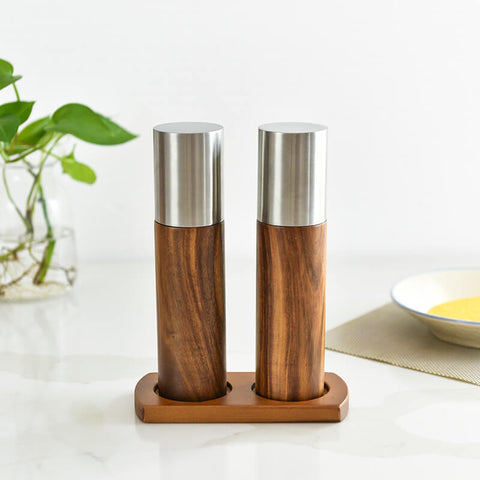 People have used wooden and salt pepper grinders for ages as they are superior to salt and pepper shakers. The importance of wood salt and pepper grinders is that they are versatile and can be used for grinding salt and peppers, depending on the flavors you desire.
Using wood salt and pepper shakers has health benefits as there is no pre-oxidation of the salt and pepper.
The wood grinders are made from natural oak, stainless steel, aluminum, and ceramic motor. They help you achieve an excellent final crush for spices. They are also ideal for adding class and style to your kitchen. We offer fair bulk kitchenware wholesale prices, and you can get the best discount deals on wood salt and pepper grinders.
Highlights: Durable, eco-friendly, reusable, compostable
Capacity: 650 grams
Why Green Living is a Good Wholesale Kitchenware Supplier
Revamping your kitchen to sustainable standards is good for your health and the environment. Green Living is a reliable wholesale kitchenware supplier as we have different sustainable options. We have high-quality and stylish cookware at fair prices.
Green Living makes durable kitchenware that can serve you for a long time. We also offer direct-to-consumer kitchenware. Most of the traditional cookware was expensive as it had to pass through resellers, independent retailers, and distributors. When the item lands in the store, it has a significant markup. With Green Living, you are getting high-quality goods without the additional costs.
Green Living also has a wide variety of kitchenware periodically updated to satisfy market trends.
Conclusion
Wood is a natural and renewable resource that makes an excellent environmental conscious option. We can regulate the toxic levels of the environment by using kitchenware that is renewable and biodegradable.
Wood is also durable and does not leave an after-taste on food compared to metallic utensils. We offer wholesale wooden kitchenware at fair prices and give your kitchen that long-desired revamp. Our kitchenware wholesale accessories have creative and artistic designs that add a beautiful accent to your kitchen.