Maintain your Leather Shoes with Brush
Written by Aisha Abimbola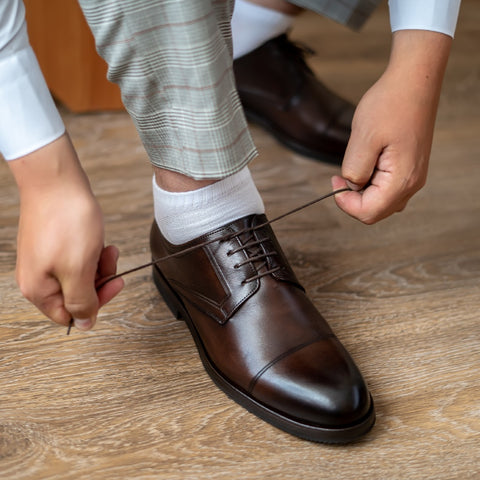 Maintaining leather shoes is much easier with the appropriate tool. After shining your shoes, you need a brush to remove any excess. It will prevent it from staining the shoe, which looks highly unpleasant. A shoe polish brush of high-quality material such as wood is perfect for your favorite leather shoe. However, it is essential to have different brushes for several shoes. Read on for more information on the shoe brush kit.
Importance of Using Different Brushes for Several Shoes
It is always better to separate different brushes for dark-colored and light-colored leather shoes. The black color stains on the shoe polish brush can rub off light-colored leather shoes. What other reasons should you use a different brush for several shoes?
If you own an expensive leather shoe, you want to maintain it at all costs. Leather shoes can be pretty expensive, so you should get a wooden horsehair shoe brush for leather cleaning.
You can order shoe brushes wholesale to assign each brush to particular shoes. However, please avoid using the wrong brush, as it may worsen the leather condition.
If you have smooth leather, you do not want to cause scratches on it by using an inappropriate brush.
It helps to remove leather shoes dust and dirt better.
How to Care for your Leather Shoe
Leather shoes have more extended durability than many other shoe materials. However, users need to contribute their input to enhance its durability. If you have a shoe brush kit, you have a higher chance of providing your shoe with the care it deserves.
You need a shoe polish brush to apply a shoe cream. It works for both grain and smooth leather.
Another way to care for a leather shoe is by cleaning the brush before applying it. You need to confirm there are no sharp objects stuck in the brush that could cause further damage.
There are different brushes ideal for certain shoe types. Hence, you need to order the right shoe brushes wholesale. Having shoe brushes in large quantities makes it easier to select from widely available options.
Choose the horsetail brush type since they are dense. You can rub it against a cloth before applying it to your leather shoe.
Effective Brush: Horsehair Shoe Brush
The premium bamboo horsehair shoe brush has a soft and flexible bristle. It is made with 100% horsehair and is eco-friendly. The brush is sustainable and durable, providing some added benefits to its users. This product is well-detailed and designed to provide maximum comfort and taste. It is also a unique design not commonly found in many households. Maintain your leather shoes by using the horsehair shoe brush.
Conclusion
When getting shoe brushes wholesale, make sure to get from a significant supplier. You will have more options for you to select from. This means you can get various designs and sizes of your choice. You can check Greenliving for quality shoe brushes of different types. Place an order or reach the customer care team to make inquiries. You can also check the website for customers' feedback and reviews.
Keep Reading:
How to Select High-Quality Items from Affordable Shoe Brushes Wholesale