What Kind Of Soap Dish Is Best?
Jan. 27, 2022 | Written by Dennis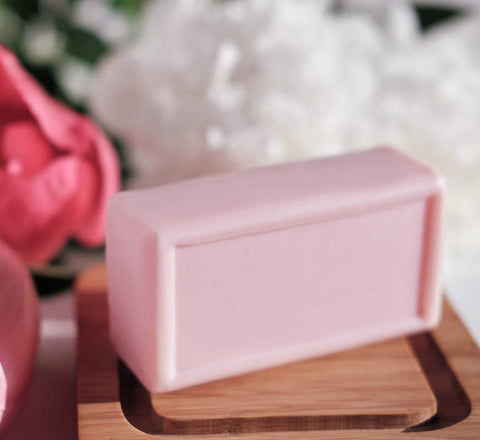 A good soap dish helps maintain clean counter surfaces and prevents soap bars from getting gross and slimy. Storing bar soap can sometimes be a challenging task.
Most soap dishes allow the soap to soak in its filthy water to dry, but it never really dries as the water is stagnant. It turns to a clammy, half-melted, viscous, unusable solution.
However, there are better solutions for storing your soap bar. If you are still using the plain old ceramic soap dish, consider switching to a bamboo soap dish with drainage slats.
A reliable soap dish helps you do away with the phenomenon of slimy or partially dissolved soap for good.
Best Soap Dish Designs
Different soap dish designs allow water to drain more easily. Some soap dishes are dual-level, with the soap sitting at the top compartment and water draining from the bottom compartment. You will periodically have to remove the bottom case to clean it and remove the excess accumulated soap scum.
Other designs are where the soap dish has slats or holes at the bottom to allow the soap to dry. Another design is the waterfall, where the soap dish is tilted to allow the excess to drain but keep the soap in place.
Regardless of the soap dish design you choose, it should have a conclave design to ensure the soap dish does not slip off from the dish.
Below is our choicest soap dish pick.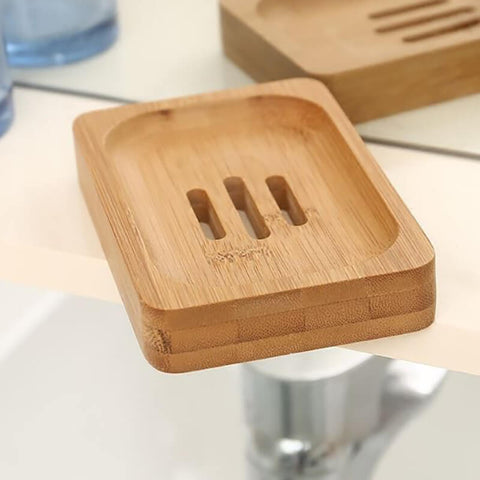 A wooden soap dish is the easiest zero waste swap you can do for your bathroom. Rather than having an unsightly condition on your bathroom countertops, a bamboo soap dish helps you with bathroom organization and storage.
This soap dish is eco-friendly and safe for your body and the environment. It is made from high-quality bamboo sources and is compostable after its lifespan.
The soap dish has a sturdy design making it durable and convenient. It also has a waterproof coating on the surface. It is anti-slip and durable and lasts two years with proper use. Its clean and natural rustic look adds style and taste to your bathroom.
This soap dish is durable and has a self-draining design protecting the soap from sogginess allowing your soap to dry quickly and stay in shape between uses. This makes the soap last longer and is in a readily useable condition.
For $3.99 only, you can get this soap dish here.
How To Use A Wooden Soap Dish
Our wooden soap dish has a waterproof surface that makes it easy to clean. To lengthen the life of the soap dish, you need to dry the surface once in two or three days. Use a dry towel to wipe water at the bottom of the tray and dry the soap dish surface.
Conclusion
A well-crafted soap dish gives your countertops a unique look and helps your soap last longer. The minimalist eco-friendly design is also good for the environment. This soap dish is not susceptible to rust, and because of the drains at the bottom, they are easier to clean.
Reach out to us to get quality products that suit your needs.
Keep reading: